July orders propel methanol past 200 ships mark
According to the latest data from DNV's Alternative Fuel Insights (AFI) database, the month of July saw the addition of 14 LNG-fueled ships. Still, the real star of the show was methanol, with a staggering 48 methanol-fueled ships, including retrofits, joining the ranks.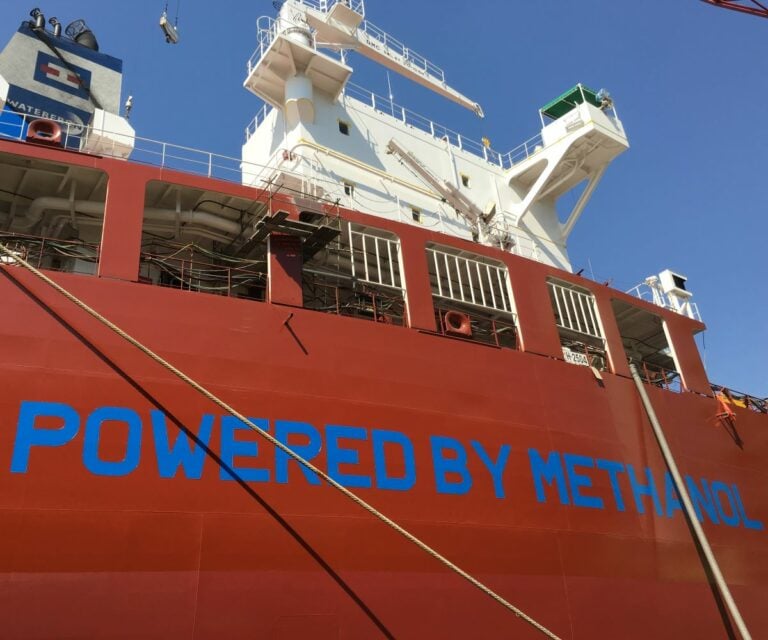 The July orders have pushed the total count of methanol-fueled ships past the 200-vessel mark, Martin Christian Wold, Principal Consultant at DNV said.
Methanol's dominance in the alternative fuel arena has been especially evident in the container shipping segment. Leading the charge are Evergreen's 24 methanol-powered newbuilds and Hapag-Lloyd AG's retrofits.
At the beginning of July, MAN Energy Solutions signed a deal with Hong Kong-based shipowner Seaspan Corporation and German liner company Hapag-Lloyd to deliver 15 engine retrofit solutions for the conversion of vessels powered by individual MAN B&W S90-type fuel-oil-powered engines to dual-fuel ME-LGIM engines capable of running on green methanol.
According to MAN ES, this agreement includes 45 optional engine retrofit solutions. Each conversion could provide a CO2 reduction of 50.000–70.000 tonnes each year, when operating on green methanol.
Methanol's advantages lie in its lower carbon content and compatibility with existing ship engine technology, making it an attractive proposition for owners due to its maturity.
That being said, the utilization of methanol as a maritime fuel is new to the container shipping industry. Over the past month, the sector has witnessed the delivery and bunkering of Maersk's first methanol-powered feeder vessel with green methanol. The bunkering operations were the first of their kind as the sector is starting to learn the ropes with respect to handling and bunkering methanol-powered containerships.
However, a lot of experience and know-how can be transferred from the tanker sector which has been using methanol as a marine fuel for years now.
The first ship in the world to run on methanol was Stena Germanica. The ferry was converted to be capable of running on methanol fuel at Remontowa Shipyard in Poland in early 2015. The ship was retrofitted with a first-of-its-kind Wärtsilä 4-stroke engine that can run on methanol or traditional marine fuels. The ferry began offering the world's first methanol-powered sailings Gothenburg, Sweden and Kiel, Germany in late March 2015.
In 2016, the world's first ocean-going ships capable of operating on methanol were delivered to Waterfront Shipping, part of Methanex Corporation. The vessels each have MAN B&W's dual-fuel, two-stroke engines ME-LGI, which can run on methanol, fuel oil, marine diesel oil or gasoil.
There are 23 methanol dual-fuel tankers in service worldwide.
While LNG continues to be a popular choice, its growth is spread across diverse vessel types. Notably, car carriers and large tankers have been the driving force behind LNG's expansion this month.
Another major achievement in July was the confirmation of the 100th crude tanker to be equipped with LNG bunkering capabilities.