Karish first gas delayed over Covid-19 restrictions, Energean says
Oil and gas company Energean has postponed again the first production from its Karish gas field, located offshore Israel, amid new Covid-19-related restrictions in Singapore where the FPSO for the project is being built.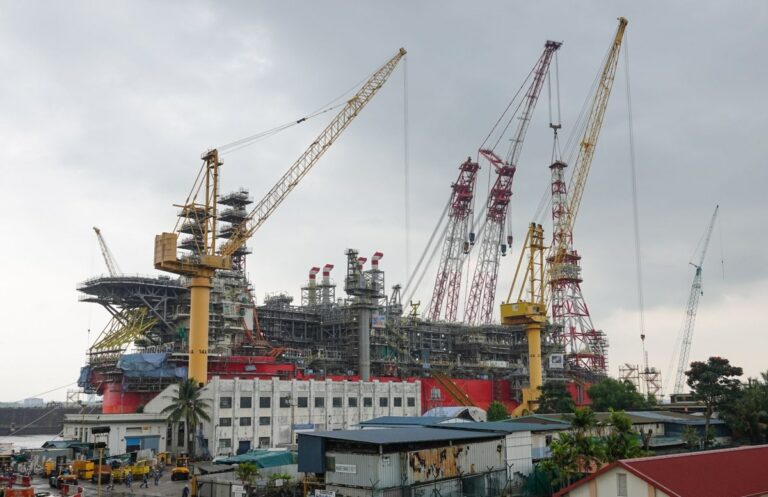 The Energean Power FPSO is being built at Sembcorp Marine's Admiralty Yard in Singapore where the installation of the 100-meter-tall telescopic flare structure recently took place.
With the flare now in place, the only outstanding lift on the FPSO is for one module. Once complete, the FPSO will be installed some 90 kilometres offshore as the first FPSO ever to operate in the Eastern Mediterranean.
Energean said earlier this year that the first gas from its Israeli fields could start flowing in the first quarter of 2022, instead of the previous target of around year-end 2021 due to delays to increase the workforce working on the Energean Power FPSO as a result of Covid restrictions.
However, in an update on Monday, Energean said that the first production from the Karish project is now expected in mid-2022 following the re-introduction of enhanced Covid-19-related restrictions in Singapore.
The company also added that its core focus is on optimising the revised timetable with approximately 30 improvements being considered for implementation and not reflected in the schedule.
Furthermore, Energean said that it expects to sign a rig contract for the 2022/2023 five-well growth drilling programme offshore Israel shortly.
The company is targeting more than 1 billion barrels of oil equivalent of prospective resources. The Athena well on Block 12 is expected to spud in 1Q 2022.
Mathios Rigas, Chief Executive of Energean commented: "Due to the ongoing impact of Covid-19 in Singapore, we are prudently updating our guidance for Karish first gas to reflect revised forecasts from our EPCiC contractor, TechnipFMC; but we continue to work together to improve the timetable.
"Although unfortunate, the revised timetable should not have a material impact on the 15+ year secured revenue stream of our Israeli gas business".
To remind, TechnipFMC this year completed the wet store installation of three steel lazy wave risers for the Karish and Tanin development project. TechnipFMC is also in charge of the Karish North field development which will tie back to the Energean Power FPSO, some 5.4 kilometres from the well.
Rigas also stated: "In the near-term, we expect to sign a rig contract for our Israel-growth programme, commencing 2022, and with the potential to double the size of our resource base".