Keeping renewable offshore energy in motion, non-stop
Lubrication specialist TrustLube, with its pay-off 'Keeping your world in motion.non-stop' promises to provide the best solution for specific applications.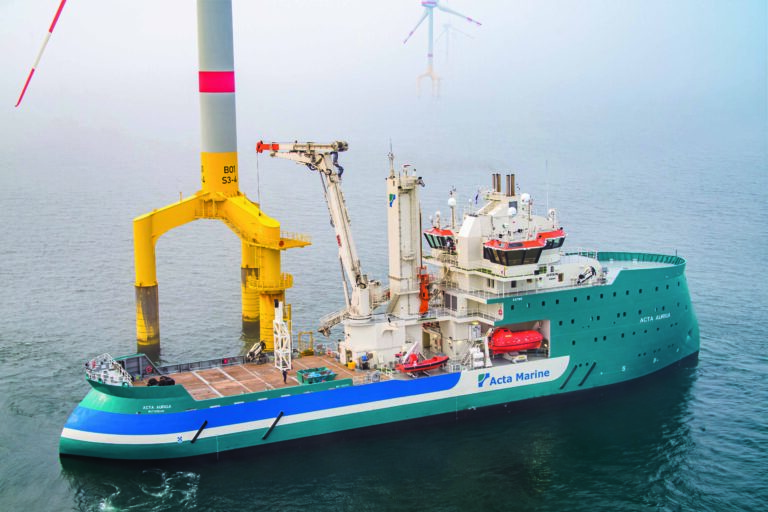 Lubrication demands precision
Too little lubrication and your equipment will wear faster or seize up. Either way the result is the same; increased downtime. This is always undesirable, but when the downtime is related to offshore monopile installation the cost implications can be enormous.
The TrustLube automatic lubrication system is designed to prevent that situation from occurring. It ensures machinery receives precisely the right amount of lubrication, at the right time, at each lubrication point.
The company was founded eighteen years ago by Chiel van Daelen. Back then his aim was the same as it is today – to provide top notch greasing systems, easy to operate, reliable, durable, precise, environmentally friendly and with the capability to be monitored remotely.
Since then, TrustLube has developed a proud track record in the maritime industry. This includes leading oil & gas, dredging and offshore companies. For example, Acta Marine uses its systems on their vessels.
Ruurd Boersma, Vessel Superintendent at Acta Marine
"The main purpose of our walk to work vessel is providing a safe working environment for our passengers and crew. The access & cargo tower and 3D motion compensated cranes (MCCs) we use for transfer crew and cargo need to be safe and operational 24/7. We understand that good grease machines are essential for uptime.

"Three years ago, Chiel was on board of one of our vessels because we had some issues regarding the accessibility of our manual greasing points and we asked him to assess the situation. Our equipment couldn't be maintained during operation and the location of the greasing points weren't safe to reach.

"During the system review Chiel surveyed the situation, which led him to state that that we could a do better greasing job by reducing the amount of grease by 70%.

"Therefore, the TrustLube team came up with a flexible and modular solution to upgrade the system over time without disrupting our busy schedule.

"The first quick win was to centralize all critical greasing points in order that we could perform basic maintenance during operations. The second step was to reduce the amount of labour needed by making it into a semi-automated system and the final upgrade was to make the systems completely automatic.

"During all these upgrades the Trust-Lube crew was on site to install all necessary piping, metering devices and other equipment.

We are very happy with the cooperation with Chiel and TrustLube. They really know the specifics of our business and the lubrication our equipment needs. After several years of operation we can really confirm the benefits of that, 70% reduction of grease and we support the claim that TrustLube keeps your vessel in motion.non-stop."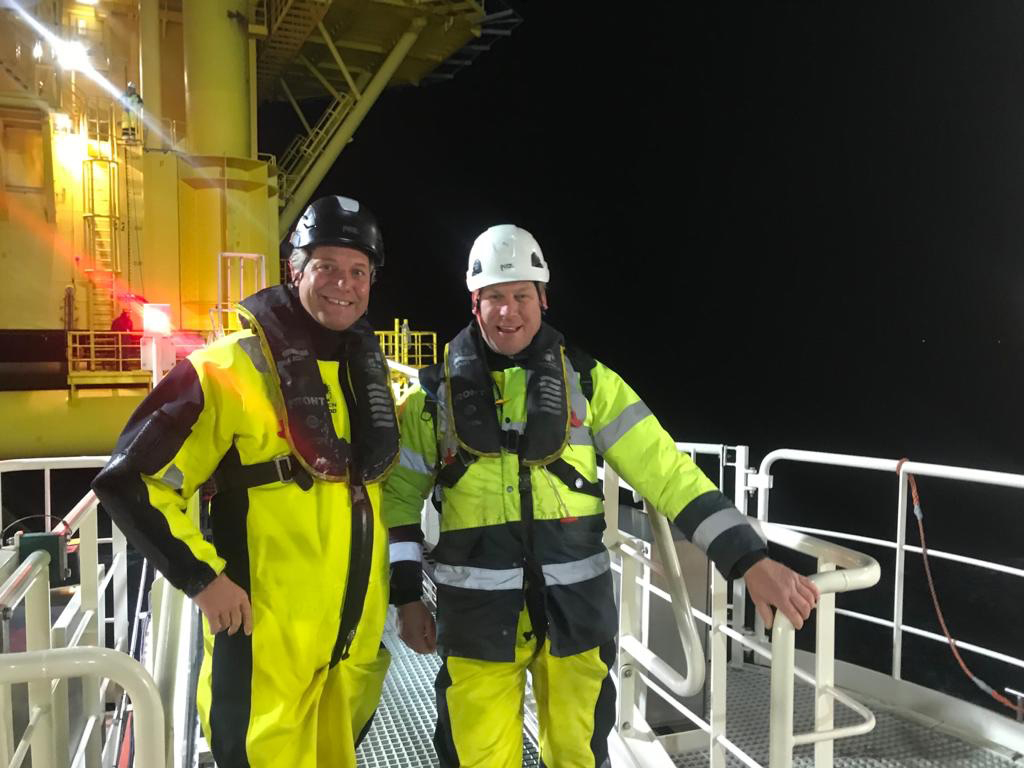 Dedicated to lubrication
In addition to greasing systems, Trust-Lube also provides ecofriendly lubricant grease for heavy duty operations, for example for jack up rack and pinion systems and motion compensated cranes and gangways. The grease is applied to wire ropes and features properties that ensure it will stick, even in the harshest conditions.
How does it work?
Every system has a basic design of a high-pressure pump, metering devices, piping, control box and instrumentation. Each lubrication point is fitted with an individual lubrication point, connected with tubing to the stainless-steel distribution block. Each point, operates independently, injecting a preset amount of grease precisely when it's needed.
To be certain that the equipment receives the correct dose of lubricant, TrustLube developed the Metering Device Sensor which monitors the amount of grease passing through the greasing point. This also ensures that users are alerted when there is a blockage in a grease line.
The distribution blocks are integrated into the main lubrication line. As such, extra lubrication units can be easily added when required.
The entire system is hermetically sealed and made of AISI316 or 6MO. This ensures its suitability for use in even the harshest of saltwater conditions offshore, preventing dirt from damaging bearings and avoiding corrosion.
Keeping the environmental footprint as low as possible
Chiel van Daelen explains, "TrustLube is committed to sustainability. We are aware that lubricant leakage can create contamination, waste and other environmentally dangerous situations. To prevent this, TrustLube's smart automatic lubrication systems and dispensing valves prevent leaking. Additionally, TrustLube works only with non-toxic lubricants that pose no threat to humans or marine life, further reducing the environmental footprint."
A good starting point
He continues: "installing the correct greasing system with properly located dosing units is the starting point for a good greasing strategy. Of equal importance is the selection of the right lubricant.
Covering every angle
"Every lubrication point has its own specific needs. High load, speed, temperature, dirt resistance, submerged in water – these are just some of the specifics that have to be taken into consideration."
To be sure of the correct use of grease, Chiel recommends a straightforward approach.
"We think that you need to keep it as simple as possible. Therefore, we developed special grease for use on different applications. An example of this grease is TrustLube Heavy Duty which you can use on wire ropes, slew bearings and on open gears amongst other things.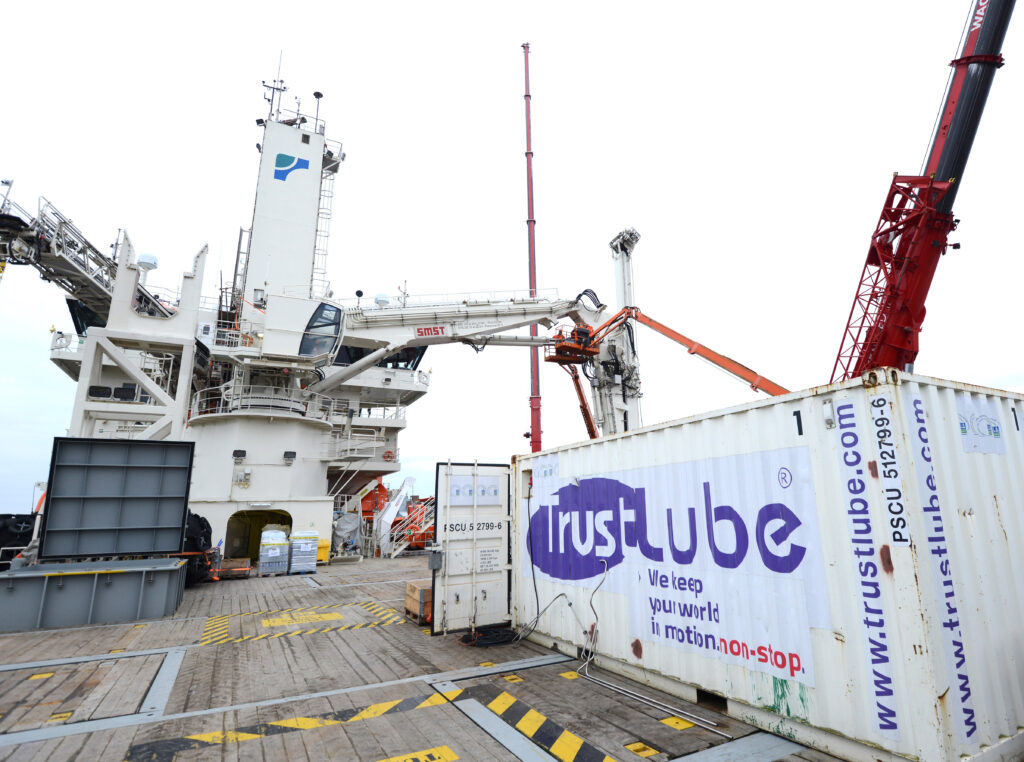 There for you
"Of course, we're always happy to advise our clients to make sure they get the right grease and the right system for their vessel. We're always happy to answer enquiries personally, with our specialists making a visit to assess the situation in order to give the best advice and keep your system in prime condition. Our aims is always to keep your world in motion.non-stop," conclude Chiel.
Note: The opinions, beliefs, and viewpoints expressed in this article do not necessarily reflect the opinions of Offshore-Energy.biz