Kleven Maritime Starts Building Hurtigruten's Hybrid Cruise Ship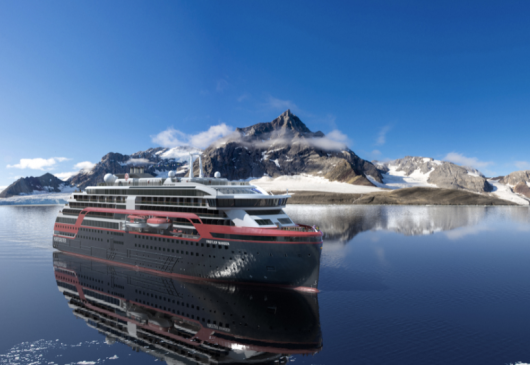 The first steel has been cut for MS Roald Amundsen, a hybrid-powered cruise ship ordered by Norwegian cruise line Hurtigruten, at Kleven Yards on the western coast of Norway.
Scheduled for launching in 2018, Roald Amundsen will be "the world's first expedition cruise ship powered by hybrid battery technology."
"Today is a historical day not only for Hurtigruten, but for the global maritime industry. We celebrate the construction start of the first ship in a new generation that will change expedition travel forever," Daniel Skjeldam, Hurtigruten's CEO, stated.
"Sustainability will be the core of every detail of the ship and the on board operation. The hybrid engines will reduce fuel consumption substantially and allow for periods of completely emission free sailing," Skjeldam added.
Two hybrid-powered ships, Roald Amundsen and Fridtjof Nansen, were ordered from Kleven Maritime in April 2016, with an option for two additional expedition cruise vessels.The 15,000 gross ton ships are designed by Rolls-Royce, in collaboration with the Norwegian yacht designer Espen Øino.
Each of the two vessels will feature a length of 140 meters and a width of 23.6 meters and will be able to accommodate 530 passengers.
Roald Amundsen and Fridtjof Nansen are intended for voyages in polar waters and will have strengthened hulls for traversing ice.
Hurtigruten said that Roald Amundsen's 2018/2019 inaugural season will include expedition voyages to Antarctica and the Chilean fjords.