Lattice gets BV's AiP for floating LH2 import terminal
Classification society Bureau Veritas (BV) has issued an approval in principle (AiP) to Lattice Technology for the design and development of a 75,000 cbm floating liquified hydrogen (LH2) import terminal.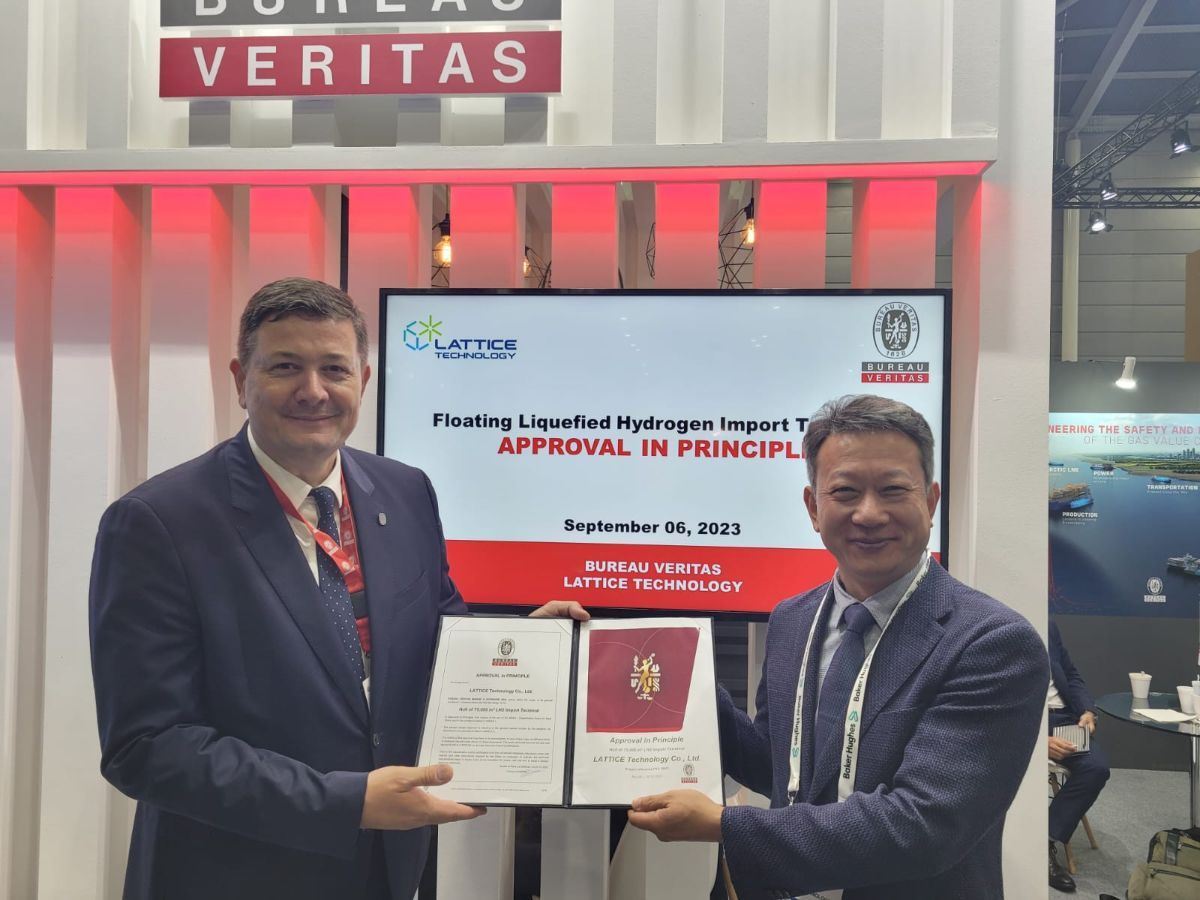 This import terminal is expected to receive the liquefied hydrogen from an LH2 carrier and store it, allowing for gas and liquid hydrogen to be supplied on demand.
All the terminal functions are contained on a barge, a non-propelled floating unit, that can be fabricated and tested in a shipyard before delivery, BV said, adding that the LH2 containment system, the V-CCS (vacuum cargo containment system) consists of a Lattice pressure vessel (LPV) with vacuum polyurethane insulation and a flexible gas-tight membrane barrier to minimize the size of the barge hull, eliminate boil-off and substantially reduce the insulation weight.
The project, funded by the Korea Institute of Energy Technology Evaluation and Planning (KETEP), is expected to be continued with further design development and optimization of the integrated unit until the end of 2023. Its team is led by Korean and Australian companies Lattice Technology, KOMAC, KOGAS Tech, KAIST, Elecseed and LH2 Energy.
Daejun Chang, Technical Supervisor of Lattice Technology, commented: "The barge-mounted import terminal is an innovative and fast-track solution for intercontinental shipping of liquid hydrogen in that it can be fabricated and deployed in a copy-and-paste way to shorten the delivery time with cost effectiveness, fabrication quality and operational safety secured."
Alexander Gregg-Smith, Senior Vice President of Bureau Veritas Marine & Offshore North Asia Zone, stated: "A BV AiP is significant for the development of new technology, in this case floating infrastructure to support the development of a zero-carbon fuel supply chain. We are particularly pleased to have been involved in this technology project and look forward to supporting its onward development."
To remind, this week, BV and three other major classification societies American Bureau of Shipping (ABS), DNV and Lloyd's Register (LR) issued an approval in principle (AiP) to Hudong-Zhonghua Shipyard for its new liquified natural gas (LNG) carrier design, currently the world's largest with 271,000 cubic meters of cargo tank capacity.