Leclanché to supply battery technology for two CMAL hybrid ferries
elkon, an Istanbul-based electrical systems integrator for the marine industry and a part of the Schottel group, has awarded Leclanché, a Swiss energy storage solutions company, with the contract for two Navius MRS-3TM 1.1 MWh capacity battery storage systems.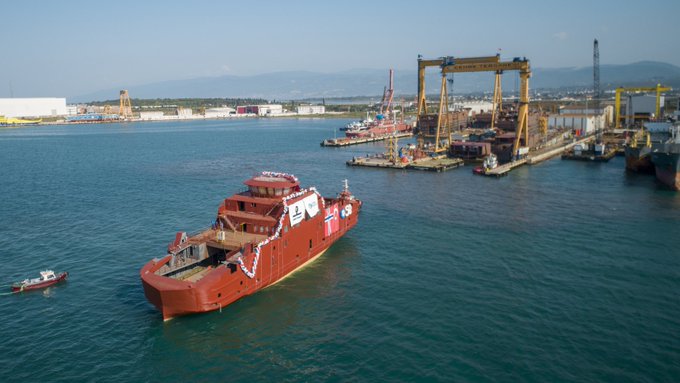 The battery technology will be supplied for two roll-on, roll-off passenger (RoPax) ferries being built for Scotland's Caledonian Maritime Assets Limited (CMAL) at the Cemre Shipyard in Turkey, the same facility constructing the Scandlines PR24 project which is also using Leclanché's battery technology.
According to Leclanché, the 95-meter-long diesel/hybrid propulsion vessels, scheduled for completion in 2024 and 2025, will serve the islands of Islay and Jura, the most southerly of Scotland's Inner Hebrides islands. The sailing time between the two ports is just over two hours.
The company said the Leclanché lithium-ion batteries will enable the vessels to enter the ports quietly and carbon-free. To note, the vessels are expected to have a capacity of 275-lane metres for heavy goods vehicles (HGVs) on the main deck and a total of 107 cars on both their main and hoistable decks.
Özgür Arslancan, Technology Director at elkon, stated: "Leclanché has developed a well-deserved reputation for the quality of its marine battery systems and the safety of its liquid-cooled system architecture, both critical considerations for this important pair of CMAL projects. We have been also very happy with the company's accurate simulation that enabled to size the battery, its cooling system, and to optimise the operation condition for a 10-year continuous service period."
Phil Broad, CEO of Leclanché e-Mobility, commented: "Our Navius MRS-3 has become an industry standard for high-performance, decarbonised marine vessels. We're excited by the large number of shipyards, vessel owners, and integrators who have approached us during their design cycle and specification phase to better understand our approach to battery manufacturing. They are especially interested in the undeniable benefits of liquid-cooling for a longer life cycle, low maintenance, and the reduced footprint of MRS-3."
The company pointed out that Navius MRS-3 is its trademark, while all other tradenames are the property of their respective owners.
In January this year, Leclanché was also selected as the battery technology provider for two hybrid ferries being built for Stena Line and Brittany Ferries.
The company will provide two battery systems with a total capacity of 22.6 MWh, or 11.3 MWh each, for these RoPax ferries which are expected to be the world's largest hybrid vessels, surpassing the company's prior marine projects.