Construction of Scandlines' zero-emission ferry making headway at Cemre
Scandlines' new zero-emission ferry is starting to take shape at the Cemre shipyard in Turkey.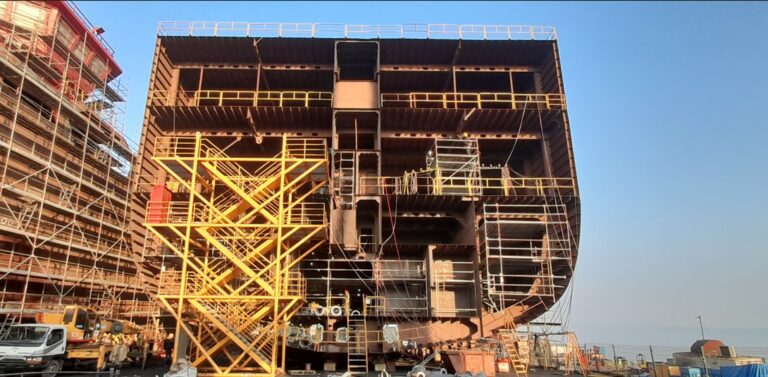 Danish ferry operator said in an update that two-thirds of the steel plates have now been cut at the shipyard, adding that the ferry currently consists of eight sections which have already been placed on the bedding. Another 16 sections are under construction.
The keel for the vessel was laid back in September. It was said at the time that the ship will not be built around a single keel but rather with a number of hull sections.
Scandlines is working with the yard team on developing a 3D model of the ferry. The model enables users to digitally move around the ferry while simultaneously ensuring that construction drawings and the 3D model are continuously being updated with correct and revised information as the construction of the ferry progresses.
The Swiss battery manufacturer Leclanché has started producing the record-breaking battery bank for the new ferry. With a capacity of 10 MWh it will be the largest lithium-ion battery installation on a ferry to date, the ferry company said.
As disclosed, when the ferry starts operating on the Fehmarn Belt in 2024, it will be able to charge in just 17 minutes in Rødby.
In 2019, Scandlines invested in a 50 kV / 25 MW power cable to Rødbyhavn. The cable is expected to be extended approximately 1.2 km to the new transformer station between ferry berths 2 and 3 in the spring of 2023. The work is expected to be completed in the summer of 2023.
Three GenSets, which are a combination of a diesel engine and a generator for power production, will be installed on the vessel. In recent weeks, Rolls Royce in Germany and its subsidiary mtu in the Netherlands have carried out a series of Factory Acceptance Test (FAT) test runs on the units at various loads to ensure that they meet the specifications. Rolls Royce also carried out vibration measurements at relevant positions. Scandlines said that the level of vibrations was 'indeed very satisfying'.
With a crossing time of 70 minutes, the ferry will be emission-free. It can also be operated as a hybrid ferry in the same manner as the current passenger ferries on the Scandlines routes between Germany and Denmark. When operated as hybrid ferry the crossing time is expected to be 45 minutes.
In the terminals of Puttgarden and Rødby, the construction companies have also started rebuilding berth 3 and berth 1 respectively and installing stronger ramps for the purpose of allowing freight units to the upper deck of new ferry. The new ramps will be installed next autumn.
Vessel specifications:
Length: 147.4 m
Breadth: 25.4 m
Design draft: 5.30 m
Freight capacity: 66 freight units (abt. 1,200 lane meters)
Max. number of passengers: 140
Service speed: 16/10 knots
Battery system: 10 MWh
Investment: 80 MEUR