LNG-powered Sun Princess hits the water at Fincantieri
Italian shipbuilder Fincantieri has launched Sun Princess at its yard in Monfalcone, the first of two LNG-powered cruise ships being built for Princess Cruises, an American cruise line owned by Carnival Corporation.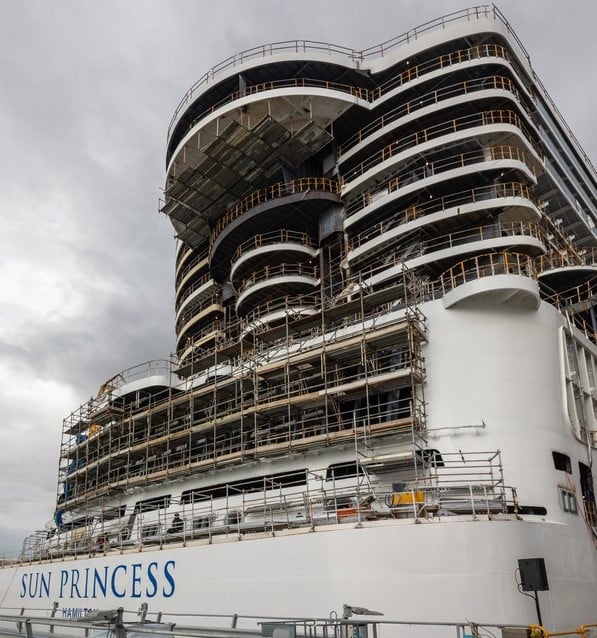 With 175,500 gross tons, Sun Princess is the largest ship built in Italy so far, as well as the first dual-fuel ship powered mainly by LNG to enter the Princess fleet. With a capacity of 4,000m3, the vessel is expected to be able to run on LNG for almost 9 days sailing at service speed. The secondary fuel is marine gas-oil so no heavy or intermediate fuel oil will be carried on board.
The vessel will be outfitted with two shore power connections, on both the port and starboard side of the vessel to enable the ship to turn off the engines and connect to local electric power to run all onboard services during day-long calls in various ports.
To supply sustainable power and better maneuverability to save fuel, Sun Princess will be outfitted with two Azipod propulsions for forward and backward movements and the four largest Controllable Pitch Propellers, known as bow thrusters, on the market for sideways navigation, the cruise liner said.
The vessel is scheduled for delivery in the first quarter of 2024, kicking off the Sphere class, which includes an additional, sister ship with delivery scheduled for 2025.
Each vessel will have the capacity to host approximately 4,300 guests.
Princess Cruises and Fincantieri finalized the contracts for the construction of two next-generation 175,000-ton dual-fueled cruise ships back in 2019. The construction of Sun Princess was kickstarted in September 2021.
The float out completes the first comprehensive phase of construction for Sun Princess which now transitions to focus on building the ship's interiors
Fincantieri reported a EUR 324 million net loss for 2022 reflecting several non-recurring expenses, and reversing from a profit from 2021 worth EUR 22 million. Revenue stood at EUR 7.74 billion for the year, up by 11 percent year-on-year. Order intake for the year stood at EUR 5.3 billion, up by 59 percent when compared to 2021, driven by an increase in the cruise and offshore sectors boosted by post-pandemic demand recovery.
In 2022, the company delivered 19 ships, including seven cruise vessels, namely, MSC Seascape, the second unit of the Seaside EVO class for MSC, Discovery Princess, Princess Cruises' sixth ship of the Royal class, Viking Mars and Viking Neptune, the eighth and ninth ships of the cruising class and Viking Polaris, the second expedition cruise ship for Viking, Resilient Lady, the third vessel for Virgin Voyages, and Norwegian Prima, the first unit of six for Norwegian Cruise Line.