Maersk wins new gig for warm-stacked rig, boasts second-highest quarterly revenue since listing
Danish offshore drilling contractor Maersk Drilling has revealed a new contract award for one of its jack-up rigs as well as details on its quarterly financial performance, boasting the second-highest quarterly revenue since listing in April 2019.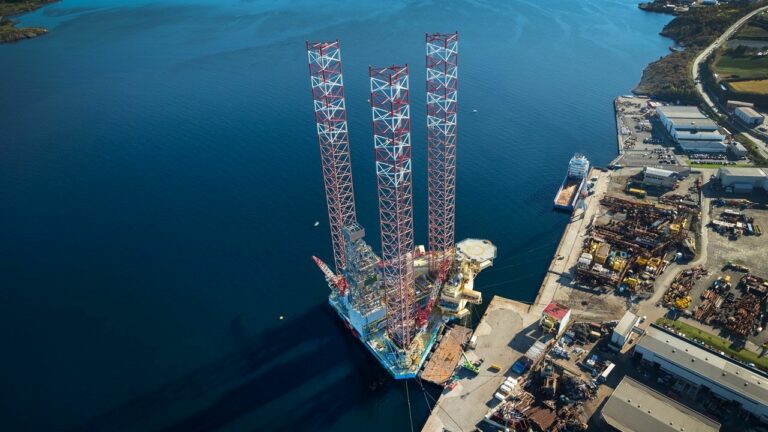 In its latest fleet status report, issued on Wednesday, Maersk Drilling reported that TotalEnergies had booked the Maersk Interceptor jack-up to provide accommodation services in the Danish North Sea. The contract is expected to begin in the first half of 2022. With a firm duration of eight months, the contract is set to start in March and end in November 2022. The financial details of the contract have not been revealed.
The Maersk Interceptor is an ultra-harsh environment CJ70 XLE jack-up, designed for year-round operations in the North Sea.
The 2014-built rig had no contract awards during 2021 and it has been warm stacked in Denmark for a while now. The last known contract award for the rig was from November 2019, when it was hired by MOL Norge for operations in the Southern North Sea. The estimated contract value was $16.5 million. The contract was expected to start in August 2020, with an estimated duration of 60 days.
Furthermore, the rig owner's fleet status report shows that INEOS Oil and Gas UK has declared options for 33 days to the existing contract for Maersk Resolve, in direct continuation to the existing contract scope, which was awarded in May 2021. The contract, which was previously scheduled to end in December 2021, is now set to expire in January 2022 with a day rate of $81,000.
3Q revenues second-highest since listing, Maersk says
Also on Wednesday, Maersk Drilling reported on its financial performance during the third quarter of the year, posting revenues of $333 million. This was the second-highest quarterly revenue reported by Maersk Drilling as a listed company behind 2Q 2021 when its revenues amounted to $350 million.
Quarter-over-quarter development was five per cent lower due to a lower average day rate, partially offset by higher utilisation across the fleet.
An average day rate of $219,000 in 3Q 2021 compared to $230,000 in 2Q 2021 was mainly the result of Maersk Highlander rolling off its previous legacy contract and starting an extension at a lower day rate starting in August.
During 3Q 2021, a total of $81 million was added to the revenue backlog from six new contracts and contract extensions. As a result, Maersk Drilling's revenue backlog at the end of September 2021 amounted to $1.5 billion compared to $1.6 billion at the end of June 2021.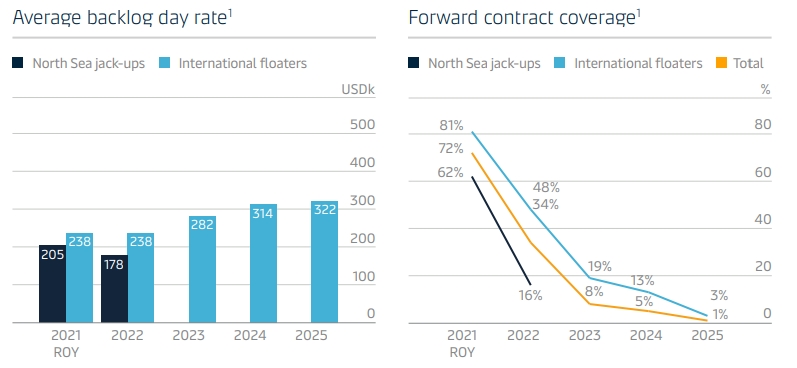 According to Maersk, in the third quarter of 2021, utilisation trended higher due to a combination of increased demand and further rationalisation on the supply side. In both the North Sea jack-up and global floater markets, total utilisation has surpassed peaks previously reached in 2019.
When it comes to the North Sea jack-up market, it has had an increase in activity with average demand growing from 26 in 2Q to 28 units in 3Q 2021, while the average marketed supply remained unchanged at 36 units, driving an increase in average marketed utilisation from 72 per cent to 78 per cent.
The rig owner pointed to limited tender opportunities in the Norwegian sub-segment with commencement in 2022. Demand for Norwegian jack-ups in 2022 is expected to be insufficient to maintain an acceptable level of coverage across the ultra harsh environment fleet. Alternative deployment options for the ultra-harsh environment fleet outside of Norway are currently being considered for 2022, including work in the UK North Sea, Maersk said.
However, from 2023 onwards, demand is expected to normalize given the significant pipeline of economically viable subsea development projects in shallow waters.