Maersk: World's 1st containership operating on green methanol delivered
Danish shipping giant A.P. Moller Maersk has revealed that the world's first containership operating on green methanol has been delivered.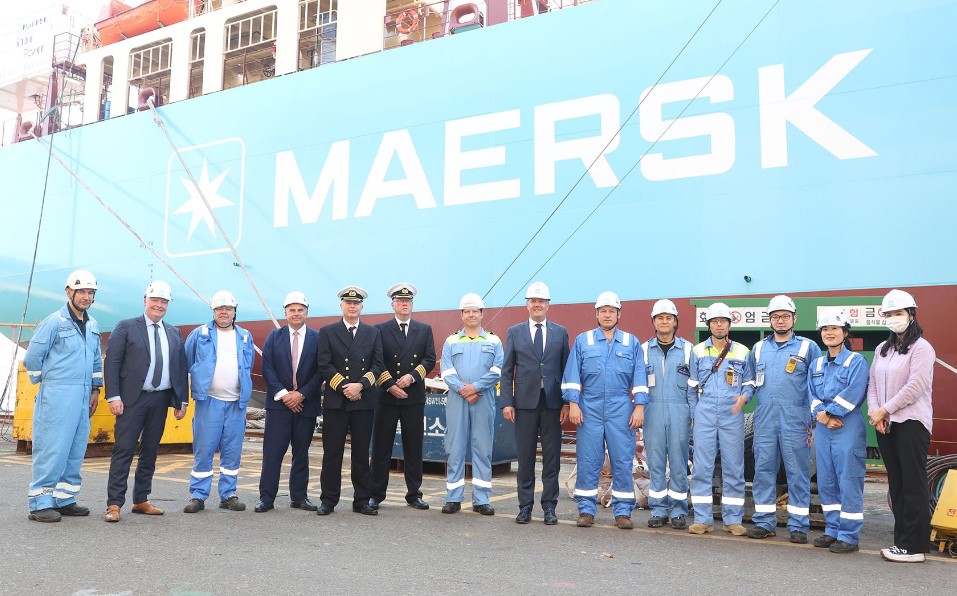 As disclosed, the company signed and taken delivery of the vessel, HMD Hull 4168, built at Hyundai Mipo Dockyard Co. and Hyundai Heavy Industries Co.
The 2,100 TEU boxship is now preparing to embark on its maiden voyage towards Copenhagen.
The 21,500 km trip from Ulsan, South Korea to Copenhagen, Denmark will provide real operational experience for Maersk seafarers handling the new engines and using methanol as fuel, as the company prepares to receive a fleet of new, large ocean-going methanol-enabled ships from 2024.
Namely, the feeder will be followed by 25 large ocean-going vessels of 9,000-17,200 TEU capacity which are scheduled for delivery in 2024 and 2027.
"The introduction of this container vessel is a significant step towards realizing our commitment to becoming carbon neutral, and it marks the beginning of a new era in shipping, where we together can minimize greenhouse gas emissions and create a greener future," Maersk noted.
Ursula von der Leyen, the president of the European Commission, will be the godmother of Maersk's new feeder vessel.
To remind, the Danish shipping major recently announced its groundbreaking vessel underwent crucial sea trials.
Maersk has secured green methanol for the ship's first trip in cooperation with the Dutch producer and distributor of hydrogen-based products OCI Global. Namely, OCI will provide ISCC-certified green biomethanol to power the maiden voyage of the newbuild.
As part of its decarbonisation strategy, Maersk has also recently ordered six mid-sized container vessels at Yangzijiang Shipbuilding Group. The six 9,000 TEU vessels will all have dual-fuel engines able to operate on green methanol and fuel oil. The ships are slated for delivery in 2026 and 2027.