Marine Energy Alliance – support beyond technical and commercial services
Navingo has recently organised its 13th, but also the first virtual edition of Offshore Energy Exhibition and Conference (OEEC 2020), creating a perfect opportunity for people working in the offshore energy industry to establish new business relationships and maintain existing ones.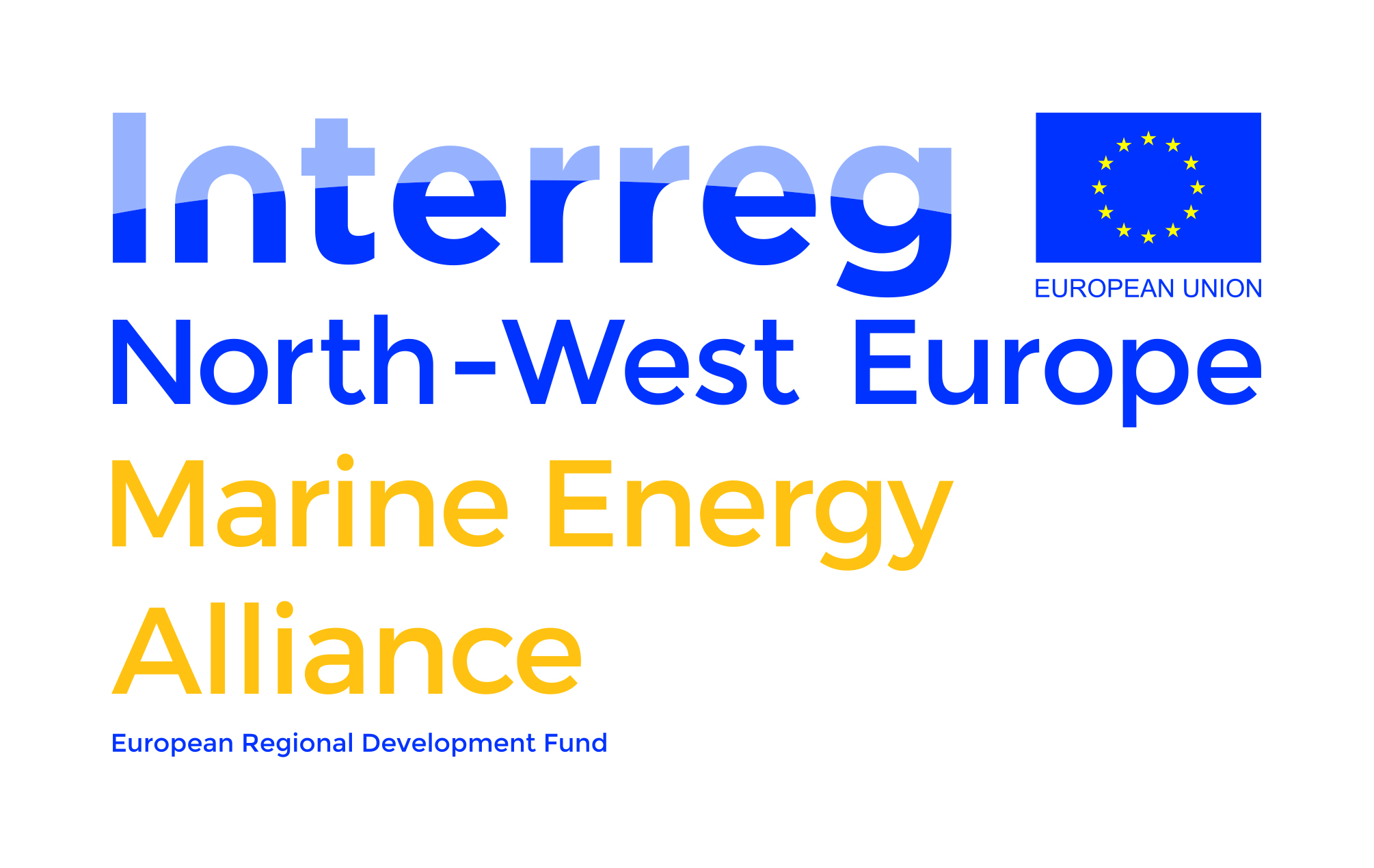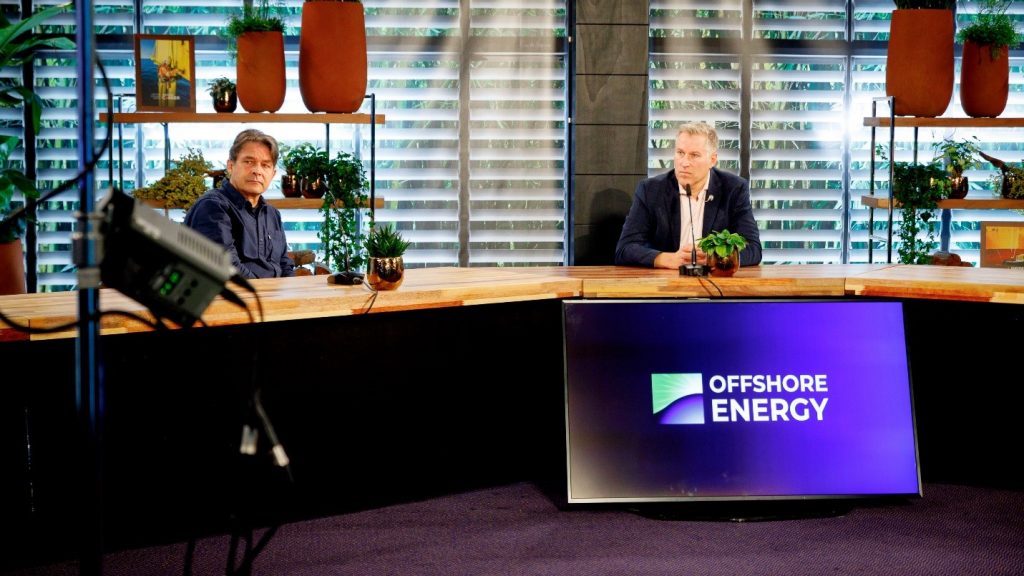 The content-packed programme saw numerous Live Talk Shows, Show Cases, Energy Talks by experts, Live Interviews, Matchmaking, a digital Pub Quiz and lot more.
Thousands of viewers, partners and clients participated in over 45 hours of unique content, with 138 session, 181 content contributors and 1,342 one-on-one matches.
As energy-transition-focused event, Offshore Energy 2020 hosted players from various sectors, including those from the emerging Marine Energy.
When it comes to establishing the energy transition, all forms of renewable energy are needed.
As an untapped and reliable source of energy, marine energy will play an important role in complementing the future energy mix.
When we say marine energy, we are talking about ocean-based renewable energy sources such as wave energy, tidal energy, ocean thermal, salinity gradient, and other types of marine renewables such as offshore floating solar.
As energy players are working to unlock the potential of ocean-based renewables and shift the technology from a research and development stage to a commercial stage, organisations such as the Marine Energy Alliance (MEA) aims to help them reach this goal.
The Marine Energy Alliance (MEA), now in its second year at OEEC, is a 4-year European Territorial Cooperation project running from May 2018 to May 2022.
A consortium consisting of 9 organizations from France, Ireland, the Netherlands and the United Kingdom supports 41 SMEs with bespoke services to bring the marine energy concepts to a higher technical and commercial level.
Through participation in MEA, companies gain access to the project partners' world-leading expertise in Marine Energy development. They get the opportunity to work closely together with a transnational team of Marine Energy experts on both the technical advancement of their technology, as well as the development of their commercial strategy and business plans.
Each service offer is intended to put the company's technology and business firmly on the road towards successful commercialisation.
MEA and OEEC 2020
During the virtual Offshore Energy 2020, several SMEs awarded by MEA, gave a showcase about their company/projects or services.
The Alliance sets up various events, workshops and pitching moments in order to bridge maritime and offshore sectors with marine energy developers and facilitate collaborations.
Navingo's OEEC 2020 provided a pitch platform for MEA-supported Resolute Marine, Wenverter, Witt Limited, Dolfines, Novige AB, Seaturns, Tidal Flyer, Infinities Global, INGINE Wave Energy Systems (IWES), Waveco, Sea Wave Energy Limited (SWEL) and HelioRec.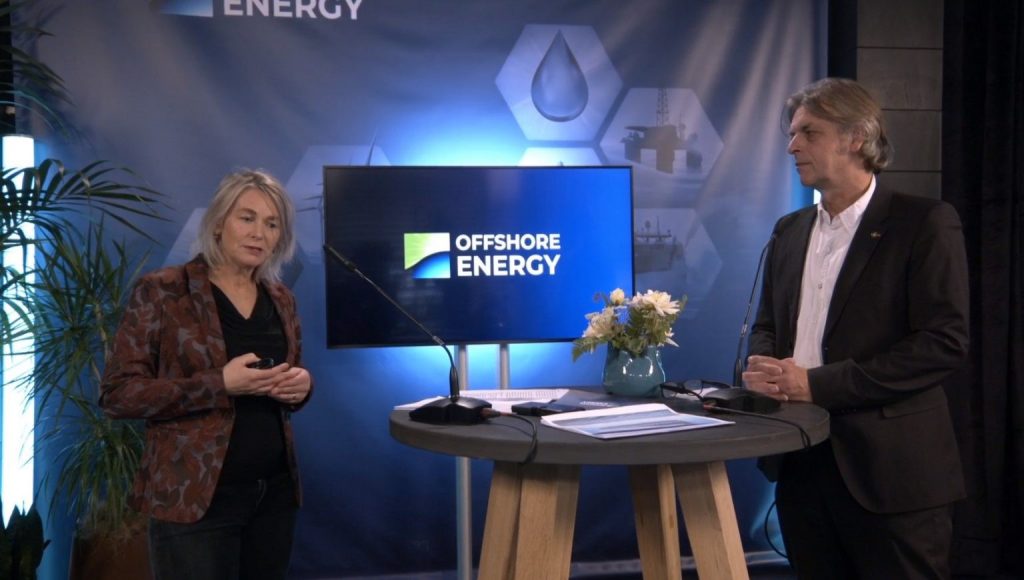 Among numerous Marine Energy Talks at this years' OEEC, offshore floating solar stood out as the individual topic, showcased by MEA-backed Oceans of Energy.
Oceans of Energy installed its first offshore floating solar farm in the Dutch North Sea delivering very positive results. In addition to Oceans of Energy, the project 'Zon op Zee' (Solar-at-Sea) includes organisations such as TNO, MARIN and ONE-Dyas.
Brigitte Vlaswinkel, research and offshore operations director at Dutch-based company, shared her vision on the promise of offshore floating solar systems based on the results from their successful North Sea trials.
Vlaswinkel also showcased how their systems can be integrated with offshore wind and what potential it brings as well as environmental benefits.
Professor Wilfried van Sark from the University of Utrecht joined Vlaswinkel during this Energy Talk to discuss the potential applications of solar energy technologies and performance differences between offshore and land-based photovoltaic (PV) systems.
He also detailed the challenges and advantages of offshore floating solar in real-life conditions and what kind of technologies could be used in future installations.
Dutch Marine Energy Centre (DMEC)
DMEC is an accelerator for marine energy solutions and Marine Energy Alliance lead partner.
Our Offshore Energy 2020 event host, Eva Brouwer, welcomed Andries van Unen, CEO of Tocardo Tidal Power, and Britta Schaffmeister, CEO of Dutch Marine Energy Centre (DMEC), to discuss the latest in marine energy and the potential this industry holds for the future energy mix.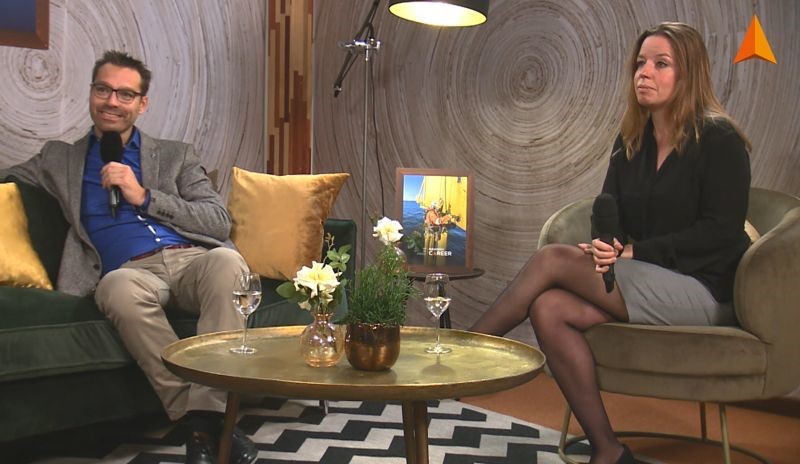 Shaffmeister said that marine energy technologies are very important to accelerate the energy transition, because we now have a lot of solar and wind power, but we also have challenges to balance the grid.
Marine energy, as it is predictable – like tidal energy, but also salinity gradient – can be available 24/7. It will actually deliver a baseload, so then we can go to 2050 to have a carbon-free renewable energy mix
She believes that we can learn from offshore wind and how it all went with this technology reaching commercial stage. We now have experience in offshore operations and we can accelerate the growth of marine energy really quickly
Learn more about MEA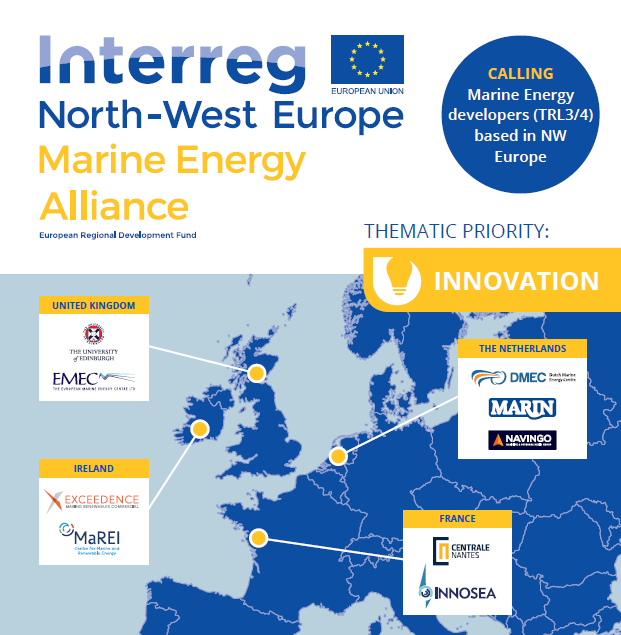 The €6-million MEA project, supported by Interreg North West Europe, includes project partners: The European Marine Energy Centre (EMEC); MaREI; Ecole Centrale de Nantes; Exceedence; Innosea; Stichting Maritiem Research Instituut Nederland; Navingo BV; University of Edinburgh and DMEC.
The recently-published Brochure unveils all the necessary information about the partners and supported SMEs, for those interested in learning more about this 4-year project.