Marine Energy Alliance Webinar – Information on Call for Support

Marine Energy Alliance (MEA) will organize a live webinar about its recently launched second call for support.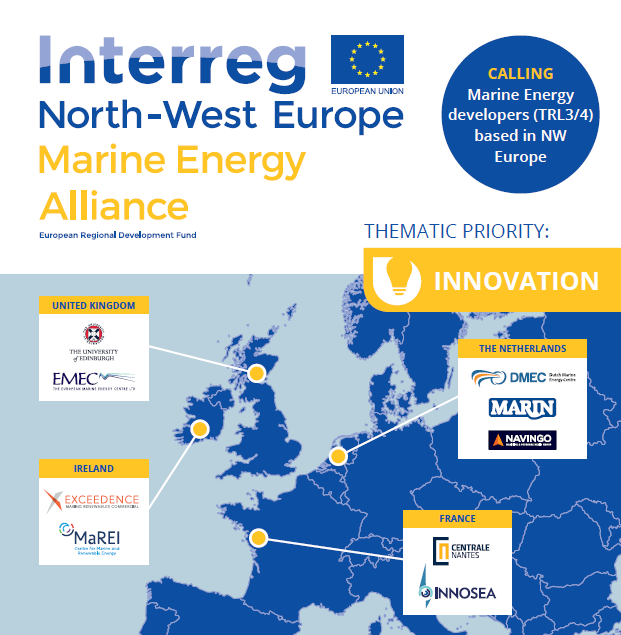 The Webinar will be held on 28 January at 14.30 CET, presented by Daphne Linzell from Dutch Marine Energy Centre (DMEC), Lead Partner – Marine Energy Alliance.
After the first successful call, in which 22 companies were awarded, MEA is very much looking forward to new companies joining the alliance.
Several of the awarded companies, Teamwork Technology, Ocean Grazer, Technology from Ideas, DHV Turbines, Water2Energy, Heliorec, Jostpa, Development v Kim Nielsen were able to showcase their innovations during Offshore Energy 2019.
The Marine Energy Alliance (MEA) is a 4 year European Territorial Cooperation project running from May 2018 to May 2022. The project has a total budget of €6 million and is financially supported by Interreg North West Europe, who provides €3.6 million of ERDF funding.
The aim of MEA is to progress the technical and commercial maturity level of early-stage (TRL 3 – 4) marine energy technology companies with the overall goal of reducing the risk of device failure in subsequent demonstration phases.
As previously reported, the deadline to submit your Expression of Interest is Friday, February 14, 2020 at 17:00 (CET). Any applications received after that exact date and time will not be considered eligible.
Successful applicants passing the first stage are informed on the 2nd of March 2020 and will be sent a Request for Information in Stage 2.
To register for the upcoming Webinar follow this LINK.