Marine energy brings Barbados government to Orkney and Glasgow
An 11-strong delegation from the Government of Barbados has visited the Orkney Islands and Glasgow to find out more about the initiatives behind the progressing marine energy sector.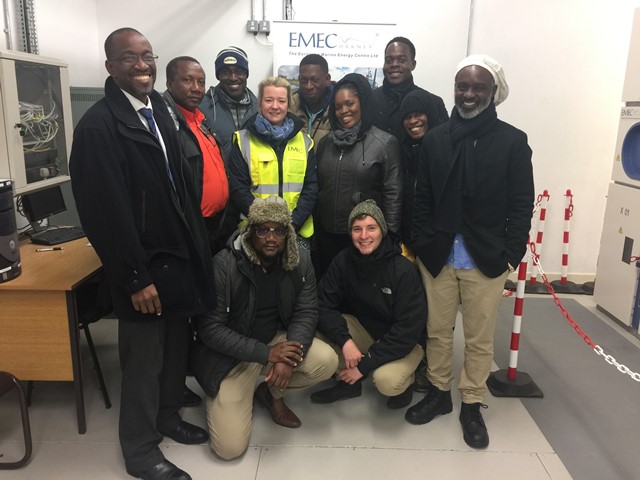 The delegation included representatives from the Ministry of Energy and Water Resources, the Ministry of Maritime Affairs and Blue Economy, Town and Country Planning Development Office, Ministry of Transport, Works and Maintenance, and the Ministry of Environment and National Beautification. The Barbadian utilities Barbados Light and Power Limited and Barbados National Oil Company were also represented, as well as the EU's External Action Service.
Hosted by the European Marine Energy Centre (EMEC), the delegation spent two days touring the centre's wave and tidal energy open sea test facilities, witnessing Wello's Penguin wave energy convertor, Orbital Marine Energy's (formerly Scotrenewables) record-breaking SR2000 tidal turbine, and EMEC's onshore substations.
The delegation met with Orkney-based marine energy stakeholders including Aquatera, Green Marine, Wello, and the Orkney Islands Council to learn from Orkney's marine renewables success story.
This was followed by a meeting with members of the Sustainable Islands International programme at Scottish Government's offices at Atlantic Quay in Glasgow. This included ITP Energised, Aggreko, Wood, Star Renewables and Ricardo Energy & Environment who lead the Sustainable Islands International programme.
Currently Barbados is heavily dependent upon fossil fuels and has set itself some strong targets of 100% of electricity generation from renewable energy sources as well as carbon neutrality by 2030. Ocean energy is a key part of the Government of Barbados' strategy, including ocean thermal energy conversion, offshore wind (fixed and floating), sea water air conditioning and wave power.
The delegation undertook the technical tour under the Ocean Energy Component of the Public Sector Smart Energy Programme. According to EMEC, there will be a reciprocal visit soon, to explore future opportunities under the programme.