Matson lifts option to convert another vessel to run on LNG
American transportation and logistics company Matson has confirmed plans to convert the main engine of its 2019-built container ship Kaimana Hila to run on LNG.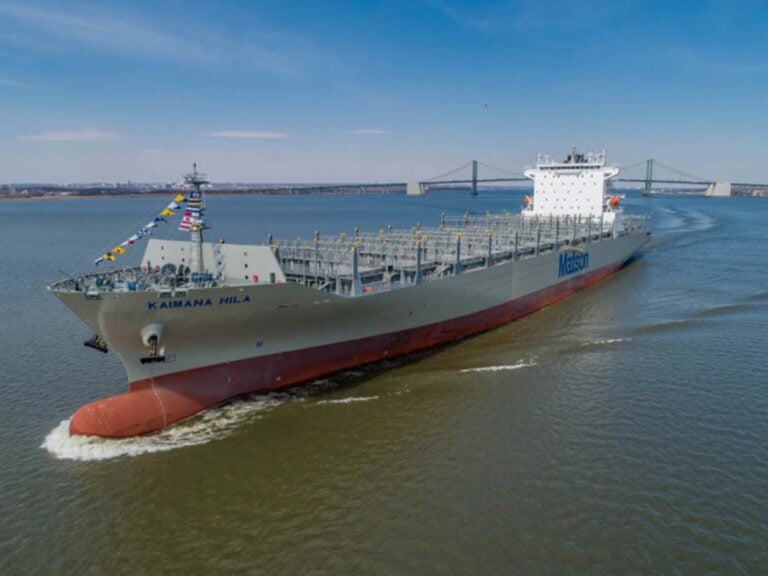 The ship's engine will be converted from an MAN B&W S90ME-C10.5 unit to a dual-fuel ME-GI unit that can run on LNG. The retrofit of the 3,600 TEU vessel will be performed by MAN PrimeServ, the after-sales division of MAN Energy Solutions, in accordance with a contract signed in June 2022.
Matson is exercising an option contained in the contract for conversion of the Daniel K. Inouye, which is the sister ship of the Kaimana Hila.
"This order is the latest example in an increasing trend of owners choosing dual-fuel retrofits for their existing vessels in service to achieve fleet-transformation goals while simultaneously gaining benefits in terms of upcoming regulations such as CII and EEXI," Klaus Rasmussen, Head of Projects and PVU Sales, MAN PrimeServ, said.
"Retrofitting an MAN B&W engine to dual-fuel running is straightforward as our standard, electronically-controlled diesel engines are constructed as 'dual-fuel ready' and therefore readily retrofittable. Such retrofits offer a viable pathway to shipowners that wish to achieve a net-zero carbon footprint by 2050."
Capt. Jack Sullivan, Matson's Senior Vice President, Vessel Operations & Engineering. said that this will be the third vessel Matson is retrofitting with dual-fuel LNG capability.
"Each retrofit is a meaningful step toward achieving our corporate  sustainability goals to achieve a 40% reduction in Scope 1 greenhouse gas fleet emissions by 2030 and net-zero Scope 1 GHG emissions by 2050," he noted.
The option take-up comes on the heels of the recent announcement by Matson of the construction of three LNG-powered newbuilds that will also be driven by ME-GI engines.
The first vessel is expected to be delivered in the fourth quarter of 2026 with subsequent deliveries in 2027.
Matson said that while the earlier ships require some modification to operate with LNG, the new ships will be delivered LNG-ready.