Meyer Werft, Royal Caribbean working on new fuel cell system for ships
German battery technology company Freudenberg e-Power Systems, shipbuilder Meyer Werft and cruise line Royal Caribbean Group have joined forces to develop a completely new fuel cell system tailored to the maritime sector.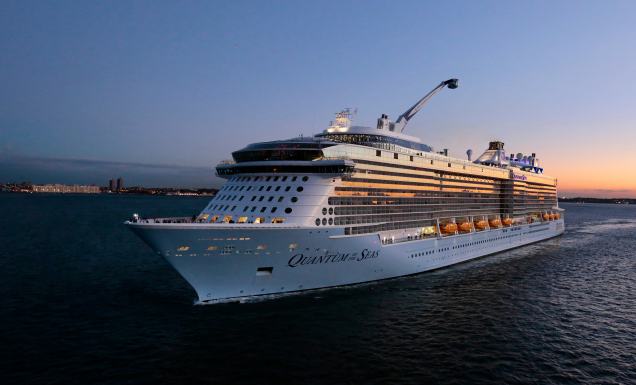 This has been a multi-year project aiming to create a fuel cell system for ships, which will power Royal Caribbean Group's Nova class ships and represent a significant step toward achieving a net zero newbuild.
At completion of the project, the fuel cell installation is intended to cover the full hotel load of a ship and allow for zero local emissions in port.
What has posed a considerable challenge, however, is the process to reform liquefied natural gas (LNG) to usable hydrogen at scale for a shipboard environment, which has delayed the onboard implementation of the project.
The partners expect the first maritime demonstrator system will be completed later this year as work continues toward the full-scale application.
The undertaking of this complex project represents an evolution of how energy is generated and distributed on board, paving the way for a more innovative and sustainable future, according to the partners.
The project has achieved important successes to evolve the use of fuel cells, including the approval of the maritime safety concept.
"We are bringing the best minds together to develop fuel cells at scale for the cruise industry by piloting the application on a Nova class ship and expect to complete the necessary approvals in line with IMO regulations later this year," said Thomas Weigend, Managing Director of Meyer Werft.
"The strategic cooperation between Royal Caribbean, MEYER WERFT and Freudenberg e-Power Systems is groundbreaking for emissions reduction in the cruise industry. The combination of fuel cells providing high efficiency and a long lifetime with Freudenberg's very powerful battery systems is tailored to the high demands of the maritime sector," said Dr. Max Kley, CEO of Freudenberg e-Power Systems.
"To ensure seamless functionality and operability, the integration of this complex system in our ships is critical. Collaborations such as advance our sustainability journey and, together with MEYER WERFT and Freudenberg, we remain committed to supporting the continued research and development of this … technology," said Harri Kulovaara, Executive Vice President, Maritime for Royal Caribbean Group.
To remind, Meyer Werft started building the second LNG-fueled Icon-class cruise ship for Royal Caribbean in February this year.
The first Icon-class ship, Icon of the Seas, was recently launched at Meyer Turku's shipyard. It will be handed over to the customer at the end of 2023 and will set sail on its first voyage in January 2024.