MHI, Shell join in on Hamburg Hydrogen Network
Major industry players, among which are Mitsubishi Heavy Industries, Shell, ArcelorMittal, and Airbus, have joined forces to form Hamburg Hydrogen Network to promote hydrogen and reduce emissions.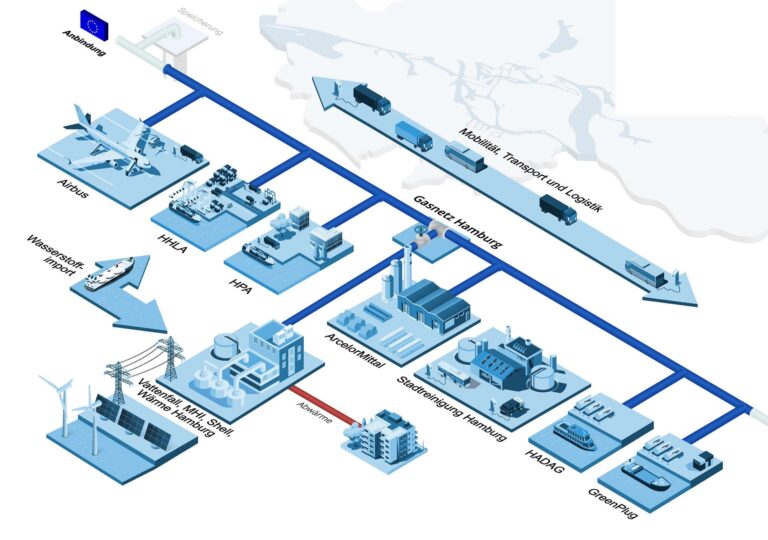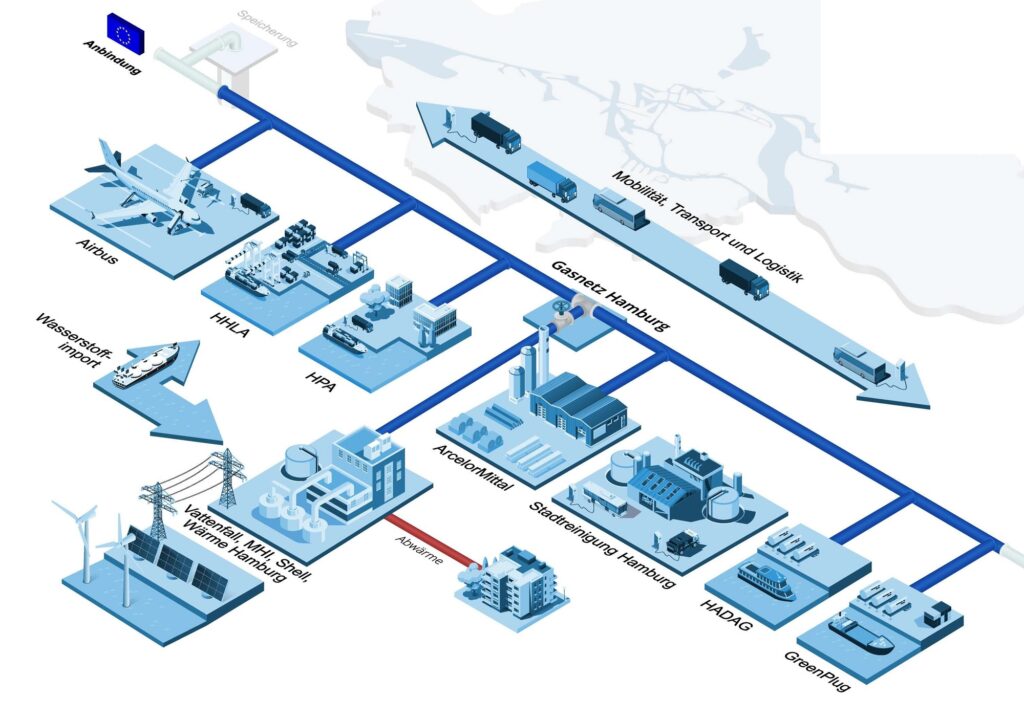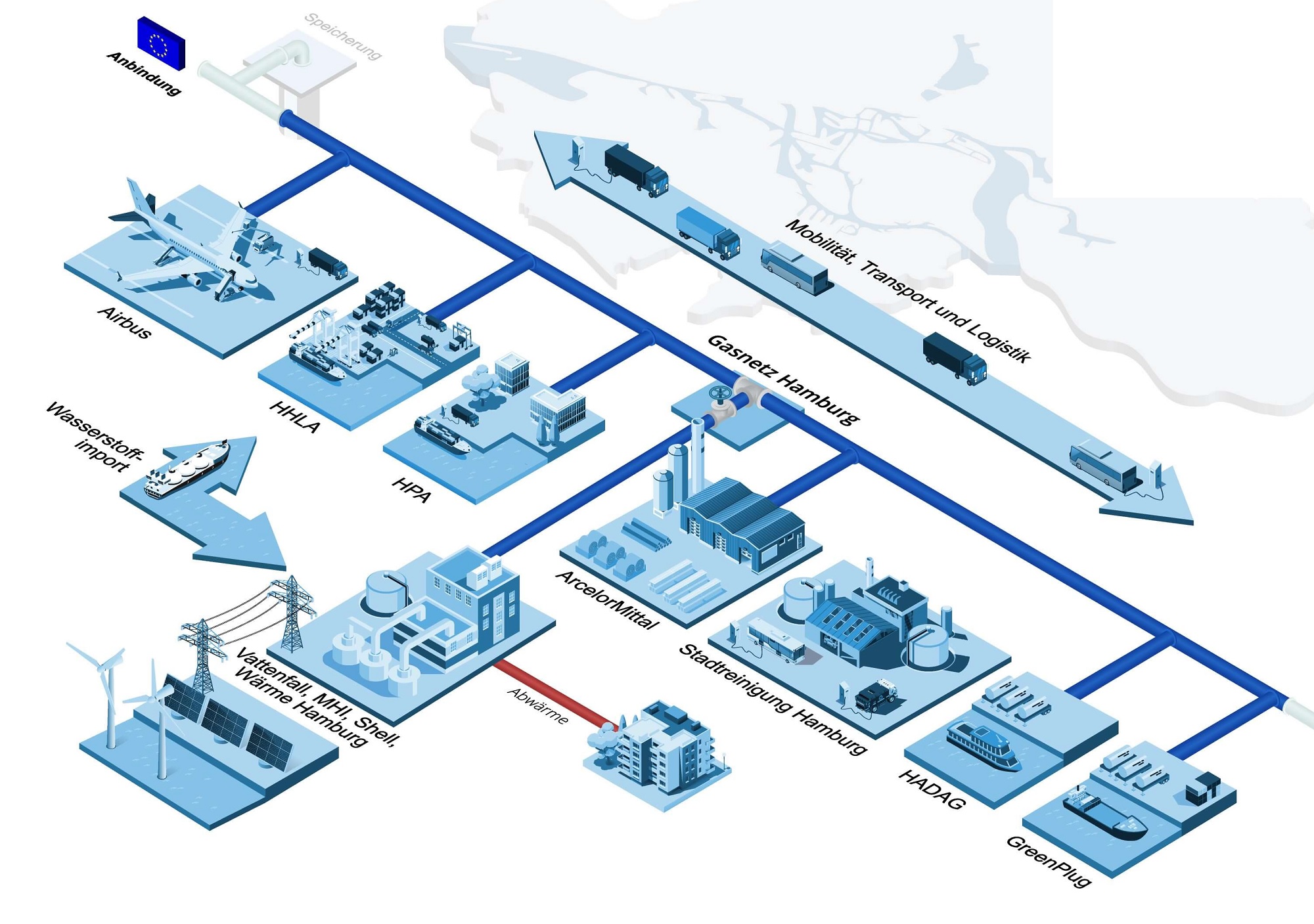 Hamburg Hydrogen Network (Wasserstoffverbund Hamburg) is formed by Airbus, ArcelorMittal, Gasnetz Hamburg, GreenPlug, Hamburger Hafen und Logistik, Hamburg Port Authority, HADAG Seetouristik und Fährdienst as well as Stadtreinigung Hamburg, together with the companies behind the Hamburg Green Hydrogen Hub – Shell, Vattenfall, Mitsubishi Heavy Industries and Wärme Hamburg.
The network was launched on 26 April, and it submitted an application to the EU Important Projects of Common European Interest (IPCEI) funding programme.
The network is formed to contribute to significant emission reductions with projects linking hydrogen production, distribution, and utilisation across a range of applications.
As of 2026, the network partners' projects expect to reduce CO2 emissions in Hamburg by 170,000 tonnes each year. It has the potential to reduce Hamburg's current 16 million tonnes in CO2 emissions by more than one million tonnes annually by 2030.
Green hydrogen produced by the Hamburg Green Hydrogen Hub primarily would replace fossil fuels in industrial production as well as in the transport and logistics sector.
A coal power plant in Hamburg-Moorburg is planned to be converted into a scalable 100-megawatt electrolysis plant for the production of green hydrogen from renewable energy.
The Port of Hamburg offers a unique location-specific advantage in creating a viable hydrogen economy.
The nine projects included in the network are:
HGHH – Hamburg Green Hydrogen Hub
Shell, Mitsubishi Heavy Industries (MHI), Vattenfall and municipal company Wärme Hamburg are planning to produce hydrogen from wind and solar power at the Hamburg-Moorburg power plant site.
"The establishment of an electrolysis facility to produce green hydrogen on the site of a decommissioned coal-fired power plant is a prime example of how the transformation of fossil-fuel production sites can be achieved at other locations in Europe," agree Fabian Ziegler (CEO Shell Deutschland), Oliver Weinmann (Geschäftsführer Vattenfall Innovation GmbH), Kentaro Hosomi (chief regional officer EMEA Mitsubishi Heavy Industries) and Christian Heine (CEO Wärme Hamburg).
Airbus' ZEROe aircraft concept aims to reduce emissions from aviation in a sustainable manner.
Through its production of green steel, the company wants to make a significant contribution to reducing CO2 emissions in the supply chain as part of the H2 for Hamburg (H2H) project. ArcelorMittal's Hamburg plant will be converted to climate-neutral steel production in four steps by 2030 as part of the H2H project.
"In order to ensure the supply of green hydrogen, we rely on the local hydrogen industry network and a significant proportion of hydrogen from the Hamburg Green Hydrogen Hub," comments Dr. Uwe Braun, CEO ArcelorMittal Hamburg.
The company plans to build a supply-safe infrastructure for the hydrogen needs of Hamburg's industrial sector and its national and European network through the project "Hamburger Hydrogen-Industrie-Net" (HH-WIN) by 2030.
Through its "H2 Schubboot" (H2SB) project, the company has designed an emissions-free pusher boat with the power to move 2,400 tonness at a speed of 10 knots.
Hamburger Hafen und Logistik

The port and logistics company HHLA (Hamburger Hafen und Logistik AG) plans to put various types of fuel cell heavy-duty vehicles into operation at its terminals in Hamburg.

With the Hydrogen Port Applications (HyPA) project, the Hamburg Port Authority (HPA) is setting two different priorities as an infrastructure provider and enabler for roads, railways and waterways in the port of Hamburg.
HADAG Seetouristik und Fährdienst AG

As the operator of public passenger ferries in the port of Hamburg, the public company plans the use of emission-free vessels in its fleet. The H2HADAG project envisages the conversion of three new ships from diesel-hybrid to hydrogen-hybrid as well as the addition of two completely new ships (hydrogen-hybrid).
The Hamburg City Council is building the Center for Resources and Energy in Hamburg, Stellingen. With the project "Waste to Hydrogen for Hamburg", it intends to use energy from the thermal recovery of non-recyclable residual materials together with the transport companies Hamburg-Holstein, Heat Hamburg, Gas Network Hamburg and Hamburg.