Mitsubishi Shipbuilding testing ammonia handling system for ships
Mitsubishi Shipbuilding Co., a part of Mitsubishi Heavy Industries (MHI) Group, has revealed it is developing an ammonia handling system to support the utilization of ammonia as a marine fuel.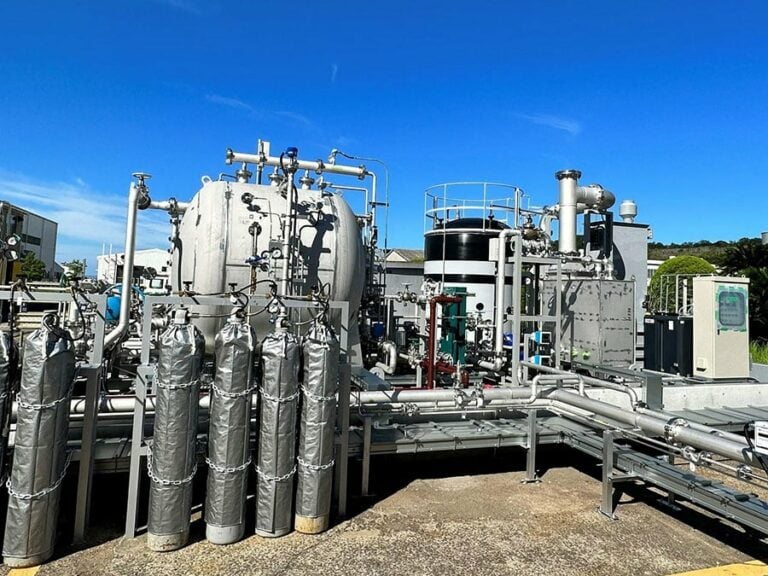 The system, Mitsubishi Ammonia Supply and Safety System (MAmmoSS), comprises several subsystems, including a high-pressure/low-pressure ammonia fuel supply system (AFSS) and an ammonia fuel tank system. 
As part of this development project, Mitsubishi Shipbuilding has begun demonstration testing of the Ammonia Gas Abatement System (AGAS), a subsystem of MAmmoSS to safely treat surplus ammonia.
Using the AGAS demonstration facility at the Nagasaki District MHI Research & Innovation Center, Mitsubishi Shipbuilding will conduct demonstration tests of the processing performance under various scenarios simulating onboard ammonia operations and as well as explore broadening the range of maritime industry through collaboration with related equipment manufacturers, developed ammonia related technology will be applied for various industries to support its safe handling.
The company explained that each subsystem can be modularized, allowing Mitsubishi Shipbuilding to provide the optimal modular configuration in a package for onboard plants consisting of multiple engines and boilers.
Going forward, Mitsubishi Shipbuilding will be aligning with MHI Group's strategy for advancement of the energy transition. Furthermore, the firm will contribute to the further development of marine logistics and the reduction of its environmental impact on a global scale by providing shipbuilding engineering services for ammonia-fueled vessels.
In June this year, Mitsubishi Shipbuilding revealed it will  conduct technical studies on an ammonia fuel supply system for large, low-speed two-stroke marine engines which are being developed by Swiss marine engine maker Winterthur Gas & Diesel AG (WinGD).
The project will see WinGD applying its X-DF-A ammonia-fuelled engines to a range of vessel designs, with Mitsubishi both designing the vessels and completing the fuel chain with its ammonia fuel supply system (AFSS).
Meanwhile, Mitsubishi Shipbuilding delivered ammonia supply system for large, low-speed two-stroke marine engines to Japan Engine Corporation (J-ENG).
J-ENG is actively testing ammonia fuel under diverse conditions using an experimental large-scale, low-speed two-stroke marine engine located at the MHI Research & Innovation Center in Nagasaki District, Japan.
The ammonia fuel supply system supplied by Mitsubishi Shipbuilding has been installed at the Nagasaki District facility, and supplies the ammonia fuel used to conduct the tests.