Mocean Energy hails €3.7M EuropeWave funding boost as significant step towards wave energy scale-up
Scottish company Mocean Energy has secured €3.74 million in EU funding to develop and deploy a 250kW wave energy device offshore Orkney, as part of the EuropeWave project.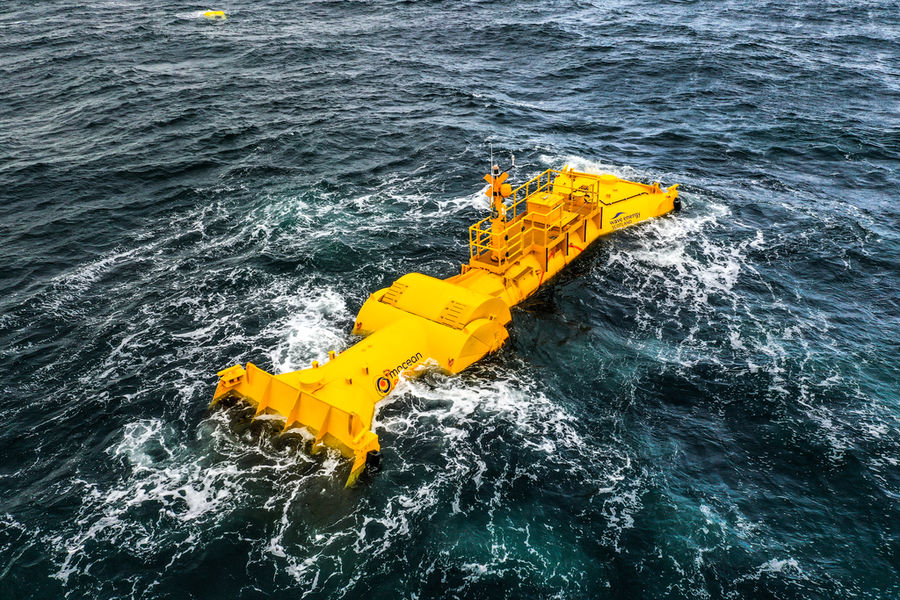 The large-scale wave energy device – named Blue Horizon 250 – will be manufactured in Scotland and will be deployed in a grid-connected berth at the European Marine Energy Centre (EMEC) in Orkney as early as 2025.
It's hoped the project could then pave the way to a small wave farm delivering 1-2MW of low carbon electricity by 2030.
The Edinburgh firm has been awarded the funding in phase 3 of EuropeWave project, as one of three wave energy companies that made it to the final stage of the pre-commercial procurement program, funded through the EU and managed in collaboration with Wave Energy Scotland, the Basque Energy Agency and Ocean Energy Europe.
The other successful companies are IDOM Consulting and CETO Wave Energy Ireland, who will install their devices at the Biscay Marine Energy Platform (BiMEP) in northern Spain.
Cameron McNatt, co-founder and managing director of Mocean Energy, said: "This is a major milestone for Mocean Energy. We have already demonstrated our technology successfully at small-scale and this program will allow us to build a significantly larger machine based on our proven hinged raft design, and incorporate our novel direct drive generator.
"We are already working with a range of supply chain partners across Scotland and the UK who bring tremendous experience and professionalism to the wave energy sector, and I am confident we have the right suppliers on board to bring this ambitious project to fruition.
"Innovation funding is crucial for early-stage technologies, and I am grateful to EuropeWave for this support which will help leverage the additional private investment this project will require.
"Looking further ahead, our goal is to deliver a small array in UK waters this decade, and I am confident that with appropriate innovation funding in place we can realize our ambition to build commercial wave energy arrays and generate home-grown green energy from our seas, both in the UK and around the world."
Mocean Energy is already a key participant in the multi-million Renewables for Subsea Power (RSP) program which has connected Mocean's 10kW Blue X wave energy prototype with a Halo underwater battery system developed by Aberdeen intelligent energy management specialists Verlume.
The two technologies are currently in the seas off Orkney where they are delivering low carbon power and communication to infrastructure including Baker Hughes' subsea controls equipment and a resident underwater autonomous vehicle (AUV) provided by Transmark Subsea. The program has been supported by industry partners alongside the Net Zero Technology Centre (NZTC).
Blue Horizon 250 as stepping stone for scale-up of wave energy
Blue Horizon 250 will be a significant scale up from Blue X and is designed for commercial applications on islands and remote communities, while also including early grid projects and off-grid applications, such as oil and gas and aquaculture.
The Blue X prototype was built in Scotland with around 80% local supply chain content, and it is anticipated Blue Horizon will deliver similar levels of local work.
In March, Mocean Energy selected Aberdeen-based TEXO Engineering and Fabrication as its preferred fabrication, assembly and load-out contractor for its future wave energy convertors.
The deployment and demonstration of the Blue X at EMEC was funded by Wave Energy Scotland (WES) and supported by Interreg North-West Europe's Ocean DEMO project.
Tim Hurst, managing director of WES said: "With their Blue X prototype deployed in Scapa Flow, Mocean Energy proved their technology had the right cost, performance and reliability to deliver commercial wave energy.
"The RSP project has successfully demonstrated the technology in a specific oil and gas application, and now phase 3 of EuropeWave will demonstrate that the technology can scale up and ultimately be deployed in sufficient numbers to make a significant contribution to our net zero targets.
"The EuropeWave project itself has shown that effective collaboration between European public funders in a structured and competitive program can accelerate technology development and deliver outcomes to an internationally recognized standard."
Neil Kermode, EMEC's Managing Director, added "Mocean Energy first came to Orkney in June 2021 with the testing of their Blue X prototype on our scale test site in Scapa Flow for a five month test campaign gaining initial operational experience in real-sea conditions
"We're delighted to see Mocean secure this funding and continue the next steps in their development journey in Orkney which will see them deploy at our grid-connected test site at Billia Croo. This perfectly illustrates the importance of facilities and services that enable practical demonstration and allows learning by doing."
Phase 3 will involve the detail design, a full-scale build, and 12 months at-sea testing of a first-of-a-kind wave energy converter at EMEC, leading to technology readiness level TRL6/7.
Focus areas will include building a novel power take-off system (PTO) at full-scale – combining a Vernier Hybrid Machine (VHM) with an associated linkage mechanism to boost energy yield-mass.
Also, the focus will be put on exporting power to the grid to ensure grid compatibility and compliance, refining costs and the company's commercial roadmap.
To complete the full-scale 250kW Blue Horizon program, Mocean Energy said it would bring in private funding as required.
"The EuropeWave program is a vital catalyst to build confidence in the industry and accelerate the technology towards commercialization," McNatt concluded.
Subscribe and follow
Offshore Energy – Marine Energy LinkedIn