MSC makes waves again with a fresh order for 10 LNG-powered newbuilds
The world's largest container shipping firm MSC has returned to Chinese shipbuilder Zhoushan Changhong International Shipyard with an order for an additional ten LNG-powered containerships.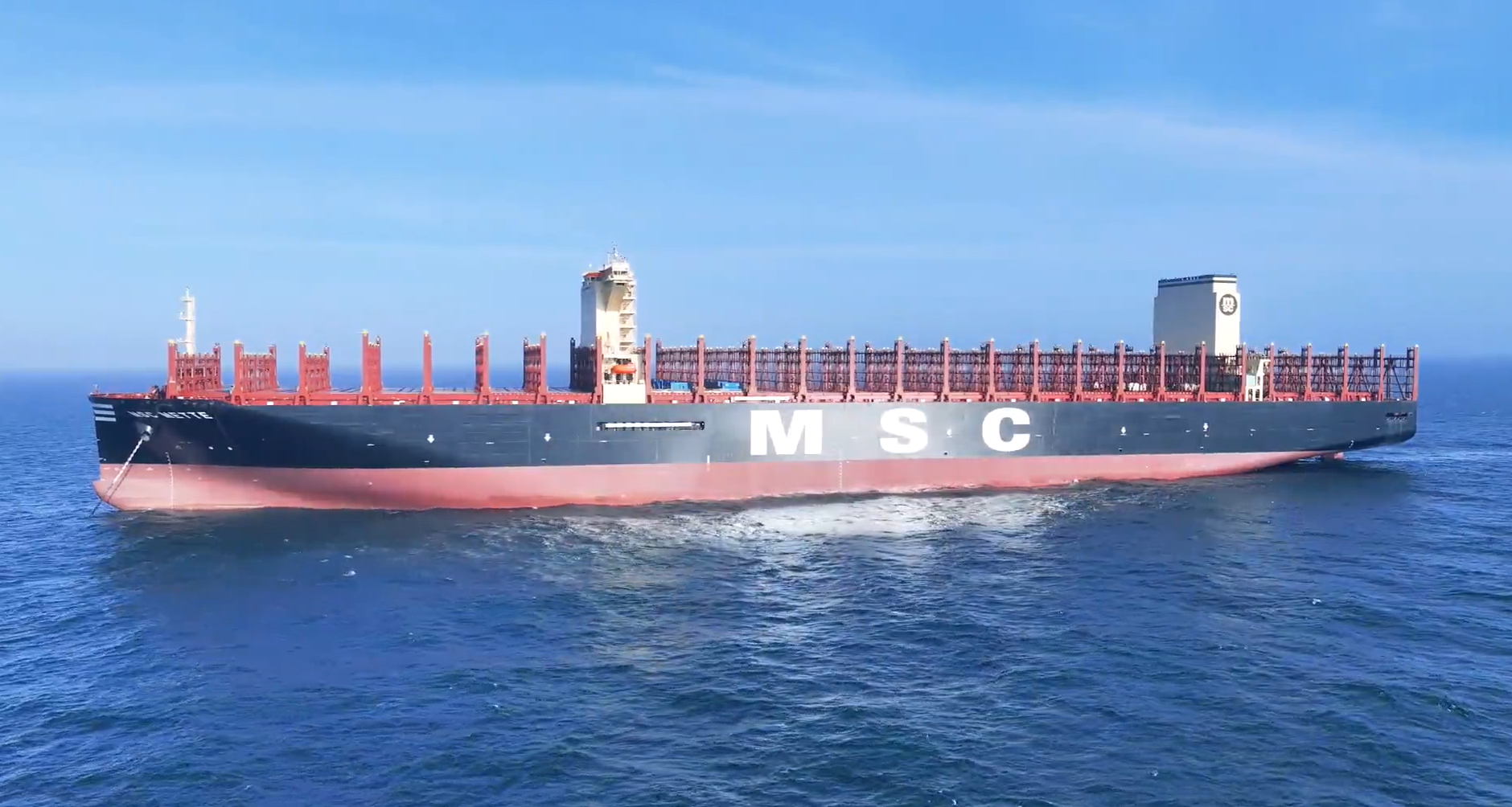 The deal will see Zhoushan Changhong International Shipyard build ten LNG-powered behemoths each boasting a 10,300 TEU capacity, the shipyard said.
These 10,000-TEU dual-fuel container ships have been developed and designed independently by CIMC's subsidiary CIMC Ocean Engineering Design and Research Institute (CIMC ORIC).
The shipyard said that this vessel type is also the largest container ship that can enter the Black Sea through the Turkish Strait.
Stretching across a length of 299.95 meters and boasting a ship width spanning 45.6 meters, this ship design showcases a molded depth of 25.0 meters and a design draft reaching 12.5 meters, while its structural draft extends to 17.5 meters.
Accompanied by a commendable design speed clocked at 20 knots, it houses the largest C-type LNG fuel storage tank within its classification. The vessel design enables a cruising range, encompassing both LNG and fuel modes, to elegantly meet the singular round-trip requisites of the China-Europe as well as China-US routes.
Their Energy Efficiency Design Index (EEDI) exceeds the benchmarks set by IMO's Phase III emissions standards, showcasing a substantial 50% reduction. The Container Intensity Indicator (CII) remains well within optimal operational ranges until 2040.
A key aspect of the ships' design is the incorporation of a dual-fuel main engine and generator, optimized for LNG utilization, and adaptable configuration that also aligns with the potential for the use of ammonia and methanol as marine fuel.

The delivery timeline for these ships is set between the latter part of 2026 and 2027. The pricing of the deal has not been disclosed.
In the present year, Changhong International has secured orders for a total of 16+4 vessels, encompassing LR2 product tankers and LNG dual-fuel container ships. The company's shipbuilding portfolio now encompasses a tally of 48 vessels, with order fulfillment moving up to 2027.
Moving forward, Changhong International is poised to synergize prevailing market dynamics with its inherent strengths. This strategic endeavor will be anchored in the container ship sector, spanning vessel capacities ranging from 3,000 to 12,000 containers.
The company's strategic emphasis will be channeled towards vessels fueled by LNG, methanol, and other environmentally conscientious alternatives. Additionally, the company is committed to securing orders for MR chemical tankers and LR2 tankers.
The latest order emerges on the back of a contract signed at the beginning of 2023 when MSC ordered ten 11,500 TEU vessels also powered by LNG.
CIMC ORIC is the designer of these ships as well and the delivery of the newbuilds will be spread between 2025 and 2026.
Furthermore, the ships have been designed with fuel efficiency in mind and they have 5 pct lower fuel consumption when compared to their counterparts of the same size.
Aside from the dual-fuel propulsion, enabling the vessels to run on both LNG and conventional fuel, the ships will also adopt the most-advanced ammonia-ready design.
The container shipping titan has been a strong advocate of LNG as a marine fuel and has recently joined SEA LNG coalition with the aim of collaborating with the organization on exploring the prospects of bio-LNG, particularly renewable synthetic LNG.
"In alignment with our net zero commitments by 2050, we view fossil-based LNG as a fuel in transition and fully expect bio and renewable synthetic LNG to be a key part of our longer-term multi-fuel strategy for deploying net zero fuels," Bud Darr, Executive Vice President, Maritime Policy & Government Affairs MSC Group, said.
Earlier this year, MSC emerged as the first ocean carrier to surpass a staggering 5 million TEU in fleet capacity, growing its fleet from 4 million TEU to 5 million TEU in a mere 22 months.
Alphaliner's calculations show that MSC purchased 306 containerships with a capacity of 1.2 million TEU since August 2020, basically buying any ship the company could get its hands on.
The Swiss-based container shipping giant MSC has the largest orderbook by far in the industry with around 130 containerships on order.