New LNG carrier design eliminates methane slip
 Siemens Energy, Moss Maritime, DNV and Fearnleys have developed an LNG vessel design that will be powered by a hybrid combined-cycle power and propulsion plant.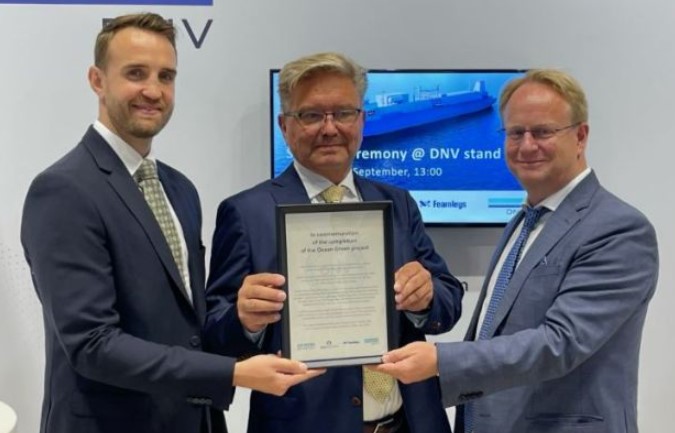 Under the concept, many engine components, including the main engines can be removed from the ship. The backbone of the vessel's hybrid combined-cycle, power and propulsion plant is an SGT 400 gas turbine in combination with the heat recovery steam generator, steam turbine, the BlueVault energy storage solution for the electrical propulsion and distribution system.
As disclosed, the plant burns fuel in an efficient manner producing low levels of nitrogen oxide and practically no methane slip.
Due to the reduced number of components, less time and effort would be needed for the construction process, and there is more space for cargo.
DNV said that its studies have found that the Ocean Green system would result in an equivalent CO2 reduction of approximately 11-18% and reduce the unit freight cost by approximately 9-17% compared to today's LNG carriers and their current market operational profiles.
Martin Cartwright, Business Director – Gas Carriers & FSRUs, DNV Maritime, believes that it is a crucial step in mapping out the next generation of gas carriers.
"Maritime transport continues to play an essential role in building up energy security, which is expected to lead to increasing demand for innovative solutions such as the Ocean Green concept."
The challenge with LNG lies in the occurrence of the 'methane slip', the unburned fuel emitted from dual fuel internal combustion engines on ships, as well as the methane leakage that happens throughout the LNG supply chain. Various studies have pointed out that these spillages result in higher well-to-wake (WTW) CO2e emissions from ships using LNG compared with conventional marine fuels.
Therefore, the uptake of LNG as a 'climate-friendly' fuel for the maritime industry hinges on the assumption that ships can switch to bio and e-LNG (renewable LNG) in the future, cutting greenhouse gas (GHG) emissions.