Nexans Aurora starts installing Greek subsea interconnector cable
Nexans' new cable-laying vessel (CLV) Nexans Aurora has begun installing the 500 kV HVDC subsea interconnector cable between the island of Crete and mainland Greece.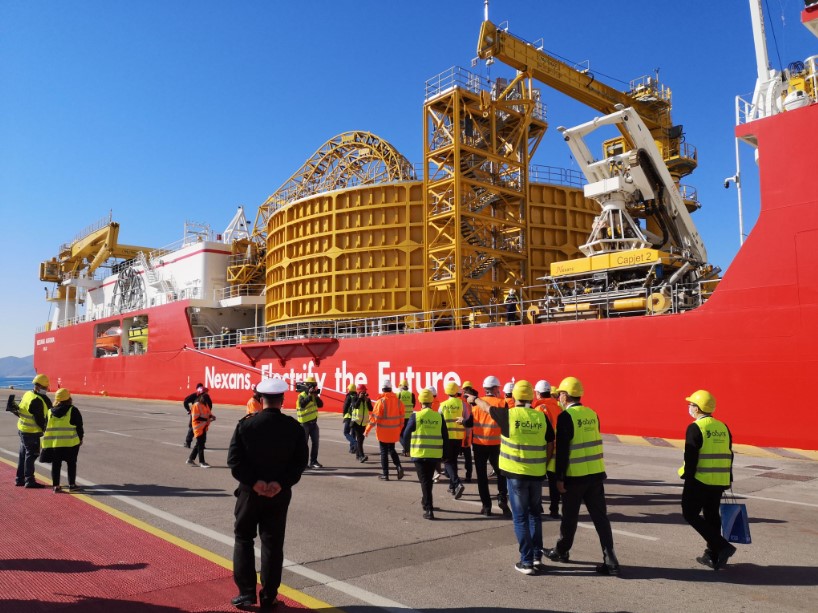 The HVDC cable will span a distance of 335 kilometers from the Attica region to the Herakleion area in Crete.
Nexans won the contract from IPTO's Ariadne Interconnection for the link in May last year. Over a 35-month project, the Paris-based firm will provide half of the total 1,000 MW bipole interconnection.
Italian cabling giant Prysmian was in charge of the other half of the interconnection and two subsea telecom links. The company installed the HVAC cable system, composed of 135 kilometers of 150 kV three-core cables with XLPE insulation and double-wire armoring, earlier this year.
The Crete-Attica interconnection is said to be the largest energy infrastructure project in the history of the Greek electricity system.
It is also the first HVDC interconnection in the Mediterranean to use the most advanced converter technology of the Voltage Source Converter (VSC) type.
The interconnection is expected to come online in 2023.