Noble, Delek to buy stake in gas pipeline between Israel and Egypt
U.S. company Noble Energy and Israel's Delek have agreed to acquire a stake in the East Mediterranean Gas company securing ownership in a gas pipeline linking Israel and Egypt, which will serve as a transport route for gas from the Tamar and Leviathan offshore fields.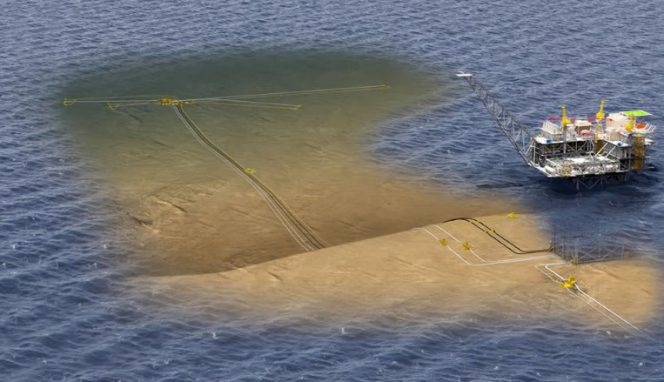 Namely, EMG is a private company registered in Egypt which owns a 26 inch, c. 90 km subsea pipeline – the EMG Pipeline – connecting the Israeli transmission system in the Ashkelon area with the Egyptian transmission system in the El-Arish area, as well as related facilities.
The EMG Pipeline was designed for a capacity of approx. 7 BCM per year, with an option to increase the capacity to approximately 9 BCM per year by installing additional systems.
The flow of gas through the EMG Pipeline from Egypt to Israel was stopped several years ago, and according to Delek, EMG has no commercial activity.
According to a document shared by Delek, the transaction includes a sale of a 39 percent stake in the pipeline to a joint venture company formed by Delek, Noble, and EGAS for a total amount of $518 million.
Of the $518 million to be paid, Delek and Noble will each pay around $185 million with the balance being paid by the Egyptian Partner.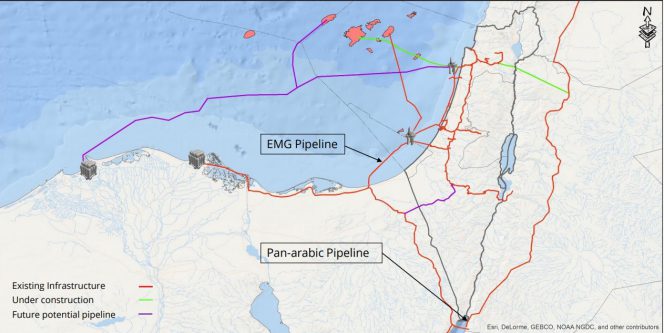 Gas to flow in 2019
Gas from Israel is expected to start flowing to Egypt through the EMG pipeline at the beginning of 2019.
Initial gas delivery through the EMG Pipeline is expected to occur from the Tamar field to Dolphinus Holdings Limited in Egypt, under Noble Energy's existing interruptible natural gas sales agreement. At startup of the Leviathan field by the end of 2019, Noble Energy anticipates selling at least 350 million cubic feet of natural gas per day, gross, to contracted customers in Egypt.
J. Keith Elliott, Noble Energy's Senior Vice President, Offshore, stated, "Today's announcements mark significant steps forward in supplying natural gas from the world-class Tamar and Leviathan fields to regional customers through existing infrastructure.
"They also represent another major milestone toward Egypt's goal to become a regional energy hub, providing access to both growing domestic markets and existing LNG export facilities.  With these agreements, we are securing the capacity to deliver on our firm gas sales agreement with Dolphinus for Leviathan while also allowing for interruptible sales from Tamar into Egypt.  This further solidifies the strong cash flow growth anticipated from our Eastern Mediterranean assets."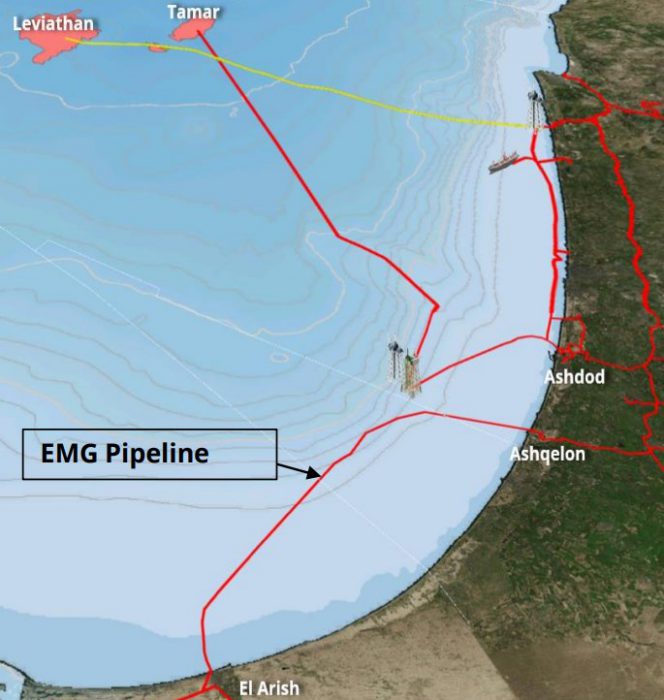 Sharing more details on the pipeline transaction, Noble Energy said it would own an effective, indirect interest in the pipeline of approximately 10 percent.  In addition, and upon closing of the transaction, Noble Energy and partners will enter into an agreement to operate the pipeline, securing access to the pipeline's full capacity.
Technical evaluation and flow reversal planning work on the EMG Pipeline is ongoing.  Key conditions required prior to closing the agreements include gaining necessary regulatory and government approvals, obtaining technical third-party recertification of the EMG Pipeline, completing final transaction due diligence, and confirming sustained gas flow.
Noble Energy also secured an option for an additional route and capacity to transport natural gas within Egypt by entering into a definitive transportation agreement with the owner and operator of the Aqaba El Arish Pipeline.  This agreement will support the transportation of additional quantities of natural gas to Egypt over and above the amounts through the EMG Pipeline, Noble said.
Offshore Energy Today Staff
Related news
List of related news articles