Mysterious shipowner picks Amogy's ammonia-to-power tech as primary power for a newbuild
Brooklyn-based technology startup Amogy has inked a pre-order contract for the supply of four of Amogy's 200 kW ammonia-to-power systems with an undisclosed 'renowned' Norwegian shipping company.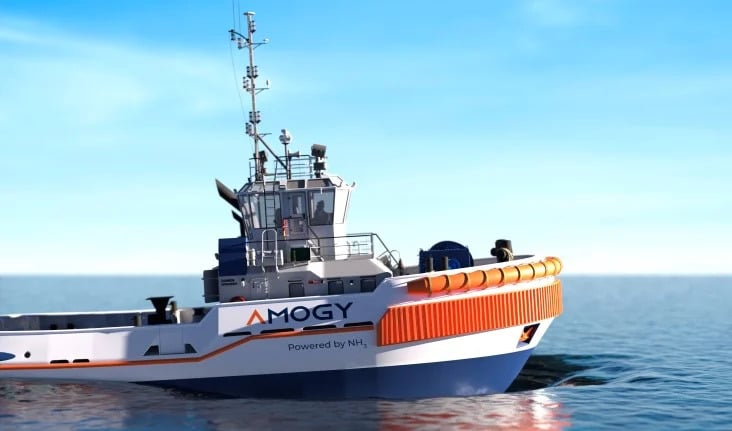 Amogy said that the newbuild vessel will be outfitted with a total of 800 kW of Amogy powerpacks, adding that the integrated system will provide the primary power for the vessel with zero-emissions operations.
Amogy's ammonia-to-power technology feeds liquid ammonia through its cracking modules integrated into a hybrid fuel cell system, which powers the electric motors.
"We are very proud that this prominent shipowner believes in our technology and sees it as the most viable solution for decarbonizing their newbuild vessel," said Managing Director of Amogy Norway, Christian W. Berg.
"This is a major milestone on our road to commercialization, and I believe it will serve as an inspiration for other shipowners to follow."
The company launched operations in Norway last year and hired a former director at Yara Clean Ammonia, Christian W. Berg, to work on accelerating the company's effort in commercializing its ammonia-to-power technology.
Amog recently announced the conclusion of its $150M total Series B fundraising which will enable the company to continue its organizational development to support commercialization.
Prior to commercialization, the US company plans to present its ammonia-powered, zero-emission tugboat in late 2023 — which is three times larger than the system that was field-tested on Amogy's ammonia-fueled semi-truck earlier this year.
Upon the successful sail of the tugboat later in 2023 in upstate New York, Amogy intends to present its first commercial offering in 2024 and more.
The company's technology has sparked a lot of interest in the maritime industry as the sector moves toward decarbonization of its operations.
Last month, Amogy teamed up with shipping company Skansi Offshore and system developer and integrator SEAM to investigate potential technology collaboration in the field of ammonia application, with the common goal of decarbonising the offshore industry.
In addition, in April this year, Amogy and offshore wind vessel owner and operator Marco Polo Marine signed a MoU under which Amogy's ammonia-to-power system will be installed on the latter's existing or newly built wind vessels.