NREL's variable-geometry wave energy concept advances to test phase
Researchers from the National Renewable Energy Laboratory (NREL) in United States have built and tested a small-scale prototype of novel wave energy device which can adapt its shape according to the strength of the waves for greater survivability and power extraction.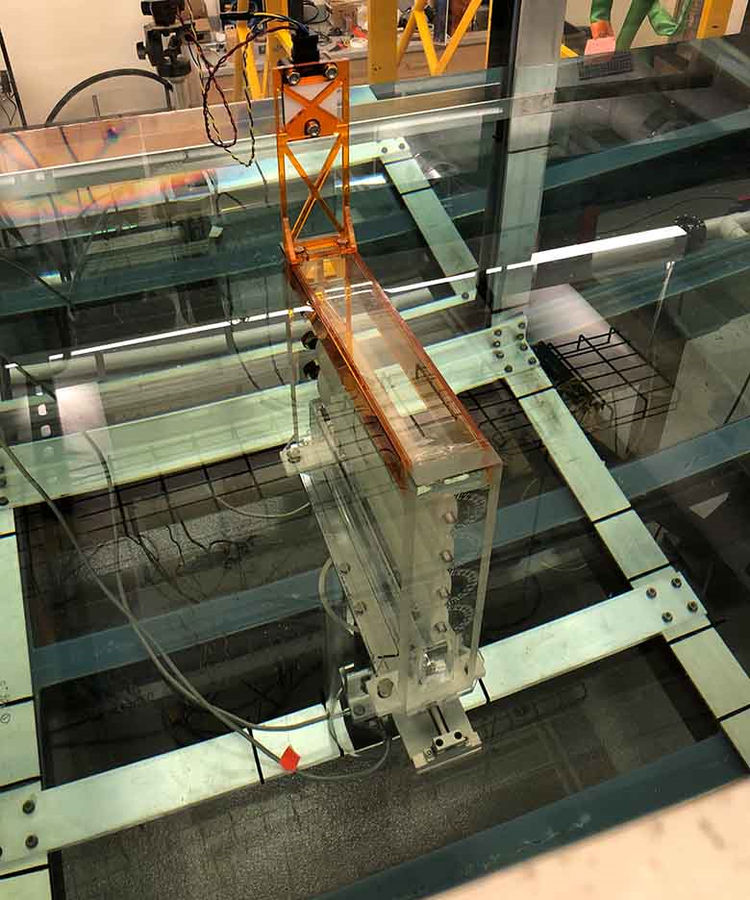 Using the funding from the U.S. Department of Energy's Technology Commercialization Fund (TCF), NREL's researcher Nathan Tom partnered with Krish Thiagarajan Sharman, the renewable energy lead at the University of Massachusetts (UMass) Amherst, to bring its variable-geometry oscillating surge wave energy converter (VG-OSWEC) from theory to practice.
Namely, the researchers built the small-scale prototype model of the device and put it to the tests at the wave-current laboratory at UMass to check their theoretical models – related to hydrodynamics and multivariable load shedding control strategies, among others.
According to NREL, the findings have confirmed that theoretical models accurately predicted the device's performance when compared against experimental data.
However, the design needs to go through far more iterative steps before it can reach the ocean, the researchers suggest.
NREL's VG-OSWEC design is said to represent a more cost-effective approach to harnessing the energy from the waves, as it is lighter and more-robust than traditional designs.
"Our systems are just too heavy. To withstand really extreme loads, orders of magnitude higher than when the device is operating and producing power, they're built with too much steel. We need to start thinking outside the box," said Nathan Tom.
The device is made of a rectangular paddle that sways back and forth on a bottom hinge, like a cattail in the wind. The swaying paddle is a common design feature for wave energy devices, but this one is far more adaptable, according to NREL.
As waves go from productive to destructive, the device's operator can open one or more horizontal flaps, creating gaps for that violent energy to escape.
This extra level of control not only protects the device, it could also help the converter produce more energy. When seas change, remote operators can toggle each flap to extract as much energy as possible.
The funding also allowed the team to test another novel aspect of their design – a raised foundation.
Often, oscillating surge wave energy conversion devices are fixed to the seabed where swirling debris and sand can interfere with operation, according to NREL.
Lifted off the seafloor on a column, the device can avoid those obstacles and access a greater number of locations between sand and surface or in deeper waters. Because surface waters are often more energetic, devices that can reach those areas could produce more power, NREL states.
Together, the raised foundation and variable-geometry could help wave energy devices adapt to their ocean environment better than previous designs, NREL claims.
"We want to develop a patented technology far enough where industry thinks – 'OK, this is a good idea.' That's something I want to try to incorporate into my design. That's when we'll transfer it over to industry. And for that, the TCF award is super helpful.
"We look at waves not as a force to reckon with, but to use to harness energy. It's a very holistic, symbiotic approach to manage our interaction with the ocean," concluded Tom.