OEEC: Lots of Activities at Marine Energy Pavilion
As Offshore Energy Exhibition & Conference (OEEC) 2019 is ready to kick off, this year, the Marine Energy industry has bigger presence than ever with a large Marine Energy Pavilion, hosted by Dutch Marine Energy Centre (DMEC) and Navingo.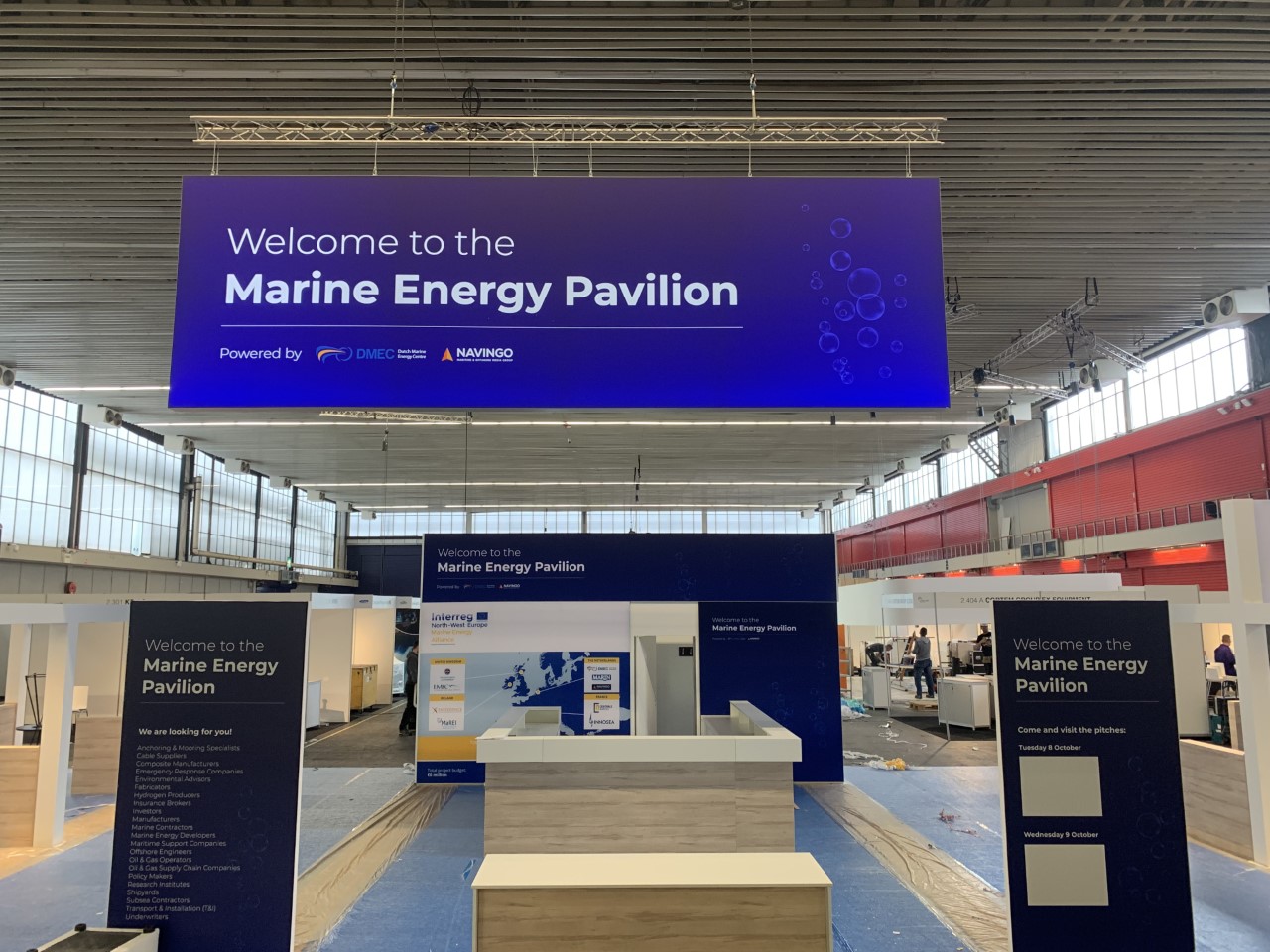 At the pavilion we showcase the potential of marine energy, and organize lots of activities to discuss collaboration opportunities with the offshore and supply chain industry.
Marine Energy Solutions – Exhibitors
This year, 11 Dutch and international companies exhibit their marine energy solutions at the Pavilion. We welcome the offshore and supply chain industry to learn about the innovative marine energy technologies and make valuable connections for driving this promising sector together.
The exhibitors include:
FishFlow Tidal Power,
Floating Power Plant (FPP),
Magallanes Renovables,
Minesto,
Ocean Grazer,
REDstack,
SCHOTTEL GmbH,
SeaTwirl,
Teamwork Technology,
Tocardo Tidal Power B.V,
Water2Energy.
Pitches
In the pitching area of the pavilion, we offer you interesting insights in innovative marine energy solutions and welcome you to join our pitching sessions. On Tuesday October 8, the pitches will be moderated by Freek Bisschop from Rockstart. Wednesday October 9, Simon Stark from DMEC will lead the discussions.
Pitches Tuesday October 8:
13.30 – 14.15 Teamwork Technology by Fred Gardner,
14.15 – 15.00 Ocean Grazer by Frits Bliek,
15.00 – 15.45 Technology from Ideas (TFI) by Noel Halloran,
15.45 – 16.30 DHV Turbines by Mark Hill,
16.30 – 17.15 Water2Energy by Willem Molenaar.
Pitches Wednesday October 9:
10.00 – 10.45 Heliorec by Polina Vasilenko,
10.45 – 11.30 Jospa Ltd by Tom Doyle and Danny Golden,
11.30 – 12.15 Development v Kim Nielsen by Kim Nielsen.
Tuesday drinks by IRO
On Tuesday October 8, a drink will be held between 17.00 and 18.00 at the Pavilion sponsored by IRO (the Association of Dutch Suppliers in the Upstream Oil and Gas Industry and Offshore Renewable Industry). You are welcome to join, and explore collaboration opportunities with the Marine Energy sector together.
Marine Energy Event
On Wednesday October 9, Dutch Marine Energy Centre (DMEC), Dutch Energy from Water Association (EWA) and Navingo organize the 5th annual Marine Energy Event.
We invite you to join our discussion on how marine energy solutions can drive our energy transition and next steps foreseen to successfully commercialize and integrate these solutions in the global energy mix.
Meet the Marine Energy Alliance
This year, the Marine Energy Alliance (MEA) is present in the Marine Energy Pavilion with a dedicated MEA lounge.
MEA aims to progress the technical and commercial maturity level of early-stage (TRL 3 – 4) marine energy technology companies with the overall goal of reducing the risk of device failure in subsequent demonstration phases.
Recently 22 companies were selected and will receive service delivery from the MEA project partners: Dutch Marine Energy Centre (DMEC), Stichting Maritiem Research Instituut Nederland (MARIN), Navingo BV, Exceedence Limited, The European Marine Energy Centre, MaREI, Ecole Centrale de Nantes, INNOSEA SAS and the University of Edinburgh.
At our pavilion, you can meet all MEA project partners, and watch a selection of the MEA companies pitch their technologies in our pitching sessions.
To find out more about Offshore Energy Exhibition and Conference visit www.offshore-energy.biz
Source: Navingo