Offshore oil worker medevacked from Transocean rig
The U.S. Coast Guard (USCG) has performed an emergency evacuation via helicopter of a 60-year-old male worker from an oil rig located 189 miles south of Port Fourchon, Louisiana. The rig appears to be a Transocean-owned drillship.
The incident occurred on Monday after Coast Guard Sector New Orleans watchstanders received a request at 2:21 a.m. from Bristol Search and Rescue Services to medevac a worker, who was experiencing stroke-like symptoms on an offshore oil rig.
Following this request, Sector New Orleans watchstanders coordinated the launch of a Coast Guard Air Station New Orleans MH-60 Jayhawk aircrew and a Coast Guard Air Station Corpus Christi HC-144 Ocean Sentry aircrew.
After the MH-60 aircrew arrived on the scene and landed on the oil rig to pick up the worker, the male worker was transferred to awaiting emergency medical services personnel at Louis Armstrong International Airport.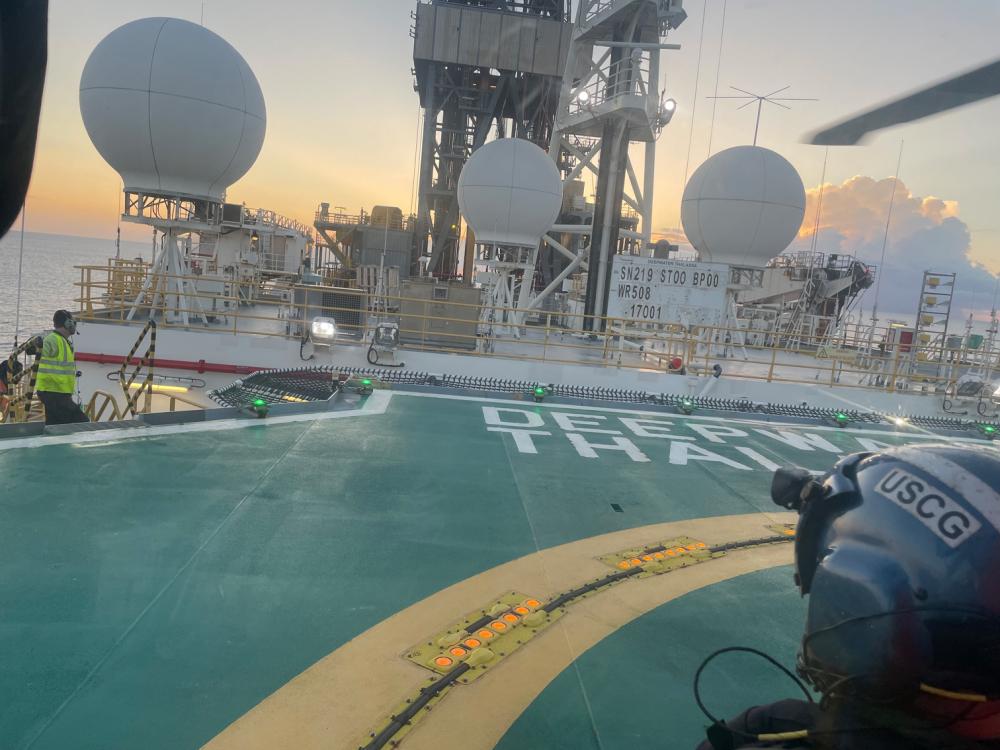 According to the Coast Guard, the rig worker was last reported to be in stable condition. Based on the U.S. Coast Guard's photos, this worker is part of the Transocean's Deepwater Thalassa drillship crew.
The 2016-built Deepwater Thalassa has been working for Shell in the Gulf of Mexico since its delivery. Hired under a ten-year contract, the drillship is operating under a day rate of $480,000 and the contract end date is set for February 2026.
When it comes to Transocean's other recent activities, it is worth noting that the offshore drilling contractor set the wheels into motion last month to acquire an interest in a high-specification, ultra-deepwater newbuild drillship, after entering into a new joint venture.
In addition, Transocean won new long-term contracts earlier this month for two of its ultra-deepwater drillships, adding around $1.04 billion to its backlog.
Follow Offshore Energy's Fossil Energy market on social media channels: