OOCL welcomes six of twelve eco-friendly 24,000 TEU giants
Hong Kong-based container shipping company Orient Overseas Container Line (OOCL) held the naming ceremony of a 24,188 TEU newbuilding at Dalian COSCO KHI Ship Engineering Co (DACKS) shipyard.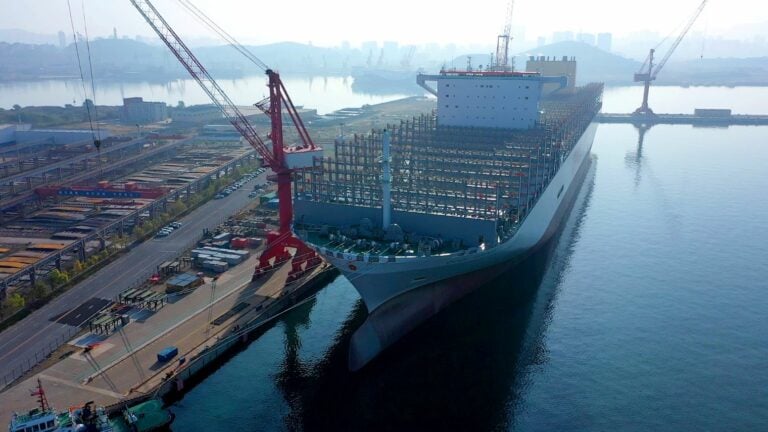 This mega containership is named OOCL Gdynia. Following its naming, OOCL will have received half of the twelve eco-friendly 24,000 TEU class series vessels ordered in 2020 by the company.
"Equipped with the latest technology and green features, this series of new vessels will gradually upgrade OOCL's existing fleet. This not only can fulfill our customers and the public expectations of energy saving and carbon reduction, but also shows OOCL's determination to stay at the forefront of industry development," Teddy Fung, Director of Trades at OOCL, said.
OOCL Gdynia will serve the OOCL's Asia-Europe LL3 loop line together with her sister vessels.
The port rotation is:
Shanghai / Xiamen / Nansha / Hong Kong / Yantian / Cai Mep / Singapore / Piraeus / Hamburg / Rotterdam / Zeebrugge / Valencia / Piraeus / Abu Dhabi / Port Kelang / Shanghai
These ships from the 24,000 TEU series are capable of carrying up to 24,188 twenty-foot container boxes, firmly establishing them among the world's largest container ships, measured by their carrying capacity. They exhibit impressive dimensions, with a total length of 399.99 meters and a width of 61.3 meters.
They feature advanced smart systems and enhanced green design elements. Notable among these are the low resistance lines design and an energy-efficient bulbous bow.
OOCL anticipates that this new generation of environmentally friendly and technologically advanced mega vessels will yield significant benefits, including economies of scale, enhanced energy efficiency, and long-term navigational safety.
In 2020, OOCL placed an order for five 23,000 TEU boxships at COSCO shipbuilding yards in China. Of these, three ultra-large container vessels (ULCVs) were assigned to NACKS yard, while the remaining two are being built at DACKS.
Following this initial order, OOCL extended its commitment in the same year with an additional contract, procuring seven more units to further strengthen its maritime fleet.