Operators shut in 96 pct of oil output in Gulf of Mexico as Hurricane Ida slams coast
Nearly 96 per cent of oil and over 93 per cent of gas production in the U.S. Gulf of Mexico has been shut in as Hurricane Ida slammed the U.S. Gulf Coast over the weekend.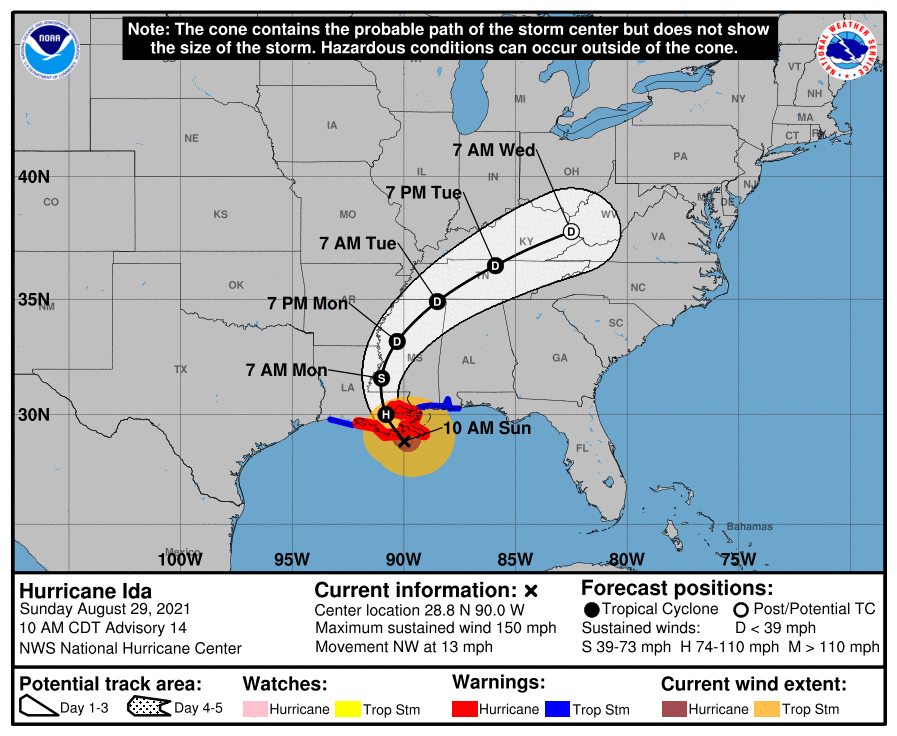 Based on data from offshore operator reports on Sunday 29 August, personnel have been evacuated from a total of 288 production platforms, 51.43 per cent of the 560 manned platforms in the Gulf of Mexico, the U.S. Bureau of Safety and Environmental Enforcement (BSEE) said in its latest report on Sunday.
Furthermore, personnel have been evacuated from all 11 non-dynamically positioned rigs, currently operating in the Gulf.
Also, a total of 10 dynamically positioned rigs have moved off location out of the storm's projected path as a precaution. This number represents 66.7 per cent of the 15 DP rigs currently operating in the Gulf.
From operator reports, the BSEE estimated that approximately 95.65 per cent of the current oil production and approximately 93.75 per cent of the gas production in the Gulf of Mexico has been shut in.
According to the latest update from the National Hurricane Center (NHC), Hurricane Ida is moving northward over southeastern Louisiana as dangerous storm surge, damaging winds, and flash flooding continue over portions of southeastern Louisiana.
On the forecast track, the centre of Ida will move farther inland over southeastern Louisiana early this morning and move into southwestern Mississippi later this morning. Ida is then forecast to move over central and northeastern Mississippi this afternoon and tonight, and move across the Tennessee Valley on Tuesday, the NHC said.
In an update on Sunday, rig owner Noble Corp. said that all personnel on board the Pacific Sharav, Noble Globetrotter I, and Noble Globetrotter II ultra-deepwater drillships in the Gulf of Mexico were safe and accounted for following Hurricane Ida. Each rig successfully secured its respective well in progress and took evasive actions to avoid the storm's path.
Noble also said that, of the three, the Noble Globetrotter II was the only vessel that had encountered hurricane-force conditions. The vessel maintained stability throughout the weather event and is operating on its own power with functional marine and safety systems. A full assessment of its condition will be completed as soon as the weather clears.
As previously reported, oil and gas operators in the Gulf of Mexico last week started evacuating their personnel from offshore facilities and shutting down production ahead of Ida, which was at the time a tropical storm, threatening to hit the coast as a hurricane over the weekend.
Shell evacuated the Ursa, Mars, Olympus, Auger, Enchilada/Salsa, and Appomattox assets. In later updates, Shell said that Stones, which had earlier shut in production, was working to resume partial production after the storm passes. Some drilling operations were paused.
In an update on Monday, Shell said that, following a flyover in the Gulf of Mexico for a general assessment, the United States Coast Guard had reported visual confirmation that the Shell-operated Mars, Olympus, and Ursa platforms remain on location. Shell has scheduled its own flyover tomorrow afternoon to assess these and other assets, that were in the path of the storm.
In preparation for Ida, Chevron also shut-in production at its operated Gulf of Mexico platforms and evacuated all associated personnel. Fourchon terminal and Empire terminal and their related pipeline systems are shut in and all employees have been evacuated.