Oz wave energy co-op secures funding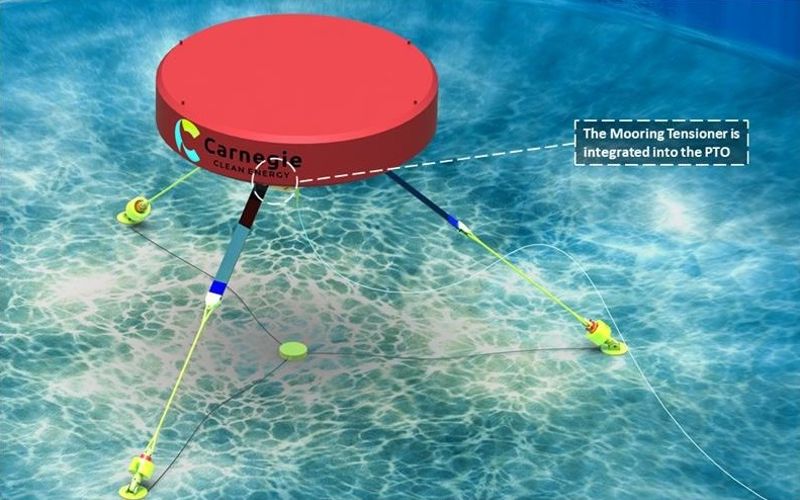 A collaborative project, led by Carnegie Clean Energy, has secured funding for the development of a component expected to reduce the costs of CETO wave energy device and offer benefits for aquaculture and other marine industries.
The industry-focused Mooring Tensioner for Wave Energy Converters (MoTWEC) project has received € 520,000 from the Blue Economy Cooperative Research Centre (BECRC) to develop, proof test and demonstrate a novel energy storage element, the Mooring Tensioner, enabling the use of rotary electrical generators.
Aside from Carnegie, the project brings together Advanced Composite Structures Australia (ACSA), University of Queensland (UQ), and ClimateKIC representing the Australian Ocean Energy Group (AOEG).
Alexandre Pichard, chief technology officer of Carnegie Clean Energy and the leader of the project, said:
"The Mooring Tensioner is a key enabler of innovative rotary power take-off systems for wave energy converters with the potential to deliver significant efficiency gains and cost savings. The Mooring Tensioner also has promising applications in aquaculture and other offshore applications which will be explored by this project."
Over the next two years, the project will follow a prototype design, development and testing approach in which the project participants will work together to define requirements, develop prototype designs and models, and also undertake a test program on the Mooring Tensioner assembly as well as other connected components at Carnegie's Rous Head research facility in North Fremantle.
To undertake the € 980,000 MoTWEC project, all the participants have committed to provide in-kind staff and non-staff resources, while the rest of the work will be paid for by cash funding for the project provided by BECRC and Carnegie.