Pemex's production platform sails away from Altamira yard
Pemex's Abkatun-A2 oil and gas production platform has sailed away from McDermott's fabrication yard in Mexico.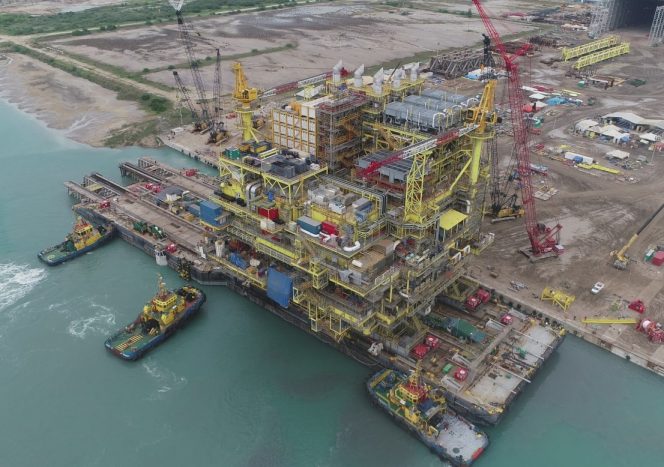 ---
McDermott said on Thursday that the sail away event was hosted at the company's fabrication yard in Altamira, Tamaulipas, Mexico.
Representatives from Pemex, government officials, Governor of Tamulipas Francisco Garcia Cabeza de Vaca, McDermott representatives, and regional news outlets participated in the event.
According to McDermott, the Abkatun-A2 platform is its largest project in size and total value to date for Pemex.
The $454 million engineering, procurement, construction, installation, and commissioning (EPCIC) project was awarded to the company in June 2016. First steel was cut in September of the same year.
McDermott's scope of the work spanned from the basic engineering design to tie-in and commissioning of the jacket, deck, four tripod jackets, and four bridges about 100 meters each. Two tripods were designed to be used as part of the flare system while the other two tripods support the two bridges to interconnect Abkatun-A2 with the existing Pemex production complex.
The company added that the giant three-level topside was the largest ever fabricated at McDermott's world-class fabrication yard in Altamira.
Richard Heo, SVP for North, Central, and South America, said: "Since the beginning, Abkatun has been on an aggressive project schedule. But our One McDermott Way operating model, leveraging the vertical integration of our in-house engineering resources and our world-class fabrication facility in Altamira, enabled us to bring efficiency and transparency to the project. The result is we are safely delivering Abkatun – our largest project to date, in size and total value, for Pemex."
De Vaca added: "This is the first one of many more platforms to be built in Altamira. And this has not been possible without the ability, dedication, and mainly the talent of each and every one of you."
McDermott stated that the installation of Abkatun was scheduled for November 2018 in Mexico's Bay of Campeche utilizing McDermott's Amazon, DB50, and Intermac 650 vessels.
Commissioning will follow the installation of the 15,000 metric tonne platform in 38 meters of water which will provide replacement and expansion capabilities to the existing Abkatun Pol Chuc facilities. The work is expected to be completed in February 2019.
Following commissioning, this high-capacity production platform is rated to produce 220,000 barrels of oil per day and 150 million of standard cubic feet of gas per day for Pemex.
Related news
List of related news articles