Petredec welcomes Hyperion into the fleet, its third massive dual-fuel VLGC
Singapore-based Petredec, the world's largest pure VLGC owner, has taken delivery of its third very large gas carrier (VLGC) boasting 93,000 cubic meters in carrying capacity and dual fuel LPG propulsion.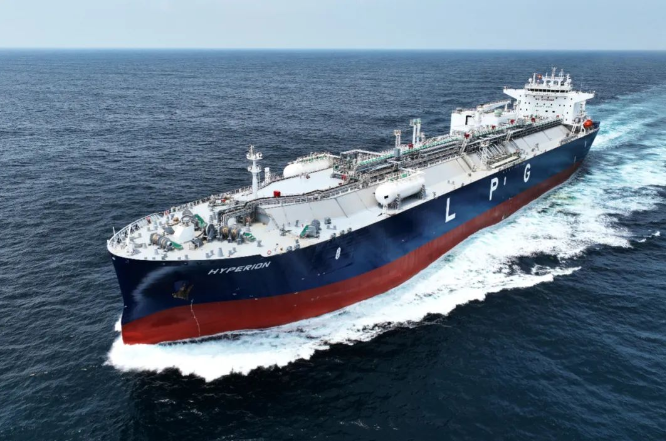 The giant vessel was built by Jiangnan Shipbuilding, a subsidiary of China State Shipbuilding Corporation, and the vessel was named Hyperion.
Hyperion is the third VLGC from a series of six Panda-class 93k cbm dual-fuel LPG vessels Petredec has on order at the yard. It is the fourth generation VLGC model independently developed and designed by Jiangnan Shipbuilding.
The two companies have a very strong cooperation having cooperated on a total of 22 ships.
Petredec said that the 93K series delivered by Jiangnan Shipbuilding can be called 'the most environmentally friendly and clean ships in operation in the entire industry'. This is the reason why Jiangnan has become the only shipyard that Petredec has cooperated with in new shipbuilding projects in China, the company said.
The first vessel from the series, also described as the world's largest in terms of carrying capacity, was Harzand delivered in April this year, followed by the second 93,000 cbm VLGC Humorist.
The vessel measures 230 meters in length, 36.6 meters in width, and boasts a speed of 16.5 knots.
It adopts the fourth-generation patented line type ( VS-Bow MK-IV ), which can be used under full load, ballast and liquid cargo loading conditions of different specific gravity.
The vessel is fitted with a shaft generator to use LPG to provide auxiliary power at sea.
By bunkering LPG as a marine fuel to MAN ES LGIP engines, Petredec aims to achieve up to 40% reduction in CO2 emissions by 2030.
Hyperion was launched in April this year and completed its sea trials in mid-July in just six days at sea, a new record for the yard's "three-in-one" sea trial concept, which saw the completion of conventional sea trial, gas sea trial, and gas test all at the same time.
The move was pursued as the shipbuilder aims to accelerate the construction process to meet the annual delivery target of 11 VLGCs.
Jiangnan plans to complete all six vessels and deliver them by the end of this year.
The six VLGC newbuilds are all fitted with dual fuel LPG propulsion that Petredec estimates would result in 23% less CO2 emissions than their conventional non-eco equivalents while also generating 25% higher spot market earnings.
The delivery of the six VLGC newbuilds will increase Petredec Global's owned VLGC fleet to 26.