P&O Ferries' new hybrid ferry stops in Limassol for bunkering
P&O Ferries' newly commissioned Fusion Class vessel P&O Pioneer has docked at DP World Limassol port on its journey from Guangzhou, China to Dover, United Kingdom.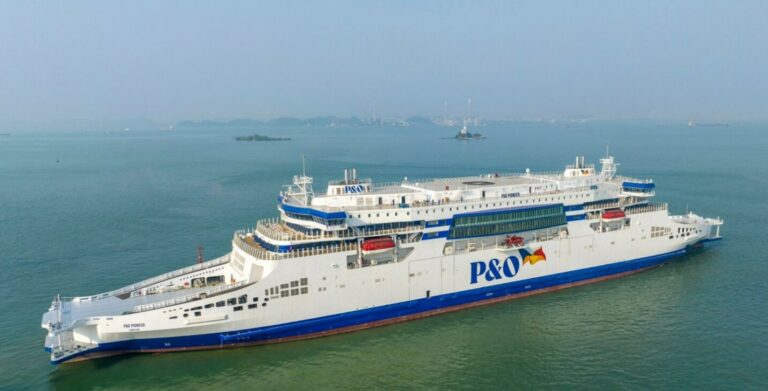 P&O Pioneer arrived on Wednesday for bunkering, as it makes its way toward Dover, where it is expected to become fully operational on the English Channel route to Calais in May 2023, the British ferry operator, owned by logistics provider DP World Group, said.
DP World's integrated services will provide berthing, bunkering, and marine services while the vessel is docked at Limassol. Unifeeder and P&O Maritime Cyprus will be responsible for bunkering and marine operations, while DP World Limassol terminal operators will be in charge of berthing the vessel while it remains at the port.
According to P&O Ferries, the Pioneer is set to be the world's largest double-ended hybrid ferry with two bridges meaning there is no need for it to turn around in ports, saving fuel on every roundtrip. The vessel is forecasted to deliver a 40% reduction in carbon emissions on the Dover-Calais route from its first day in service.
China's Guangzhou Shipyard International (GSI) delivered the vessel at the end of February. It is the first of two identical purpose-built "Fusion Class" sister-ships ordered for the Dover – Calais route, both of which have been registered in Cyprus. The second ship, P&O Liberte, is expected to join in service towards the end of 2023.
"The delivery of P&O Pioneer is an important step for P&O Ferries, and one that will bring advanced sustainable technology to the Dover-Calais crossing. We are excited to offer our passengers and freight customers the chance to experience this state-of-the-art new ferry on our busiest route, which is also one of the UK's most important connections with the continent of Europe," Peter Hebblethwaite, CEO of P&O Ferries, said.
The ferry company said that last summer it carried more than one million passengers on this route and are looking forward to an exciting summer ahead with the first of our two new ships."

"The fact that leading companies such as Unifeeder and P&O Ferries, which are both part of the DP World Group, choose to register their vessels in Cyprus is a testament to the country's favourable Tonnage Tax System (TTS) and the government's efforts to make the Cyprus flag more competitive," Nawaf Abdulla, CEO of DP World Limassol, said.
"Our global range of products and solutions, from ports and technology to marine services and logistics, enables us to create end-to-end, sustainable supply chain solutions that can reshape the way the world trades."
The Fusion Class vessel is propelled by a combination of fuel and battery power. The hybrid system allows Pioneer to operate from its Energy Storage System while manoeuvring or in port and is designed to have the capacity to become fully carbon neutral in the future. The modular design of the ship allows for modifications to welcome developing technology and as more charging stations are brought in at ports, current generators on the vessel can be removed and replaced with batteries.