Port of Rotterdam upgrading Sif's marshalling site
The Port of Rotterdam has awarded the Dutch construction company Van Hattum & Blankevoort with a contract for work on a quay at Sif's site at the port.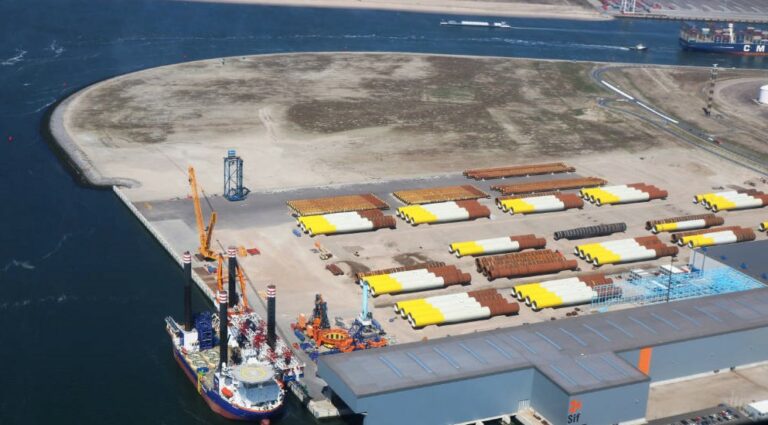 The contract covers quay wall construction, marine construction works, and dredging and pumping operations, which will be carried out at the 20-hectare port area for which Sif obtained a lease last year as an expansion of its 45-hectare site at the port's Maasvlakte 2 terminal.
In 2019, Sif agreed with the Port of Rotterdam on the lease of an additional 20 hectares of industrial land adjacent to its existing main site at Maasvlakte 2, where the company is assembling, coating, and storing its offshore wind foundations. This additional area will now be provided with approximately 200 metres of deep-water quay.
Earlier this year, Siemens Gamesa signed a contract with Sif for marshalling activities at the 20-hectare site for the Hollandse Kust Zuid offshore wind farm, for which works will begin next year. Sif is also providing the monopiles for the 1.5 GW Hollandse Kust Zuid.
The wind turbine supplier was the second customer for Sif's marshalling site, following DEME's contract to use the land for its installation operations at the Borssele 1&2 offshore wind farm. Sif was the supplier of the monopiles for this project as well.
According to the company's news on the 20-hectare site from 2019, the quay facilities will be expanded by 200 metres by mid-2023 and will have a guaranteed nautical depth of 16.5 metres NAP, allowing close-to-quay jacking and surface load of 10 Kn/m2.
In the tender award document for the quay construction works, the Port of Rotterdam said it was fully committed to the energy transition and highlighted its ambition to become one of the leading offshore wind ports in Europe. Further expansion of the Sif Group contributes to this ambition, the port said.