QTerminals Targets 21,000+ TEU Boxships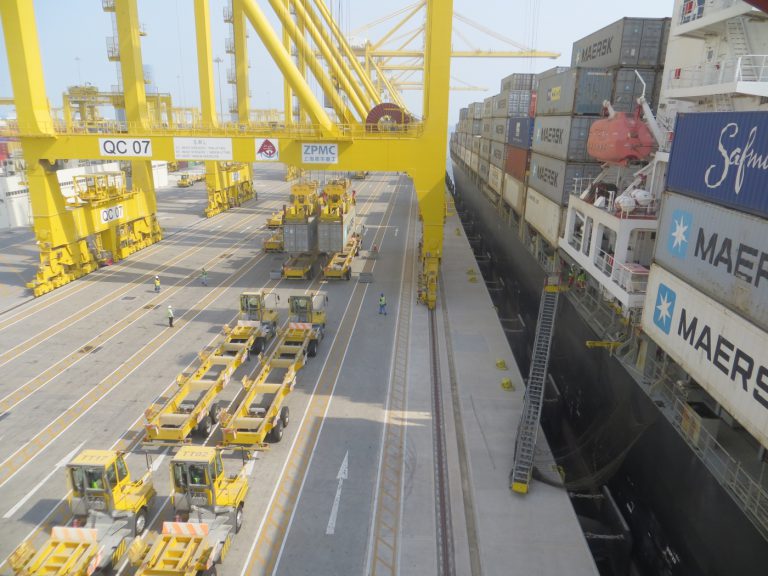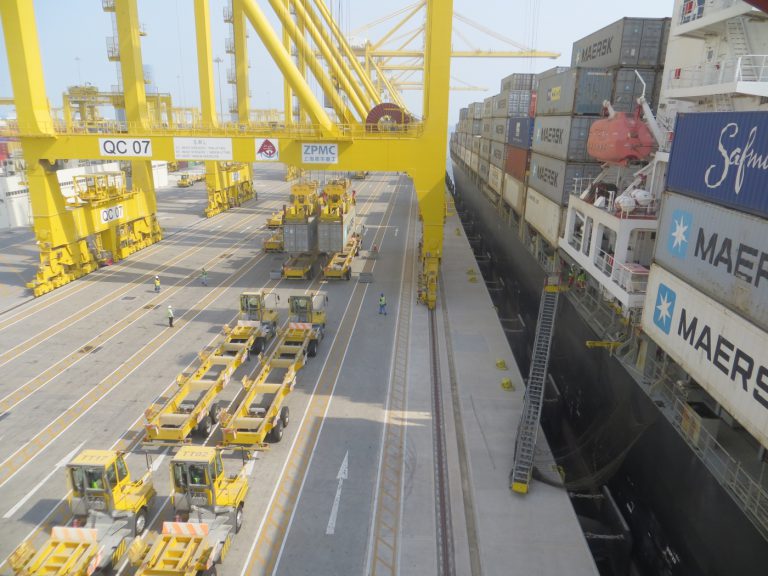 Since its opening in December 2016, Qatar's Hamad Port has been on a growth trajectory, with monthly volumes increasing by more than twofold, the port's figures show.
Namely, within 14 months since the start of operations, Hamad's monthly volumes grew from an average of just over 41,000 TEUs per month to 105,000 TEUs per month.
The USD 7.4 billion port, located 40 km south of Doha, is the largest of its kind in the Middle East. It has been described as the key element of Qatar National Vision 2030, a roadmap for the country's economic growth.
The very start of the operations saw all container terminal operations from the Port of Doha transferred to Hamad.
In its first phase, the port is capable of handling 2 million TEUs annually, which is sheduled to rise to 7.5 million TEUs upon scheduled completion in 2020.
In his first international interview, Mr. Neville Bissett, CEO of QTerminals, a company set up by Qatar Navigation (Milaha) and Qatar Ports Management Company (Mwani Qatar) to manage the port, spoke about the main drivers of the port's growth as well as the goals for its future development.
Bissett was appointed as the company's first CEO in November 2017, shortly after the port's official inauguration.
His appointment came in the wake of the sanctions imposed by the UAE and other Arab states on Qatar, blocking the country's air, sea, and land border connections.
Impact of the Gulf Crisis
Qatar used the diplomatic fallout to bolster the role of Hamad Port as its maritime hub, helping the country directly import goods from China and Oman instead of transhipping them via Dubai.
What is more, the Gulf crisis also resulted in Hamad strengthening its maritime links to other regional ports, including two Omani ports, Sohar and Salalah, Turkish Derince port, Pakistani Port of Karachi and Indian ports of Mundra and Nhava Sheva.
According to Bissett, the port benefitted from the land blockade, which forced shipments to Qatar to enter via Hamad Port.
"The volumes of all types of cargo being handled at Hamad Port have significantly increased as a result of the blockade, where land borders have been sealed, and the vast majority of imports and exports must come in or go out by sea, and to a much lesser extent by air. At the current monthly throughput rate, QTerminals is set to cross the 2 millionth TEU throughput milestone before the end of 2018, with most of the throughput being gateway cargo," he explained.
Qatar's economy was unfazed by the political crisis, with the country's GDP forecasted to rise to 3.9 pct in 2019, demonstrating increasing market confidence and continuing infrastructure investment, Bissett pointed out.
"The blockade has not affected Qatar's consumption as all goods and services remain available in the local markets thanks to the fast and effective measures taken by the Qatari Government and the resilience of the business community in Qatar," he noted.

Port capacity
Hamad Port has the capacity to handle post-Panamax vessels and provides services to shipping giants such as Maersk, MSC, CMA-CGM, Hapag-Lloyd, COSCO, Evergreen, Hyundai, MOL, NYK, Yang Ming and PIL, as well as the 2M, the Ocean Alliance and THE Alliance.
Milaha and major feeder operators, including Samudera, Tehama and Xpress Feeders, are also calling at the port.
The largest vessel handled by Hamad so far is the 14,568 TEU COSCO Kilimanjaro
"Our future target is to handle Ultra Large Container Vessels (ULCVs) of 21,000+ TEU capacity with a 400+ meters length overall and draft of up to 16 meters. Our equipment selection going forward will be based on these minimum specifications," Bissett added.
"Larger ships have already started calling at Hamad Port, and QTerminals now handles 5 mainline services per week, which is a significant achievement considering that these services previously only called at Lower Gulf hub ports. Hamad Port has the infrastructure and the appropriate equipment to handle the next generation of vessels, and QTerminals has now put in place sufficient incentives – outstanding service delivery, superior productivity — for the mainline vessels to continue calling at Hamad Port," he said.
The port also handles break-bulk, project cargo, bulk, RORO, livestock cargoes and offshore supply vessels.
"Since Hamad Port's start of operations in 2016, we have handled 1.95 million tons of general cargo and almost 80,000 vehicles (RORO). With the dedicated multi-user and offshore supply services terminals due to open, we see significant potential in non-containerized cargo."
One-Millionth TEU
Just last month, Hamad Port and QTerminals celebrated handling one millionth TEU in only 14 months of operations.
"I believe this achievement is not only a reflection of our efforts but also of our ambitions to grow at a fast yet sustainable rate," Bissett said.
"Our key objectives are to continue to operate safely, improve productivity, offer value-added services, and grow the business in a structured and sustainable way. Investments are planned in the Container Terminal and General Cargo Terminals, the Multi-User Terminal (RORO & Livestock) and the Offshore Supply Terminal. These investments are necessary to ensure Hamad Port is well-positioned for future growth."
"A port community system is under development, which will provide a common, secure platform for port transactions to all port users. We are also positioning Hamad Port as a transshipment hub for the Upper Gulf region."
On a personal note
When asked about the experiences since he was named QTerminals' CEO in November 2017, Bissett said "it has been an exciting journey" so far.
"The blockade was just weeks old and the resulting impact on trade had to be confronted and resolved very quickly. At the time, we were taking over operations of the new port and terminal and we were very conscious of the fact that Hamad Port suddenly became the only gateway to Qatar. A management team had to be selected and over 1,000 staff phased in to operate the port 24/7," he commented.
The team managed to keep the port's operations uninterrupted in cooperation with the Port Authority and other stakeholders and partners.
The highest number of TEUs handled on a single vessel is 7,761 TEU on Maersk Saroja Tiga
"Going forward, our vision and strategy for QTerminals is to position Hamad Port as our flagship port/terminal and our benchmark. With a focus on employing and retaining the brightest talents, QTerminals aims to be, within three years, the best terminal operator in the region in terms of overall quality of service and client satisfaction. Its long term vision is to be recognized internationally as the most reliable terminal operator and an enabler for the economic growth of Qatar," Bissett said.
Diversifying and expanding trading partner numbers has been identified as a key priority for Qatar's economy and trade.
QTerminals CEO said this was the reason the company was continuously working to forge new trading partnerships with other regions of the world and secure new sources and supply lines for Qatar.
"On the other hand, Qatar's growing exports are also finding their way to new markets. This demand and new opportunities are being created through access to new trade lanes, with a much farther reach than ever before.
"The domestic demand for imported goods will remain stable and will keep growing organically. Qatar's export products (downstream petroleum products) are priced very competitively and will continue to compete well regionally and globally," he concluded.
Interview conducted by Jasmina Ovcina Mandra, Editor, World Maritime News; Image Courtesy: QTerminals