RWE and Equinor ramp up hydrogen economy
German RWE and Norwegian Equinor have entered a strategic energy partnership that includes large-scale projects that are expected to contribute to the European energy supply, ramp up the hydrogen economy in Germany and the EU, and strengthen the long-term security of the supply of a European power sector.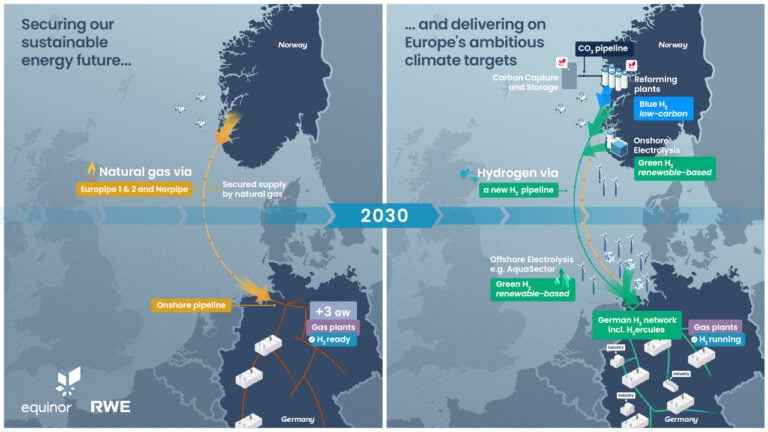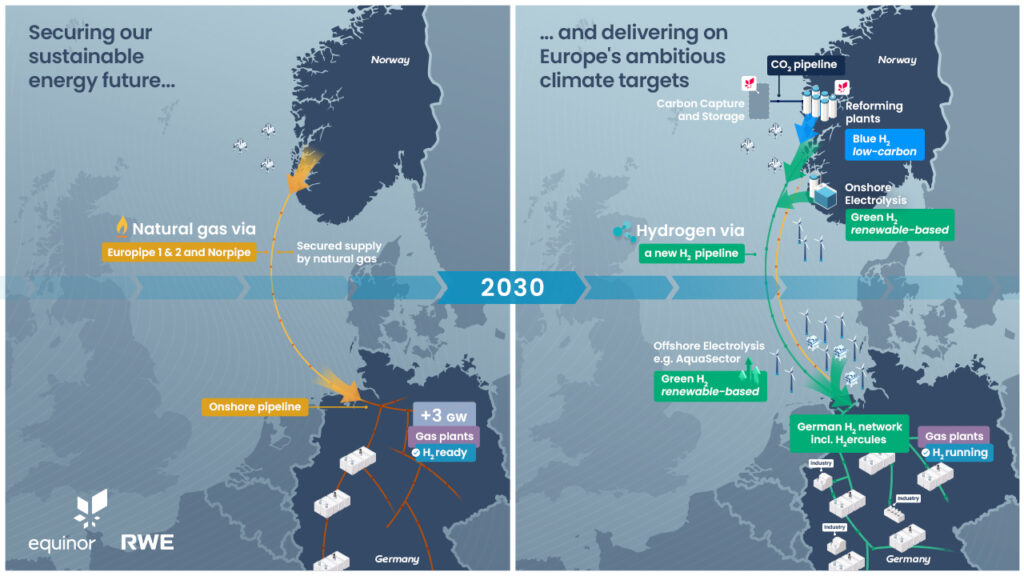 The investments follow the construction of a hydrogen pipeline between Norway and Germany and a German hydrogen downstream infrastructure.
"Through this collaboration, we will strengthen the long-term energy security for Europe's leading industrial country while at the same time offering a viable route to a necessary energy transition for hard-to-abate industries. The collaboration has the potential to develop Norway into a key supplier of hydrogen to Germany and Europe. This is a unique opportunity to build a hydrogen industry in Norway where hydrogen also can be used as feedstock to domestic industries," said Anders Opedal, CEO and President of Equinor.
Markus Krebber, CEO of RWE, said: "In order to make progress in the conversion from fossil fuels to hydrogen, there is an urgent need for a rapid ramp-up of the hydrogen economy. Blue hydrogen in large quantities can be the start, with subsequent conversion into green hydrogen supply. This is exactly what we are driving forward with our partnership; providing industries with significant quantities of hydrogen. In addition, our planned investments into hydrogen-ready gas-fired power plants will ensure the security of supply in a decarbonised power sector."
Equinor said it has the ambition to invest in clean hydrogen in Europe with an initial 2 GW of low-carbon blue hydrogen production capacity in Norway by 2030 and up to 10 GW by 2038.
These facilities are expected to feed into a pipeline in Germany, which is currently being assessed by Gassco, Equinor, and other parties.
When the pipeline goes into operation, Equinor is expected to transport the blue hydrogen which RWE will purchase and use in hydrogen-ready gas plants.
In addition to this, RWE and Equinor are expected to collaborate in projects aimed at generating green hydrogen.
They also plan to jointly invest in flexible hydrogen-ready gas-fired power plants (CCGT) in Germany with a total capacity of 3 GW by 2030.
In accordance with specifications from the German Federal Ministry of Economic Affairs and Climate Protection, the CCGT plants are estimated to reach 50% volume hydrogen combustion at the time of commissioning.
According to the companies, they will pursue a roadmap to reach 100% hydrogen combustion capability by the mid-2030. Natural gas will first be replaced by low-carbon hydrogen, and then, over time, by green hydrogen.
RWE and Equinor said their goal is also to continue exploring joint investments in offshore-wind-only projects in Norway and Germany as well as green hydrogen production in Norway.
The two companies are already engaged in developing a project in the North Sea, named AquaSector, aimed at creating a 300 MW offshore wind farm connected to offshore electrolysers that produce green hydrogen.
Follow Offshore Energy's Clean Fuel on social media: