SBM Offshore inks new deal with ExxonMobil for Guyana FPSO fleet
Dutch FPSO operator SBM Offshore has signed a long-term operation and maintenance enabling agreement for its Guyana FPSO fleet with Esso Exploration & Production Guyana, a subsidiary of the U.S.-headquartered energy giant ExxonMobil.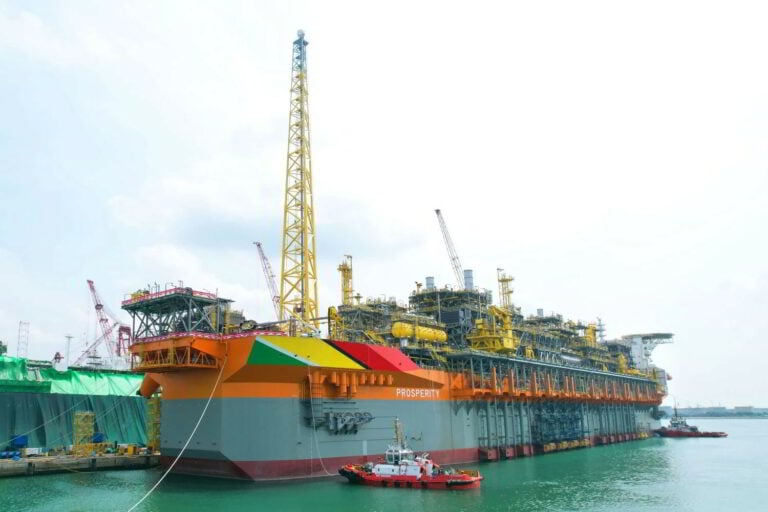 SBM Offshore reported on Tuesday, 2 May 2023, the signing of a ten-year framework agreement with Esso Exploration & Production Guyana (ExxonMobil Guyana) for the operations and maintenance of FPSOs Liza Destiny, Liza Unity, Prosperity and One Guyana. This deal establishes the new terms related to the operations of the company's Guyana FPSO fleet for a period of ten years up to 2033.
Furthermore, the lease terms and durations remain the same for all units, with ten years lease for the FPSO Liza Destiny and up to two years lease for the other three FPSOs after which the FPSOs' ownership will transfer to ExxonMobil. These FPSOs are hired for work at the Stabroek block off Guyana.
Covering 6.6 million acres (26,800 square kilometres), the Stabroek block is operated by ExxonMobil's affiliate Esso Exploration and Production Guyana with a 45 per cent interest. The company's partners in the block are Hess Guyana Exploration (30 per cent) and CNOOC Petroleum Guyana (25 per cent).
Bruno Chabas, CEO of SBM Offshore, commented: "We are very pleased with the contract concluded with ExxonMobil Guyana leveraging both companies' recognised operating excellence. This contract capitalises on our developments in Guyana to date, positioning the company for long-term operations in the country."
ExxonMobil's first two sanctioned projects off Guyana are Liza Phase 1 and Liza Phase 2, which produced an average of 375,000 gross barrels of oil per day in the first quarter of 2023. The third sanctioned development on the Stabroek Block, Payara, is targeted for start-up early in the fourth quarter, with a gross production capacity of approximately 220,000 barrels of oil per day. This development will use the FPSO Prosperity, which arrived at the Stabroek Block on 11 April 2023 and the hook-up and commissioning activities are already underway.
The fourth sanctioned development, Yellowtail, comprising six drill centres and up to 26 production and 25 injection wells, is expected to come online in 2025 using the FPSO One Guyana with a gross production capacity of approximately 250,000 barrels of oil per day. The construction of topside modules for the FPSO started in September 2022. At the end of March 2023, the FPSO entered drydock at the Keppel yard in Singapore.
At the end of April 2023, ExxonMobil made a final investment decision to proceed with Uaru, the fifth development on the Stabroek Block with a production capacity of approximately 250,000 gross barrels of oil per day. The production is targeted for 2026. Japan's MODEC, which secured a FEED contract for the FPSO Uaru – to be named Errea Wittu – is constructing this FPSO under an engineering, procurement and construction (EPC) contract.
The FPSO, based on MODEC's M350 newbuild design, will be able to produce 250,000 barrels of oil per day and have an associated gas treatment capacity of 540 million cubic feet per day, and a water injection capacity of 350,000 barrels per day. In addition, a sixth development, Whiptail, is expected to be submitted for government and regulatory approval later this year.
According to SBM Offshore, the contract with ExxonMobil supports its long-term business vision in Guyana, enabling the firm to perform local and sustainable investments in people and infrastructure and deploy its digital and operational technologies to the Guyana fleet. Based on various operating and maintenance assumptions, the estimated impact on the revenue backlog is around $3 billion.
Moreover, SBM Offshore explains that it will operate the units through an Integrated Operation Model, which encompasses an organisation model including seconding ExxonMobil Guyana employees in some "key" onshore and offshore positions. This model will combine the two players' experience and resources to increase team efficiency and foster synergies between the two companies.
"This Integrated Operation Model is the first of its kind in the industry and extends our relationship with ExxonMobil Guyana by integrating further our teams. We believe it is the optimal solution to achieve excellence in the operation of Guyanese assets bringing value to all stakeholders and setting a new performance benchmark for the industry," concluded Chabas.
Meanwhile, ExxonMobil's plans entail six FPSOs with a gross production capacity of more than 1.2 million barrels of oil per day that are expected to be online on the Stabroek block by the end of 2027, with the potential for up to ten FPSOs to develop the estimated gross discovered recoverable resources of more than 11 billion barrels of oil equivalent.
Regarding SBM Offshore's activities elsewhere, the FPSO operator recently completed the project financing of the FPSO Almirante Tamandaré for a total of $1.63 billion, secured by a consortium of 13 international banks.
This FPSO is destined to work at the Búzios field off Brazil. It will have a processing capacity of 225,000 barrels of oil and 12 million m3 of gas per day.