Seismic surveys for gas exploration offshore Greece reach finish line
A survey campaign exploring potential natural gas deposits has been completed over two areas in Greece's exclusive economic zone (EEZ) in which ExxonMobil and Helleniq Energy hold licenses.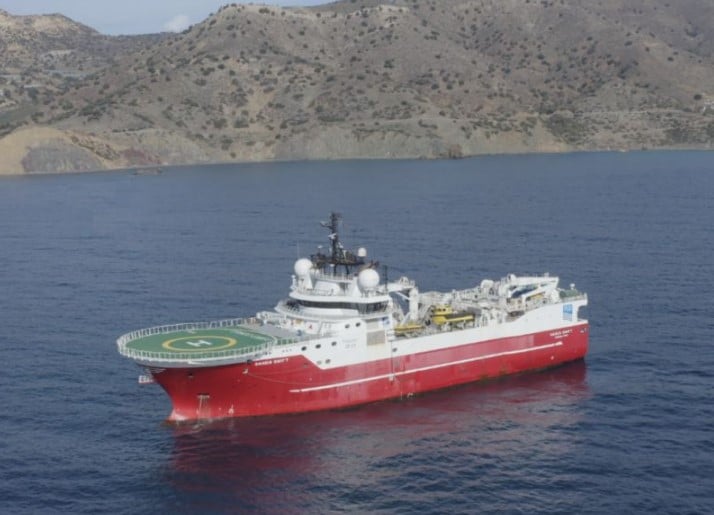 Norway's PGS carried out the 2D seismic surveys at the offshore areas deemed as West and Southwest of Crete.
The activities, which saw a total of 12.278 kilometers of seismic data collected, were initiated on 10 November 2022 and took three months.
The surveys are said to increase the density of the seismic coverage in the concessions, offering for the first time seismic imaging and information over unexplored areas within the Greek EEZ.
State company Hellenic Hydrocarbons and Energy Resources Management Company (HEREMA S.A.) monitored the implementation and compliance with environmental measures and regulations.
"As the competent state authority that manages the concession rights on behalf of the Greek State, we are deeply satisfied with our excellent cooperation with our investors, who increased their investments and completed the exploration program at a rapid pace," said HEREMA's CEO Aristofanis Stefatos.
With the completion of the surveys, next on the schedule is data processing, interpretation, and evaluation in order to make decisions about entering the next exploration phase.
The West of Crete area covers 20,058.4 sq km. The licensees are ExxonMobil Exploration & Production Greece, which holds 70 per cent and is the operator, and HELPE West Crete, which holds 30 per cent.
The Southwest of Crete covers an area of 19,868.37 sq km. ExxonMobil is also the operator with a 70 per cent interest, with HELPE Southwest Crete holding the remaining 30 per cent.
According to Greek Minister of Environment and Energy Kostas Skrekas, Greece needs to discover if a new potential source of wealth exists in the subsurface that can be monetized. The goal is to have the first exploration drilling within 2025.
"The successful completion of the surveys marks the conclusion of all remaining seismic exploration surveys, which is a Greek achievement of global magnitude and comes at a very important moment for Europe," HEREMA's Chairman, Rikard Scoufias, stated.
"We stand before an unprecedented opportunity to monetize Greece's natural gas resources in a way that can not only bring economic and strategic benefits but also support the bigger objective to accelerate the transition to a more sustainable future. Our focus will now be on further building the resources and collaborations, at all levels, to ensure we maintain this historic momentum."