SHI develops 'industry first' laser high-speed welding robot for LNGCs
South Korean shipbuilder Samsung Heavy Industries (SHI) has developed a laser high-speed welding robot for use in the construction of liquefied natural gas carriers.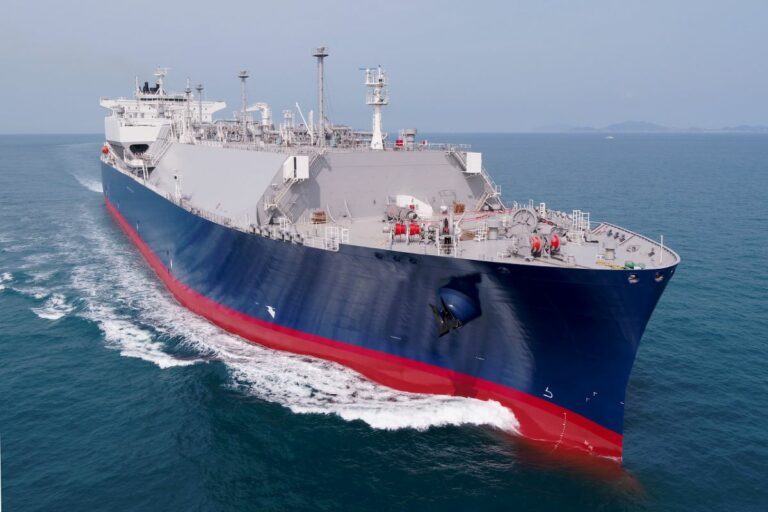 As informed, the technology, dubbed the industry first, is expected to improve the speed  of joining membrane panels in the cargo hold of LNG carriers. The robot is  up to five times faster than the existing method of plasma arc welding (PAW), according to SHI.
It is expected to increase the drying and production efficiency of LNG carriers.
The drying process of an LNG cargo hold largely consists of installing insulation and constructing a membrane. The construction of membrane panels that come into direct contact with cryogenic liquefied natural gas is difficult.
The welding length of the membrane panels of the four cargo holds mounted on one 174,000 cbm LNG carrier reaches 60 kilometers.
The technology also has defocusing capabilities to adjust the focal point and a laser displacement sensor to automatically locate curved welding positions.
Samsung Heavy Industries' Production Technology Research Center has been developing a high-speed welding robot optimized for membrane cargo holds by applying the technical characteristics of laser welding since 2021.
The company tested the technology by applying the laser high-speed welding robot to the Korean LNG cargo hold (KC-2C) last month. It received final approval for use from the ordering party after completing the application test to France's GTT's LNG cargo hold (M-III) within the year.
"Laser high-speed welding robots will be a key technology that can maintain overwhelming competitiveness in cargo hold construction, a core process for LNG carriers," Choi Doo-jin, head of the Production Technology Research Center at Samsung Heavy Industries, said.
He added that the firm plans to expand the application to cargo holds for cryogenic liquefied hydrogen carriers in the future.