Silverstream wins AIP from China Classification Society
UK-based maritime clean technology company Silverstream Technologies has signed an Agreement in Principle (AIP) with the China Classification Society (CCS).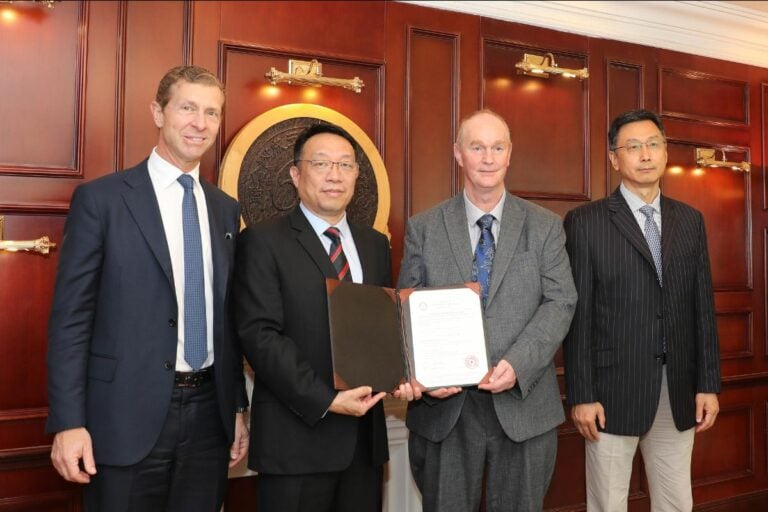 Silverstream said that this is the first agreement of this nature with a classification society.
The Approval in Principle signifies that the China Classification Society has thoroughly examined and validated the design drawings of the Silverstream System. It also serves as an independent verification of the generic system design.
The Silverstream® System, which uses air lubrication to reduce frictional resistance between a vessel's hull and the water, can deliver fuel savings of 5-10% depending on the vessel and its operating profile, according to its developer.
The system pumps tiny bubbles through air release units on the hull to reduce friction between the vessel and the water, helping it glide through the ocean.
Additionally, these two organizations plan to work together on project-specific activities and approvals related to incorporating the Silverstream System into ships classed by CCS.
"We are delighted to sign our first agreement of this style with a classification society, especially with CCS. CCS is one of the most influential class societies in the Chinese market, particularly for intranational projects between Chinese shipowners and Chinese shipyards," Noah Silberschmidt, Founder & CEO, Silverstream Technologies, said.
"Through this important agreement, we look forward to further building our relationship with a key industry player, and to continuing commercial success in Asia and worldwide."
The AIP is expected to further strengthen the company's ties to the Chinese shipping market.
Last month, the company revealed that it had entered into a memorandum of understanding (MOU) with Chinese shipyard group COSCO Shipping Heavy Industry (CHI) to explore opportunities to install Silverstream's air lubrication system in CHI shipyards.
Furthermore. the agreement will also enable Silverstream to investigate additional options for the fabrication and supply of components of the Silverstream System in China and the Asia-Pacific region.
As of August 2023, 179 vessels are contracted to have the Silverstream System installed across all shipping segments, with 44 of those ships already in service with the system onboard.
Recently, the UK firm signed a deal with China Merchants Energy Shipping (CMES) to install its air lubrication technology on four 175,000cbm LNG carriers being built at Dalian Shipbuilding Industry Company (DSIC). 
Silverstream has become one of the founding members of the Global Sustainable Transport Innovation Alliance (GSTIA), an initiative sponsored by the Chinese Ministry of Transport, designed to accelerate green industrial projects within China.
The founding members also include Airbus, Siemens, Maersk, Volvo, Alibaba, CMA CGM, COSCO, DHL, and China Merchants Group. The members will share knowledge and expertise to help promote green projects within China over an initial five-year period.