Singapore readies for its 1st methanol bunkering op
Singapore's maritime industry is abuzz with anticipation as it prepares to carry out its first methanol bunkering operation this week.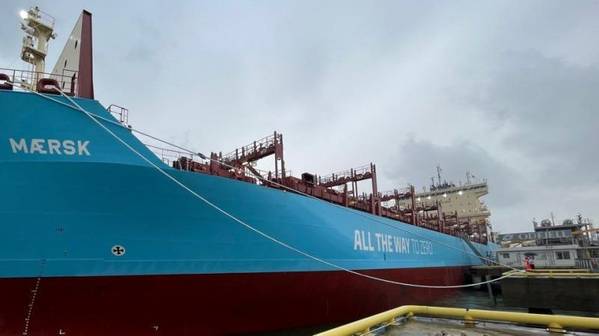 The operation will take place between the A.P. Moller – Maersk's methanol-fuelled container vessel which is on its maiden voyage and Hong Lam Marine Pte Ltd's Singapore-registered tanker, MT Agility.
The feeder received its first fuel last week in Port of Ulsan, South Korea, before it set sail for Copenhagen, where it will be christened in September.
The bunkering operation took place on Sunday, July 16, when OCI fueled Maersk's first green methanol-powered container ship with 1,000 metric tonnes of OCI HyFuels ISCC-certified green methanol at Odfjell Terminal Korea (OTK). The name of the vessel is expected to be Maersk Solstice.
The bunkering operation follows OCI's announcement from last month that it was partnering with Maersk to fuel the feeder.
The vessel will now sail through some of the world's busiest shipping routes, bunkering in Singapore, Egypt, and Rotterdam en route.
The 21,500 km trip from Ulsan, South Korea to Copenhagen, Denmark will provide real operational experience for Maersk seafarers handling the new engines and using methanol as fuel, as the company prepares to receive a fleet of new, large ocean-going methanol-enabled ships from 2024.
Engh Dih Teo, Chief Executive Officer of the Maritime and Port Authority of Singapore, said that the preparations for the operation took close to a year, the focal point of these efforts being the deployment of a systemic approach to ensure seamless collaboration and further the research and development envelope for methanol bunkering.
The MPA Singapore held a tabletop exercise for methanol bunkering with more than 28 participating agencies, companies, and IHLs/RIs during the Singapore Maritime Week (SMW) 2023 held last April.
Following the TTX, a two-day HAZID (Hazard Identification) and HAZOP (Hazard and Operability) workshop ensued, bringing together agencies and partners directly involved in the methanol bunkering operation. The participants included the American Bureau of Shipping (ABS), Hong Lam Marine, Maersk Oil Trading, Mitsui & Co., Ltd., Mitsui & Co. Energy Trading Singapore Pte. Ltd. (METS), and representatives from government agencies such as the National Environment Agency and Singapore Civil Defence Force.
The primary objectives of this workshop were to augment and contextualize hazardous scenarios, share insights from past incidents, stress-test assumptions, and recommend additional safety measures.
Although methanol loading and unloading operations are not entirely new in Singapore, using methanol as a maritime fuel is groundbreaking.
As explained by Teo, to ensure a seamless bunkering process, agencies and partners meticulously reviewed the operation parameters, focusing on six crucial phases: (1) arrival of the bunker vessel to the receiving vessel, (2) connection and piping, (3) bunkering operation, (4) disconnection and purging, (5) departure of vessels, and (6) crew and seafarer competency.
Furthermore, vessel designs underwent careful scrutiny, and 42 recommendations were implemented, incorporating innovative practices such as the use of drones, weather and tide forecasting, continuous plume modeling, and monitoring to support the operations.
"Our stakeholders and agency reps convened further exercises before a full ground deployment exercise (GDX) at sea with MT Agility, assets by agencies & RIs on 20 July to validate the effectiveness of our coordination & emergency preparedness, readiness and responses," he said.
"With maritime shipping expected to make further strides since the International Maritime Organization MEPC80, green/biomethanol as a new maritime fuel is likely to grow apace with more methanol-enabled vessels being delivered in the coming years. MPA looks forward to a safe & successful methanol bunkering operation!"