Solomon Trader Refloated, Destined for Scrapyard
The ill-fated bulker Solomon Trader has been successfully refloated in the Solomon Islands, Korea Protection and Indemnity Club (KP&I) said.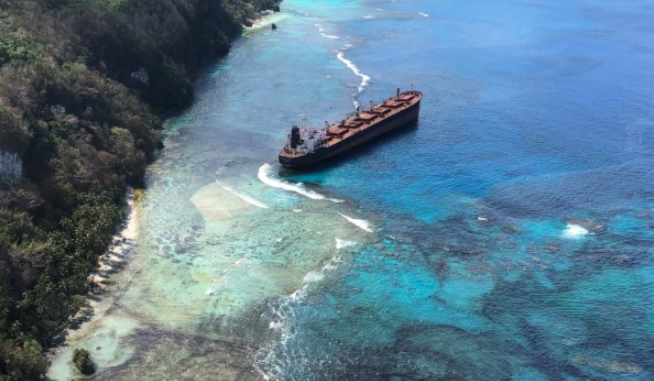 The operation was completed on May 11, 2019, and the 73,592 dwt bulker is currently undergoing assessments.
As informed, Solomon Trader remains anchored in deeper waters away from the reef where it grounded, enabling divers to assess hull damage.
The Panamax bulk carrier is in a stable condition, the vessel's protection indemnity insurer added.
Once the salvage inspections, seaworthiness repairs and the cargo discharge are completed, the 1994-built bulker is planned to be towed for scrapping.
KP&I and the vessel owner, King Trader, are to continue cooperation with the Solomon Islands government as shore cleaning progresses.
Chartered by Bintan Mining and loaded with nearly 11,000 tons of bauxite, Solomon Trader initially grounded on a reef off Rennell Island in the Solomon Islands, near a UNESCO World Heritage site, during an unexpected gale event on February 5.
The attempts to remove the vessel were hampered by the arrival of Cyclone Oma on February 10, which pushed the stricken vessel harder into the reef, resulting in engine room damage and the subsequent oil spill.
Onboard power was lost and the vessel was ransacked by locals, with key equipment stolen and damaged. This impacted efforts to commence an emergency response, as explained by KP&I.
The owner despatched a salvage expert to the location on February 10 to monitor the vessel's condition. International salvage experts Resolve Marine Group were also appointed to oversee the Solomon Trader incident response.
Many response experts and specialized equipment from across the globe subsequently arrived.