Sovcomflot's Total-chartered LNG newbuild named in South Korea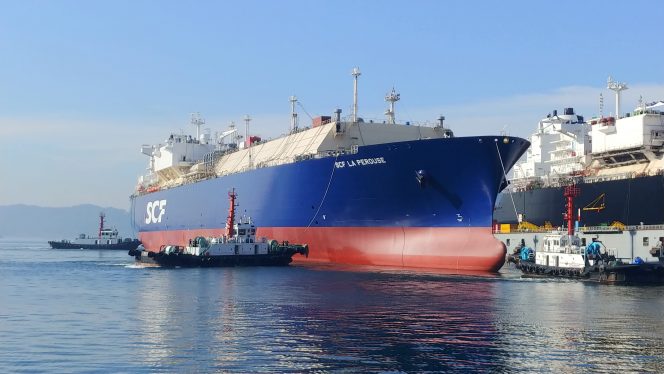 ---
Russian shipping company Sovcomflot named its newbuild liquefied natural gas carrier SCF La Perouse at the Hyundai Samho Heavy Industries' shipyard in South Korea.
The vessel will operate under a long-term time charter agreement with Total, the company said in its statement.
Commenting at the naming ceremony Sergey Frank, chairman of the board of directors of Sovcomflot, said, "SCF Group continues to steadily grow the share of long-term LNG shipping contracts in its portfolio, as envisaged by the company's strategy, and with SCF La Perouse delivered to Sovcomflot's fleet, the company makes yet one more step towards achieving this strategic goal."
The vessel's master, Alexander Matanov noted that the SCF La Perouse is a new-generation Atlanticmax LNG carrier capable of transporting 174,000 cubic meters of the chilled fuel. "The vessel features a slow-speed dual-fuel X-DF engine and gas boil-off partial liquefaction system," he said.
Currently, Sovcomflot has two more similar LNG carriers under construction, scheduled for delivery during the second half of 2020.