Spanish floating tidal turbine gears up for EMEC trials

Spanish tidal energy developer Magallanes Renovables has entered into a berth agreement with the European Marine Energy Centre (EMEC) to demonstrate its tidal energy prototype.
Funded by the Fast Track to Innovation pilot scheme, part of the EU's Horizon 2020 research and innovation program, the demonstration of the floating tidal turbine will take place as part of the OCEAN_2G project.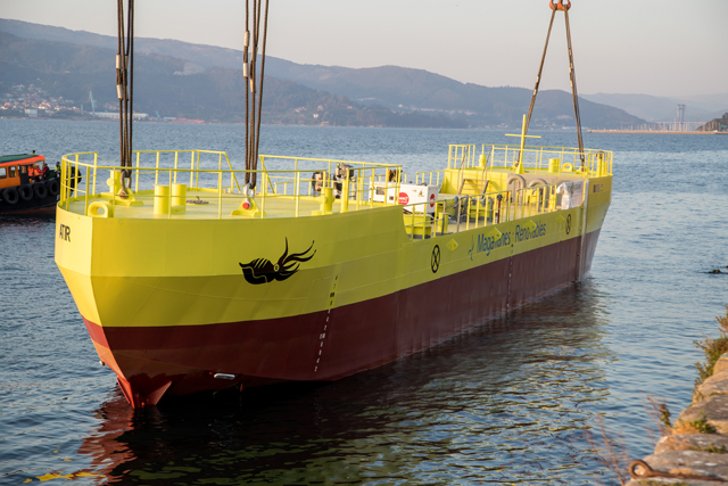 The project's aim is to test, validate and pre-certify Magallanes' second generation (2G) 2MW tidal platform named Atir.
Following the launch of the OCEAN_2G project in Vigo, Spain in 2017, Magallanes Renovables has been validating its Atir prototype in the controlled marine environment at Vigo bay as part of a structured test program which has seen power being generated via tow tests.
Commenting on the progress made in the project, Alejandro Marques de Magallanes, CEO of Magallanes Renovables, said: "We've been busy testing our device here in Vigo and we are pleased to have already successfully generated electric power during our towing tests. We will continue to optimize the system in order to extract more energy, to ensure the device is performing to its optimum capability."
The next steps will see the full-scale device being towed to Orkney. The operational performance of the system will then be demonstrated at EMEC's grid-connected tidal test site at the Fall of Warness, according to EMEC.
Neil Kermode, EMEC's Managing Director, said: "We look forward to welcoming Magallanes Renovables back to Orkney after the success of previous tests at EMEC in 2014. This project is yet another positive step change for the tidal energy market and 2018 is shaping up to be another busy year at our test center."
Led by SAGRES – Magallanes Renovables' parent company – the OCEAN_2G project consortium brings together EMEC, Orkney-based marine services provider Leask Marine, and electrical specialists IM FutuRe.
The exact date for Atir deployment in Scotland has not been specified, although the company previously set the target for July 2018.