Study: Voyage optimization can cut emissions by 7.3 pct
Voyage optimization can reduce emissions by 7.3% and extend CII compliance by up to three years, according to the findings of a study conducted by maritime software and data analysis expert NAPA and classification society ClassNK with Marubeni Corporation.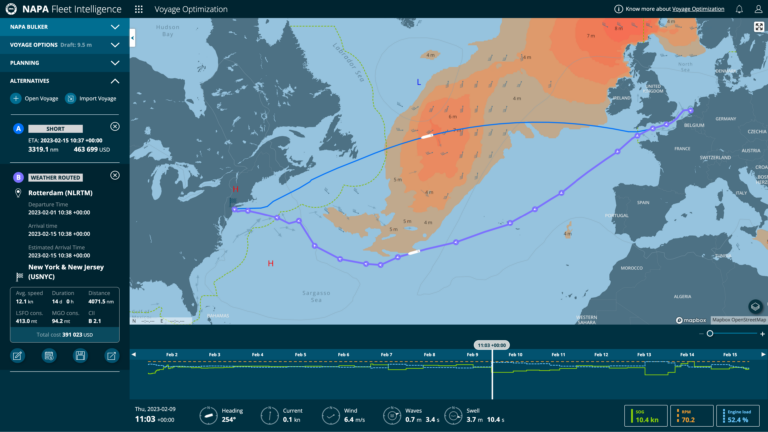 The joint research was carried out using NAPA's ship performance model and voyage simulation tools. It used data on all voyages, weather and ocean conditions in 2021 for a group of bulk carriers owned and operated by Marubeni.
The potential reductions in fuel consumption and CO2 emissions were measured by "retro-optimizing" each voyage to incorporate weather routing, using the data on weather and sea conditions that was available at the time and maintaining the same departure and arrival times.
ClassNK provided advice on the simulations, verified the calculated values and confirmed the results, while Marubeni provided the vessels for the demonstration tests, as well as its experience and expertise on operational aspects.
As of January 1st, all ships are required to calculate their carbon intensity under the International Maritime Organization's CII regulation, which rates the carbon intensity of each vessel on a scale from A to E.
NAPA said that its NAPA Voyage Optimization can boost a vessel's CII rating by 5-6%, which in many cases enables it to move up one rank (from B to A, for example).
"It also enables vessels to remain in the same category for two to three years longer as the requirements for each CII category gradually become stricter, forcing ships to reduce their emissions over time. Crucially, these improvements do not require any additional installation or equipment on board," the company said.
Naoki Mizutani, Managing Director at NAPA Japan, said that the study confirms that voyage optimization will be a powerful tool for the industry, not only to ensure compliance with CII requirements, but also to support shipping's decarbonization journey.
 "This study with Marubeni is important as it demonstrates in tangible terms the impact that voyage optimization can have on the emissions and CII ratings of a real-life fleet at sea today. This is critical for businesses throughout the supply chains, informing strategic and financial decisions as legislation enters into force," he noted.
"Our analysis shows that substantial emissions reductions can be achieved with tools that are available today. There is no reason to wait given the scale of the climate crisis."
 "CII implementation poses challenges to shipping companies not just to ensure compliance but to plan and manage GHG emissions from their fleet, which directly impacts their competitiveness. Visualizing ships' emissions should be a key initial step to envisage the way for optimized GHG management systems.," Yoshimichi Sasaki, General Manager of Digital Transformation Center at ClassNK, said.
"The study based on the actual voyage data has successfully demonstrated the value of the simulation in generating insights. ClassNK will use its outcome to enhance our certification service range which is responding to decarbonization trends and the advancement of digital technology."