Titan LNG's FlexFueler001 pontoon performs first bunkering operation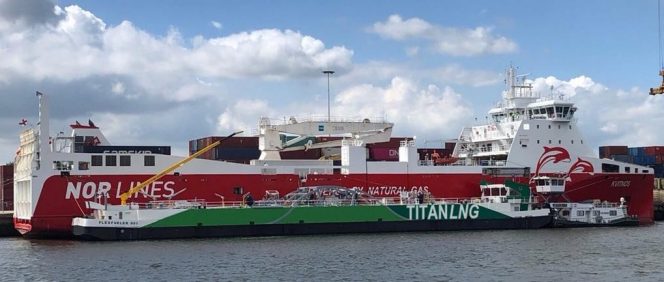 ---
Titan LNG's bunkering pontoon FlexFueler001 has performed the first bunkering operation on June 14, 2019.
Titan LNG said on Monday that the LNG was supplied to the company's long-term customer Norlines in the Port of Rotterdam.
This makes Titan LNG the first accredited LNG bunker supplier able to deliver by inland water barge.
The FlexFueler001 is part of a series of vessels. Titan LNG will deploy the FlexFueler002, currently under construction and scheduled to be ready by mid-2020, in the Port of Antwerp. The third barge will be announced in the coming months.
Samskip, operator of the LNG-powered Norlines vessels Kvitnos and Kvitbjørn, has a weekly service into Rotterdam and requires reliable LNG supply.
Ronald van Selm, COO of Titan LNG, said: "We are proud the FlexFueler001 is up and running after she successfully completed her trials."
Earlier this month, Titan LNG received class approval from Bureau Veritas for the FlexFueler001.
FlexFueler001 is designed to have a fixed location to supply inland waterway vessels, but can also be navigated to larger sea-going vessels and safely supply LNG while they load or unload their cargo.
A long-term contract for the home location of the FlexFueler001 was signed between Port of Amsterdam and Titan LNG in January 2018.
Related news
List of related news articles