Tocardo takes over the largest tidal array in the world
Dutch tidal turbines business Tocardo has struck a deal to acquire the 1.25MW Oosterschelde Tidal Power Plant, the largest tidal array in the world installed on the Oosterscheldekering.
The acquisition follows technical due diligence phase during September 2020.
The Oosterschelde Tidal Power Plant consists of five T-2 tidal turbines in one of the sluice gates of the Oosterschelde storm surge barrier, with the potential of scaling up. It serves as an international showcase for the tidal energy sector and climate adaptation solutions, combining clean energy production with existing infrastructures and making efficient use of scarce land area.
"At Tocardo we are looking forward to taking this unique project forward to the benefit of the local area in terms of jobs, supply chain development and making an impact to the net zero targets. This exemplar project will run as a R&D facility and shop window for similar global developments which provides significant export opportunities," said Andries van Unen, CEO of Tocardo.
The transaction also follows Dutch Minister Wiebes' (Economic Affairs and Climate) roadmap to electricity from water in 2030, which should be ready before the end of this year.
Oosterschelde Tidal Power Plant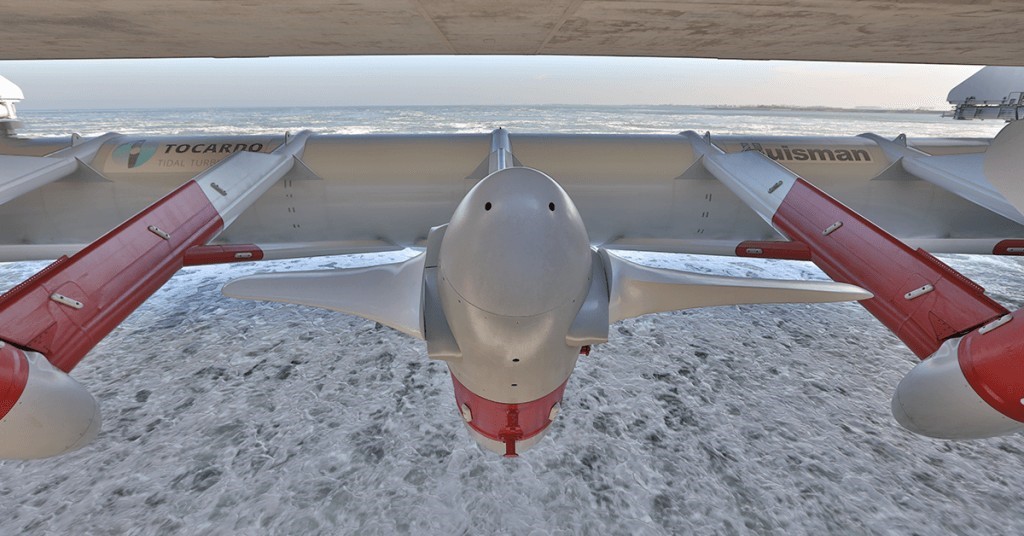 The entire Oosterschelde Tidal Power Plant consists of five T-2 tidal turbines supplied & designed by Tocardo. These turbines stand on a single hydraulic lift frame designed, constructed and supplied by Huisman in late 2015.
Commissioning took place with commercial full operation commencing in August 2016.
The completion of this deal is a joint effort between Administrators (Rensen Advocaten), Tocardo and Rijkswaterstaat (operator of the Delta Works Barriers). Tocardo also received support from Dutch Marine Energy Centre (DMEC) in helping to present the case for preserving the project.
Andries van Unen, CEO Tocardo:
"When the installation was lowered back into the water last week and the turbines immediately started to generate power again, I personally felt very satisfied. By maintaining this unique power plant, we can continue to develop our power generating solutions under offshore conditions in a controlled environment, so that we can show customers what this technology is capable of."
Jeremy Smith, MD QED Naval: "This is an amazing opportunity for Tocardo to demonstrate its wares and capabilities. It is also a great platform to introduce further innovations to improve the performance of the turbines and reduce costs. All this whilst producing clean renewable energy into the Dutch electricity grid and generating revenue to sustain the business allowing it to grow rapidly. The size of the prize is significant in Holland but massive when put in the context of a global market opportunities this project opens up."
Richard Parkinson, MD HydroWing: "Our main objective in taking over the operation of the OTP project is to gain an understanding of how the turbines can be developed and to inform financial models for integration into commercial projects worldwide. This platform is an excellent test bed to develop the turbines while maintaining low OPEX and informing future design developments. Well done to our CEO Andries van Unen for making this complex deal happen."
Britta Schaffmeister, CEO of DMEC, stated: "This marks an exciting stepping stone for the tidal energy sector. Now home to the world's largest tidal array, the Netherlands is becoming a true frontrunner in harnessing the power of water. Lessons learned here will prove instrumental for more game changers in tidal energy."