TotalEnergies, Qatar Petroleum, Chevron win Suriname offshore acreage
A consortium between France's major TotalEnergies and Qatar's Qatar Petroleum and U.S. supermajor Chevron have submitted winning bids for shallow-water offshore acreage in Suriname.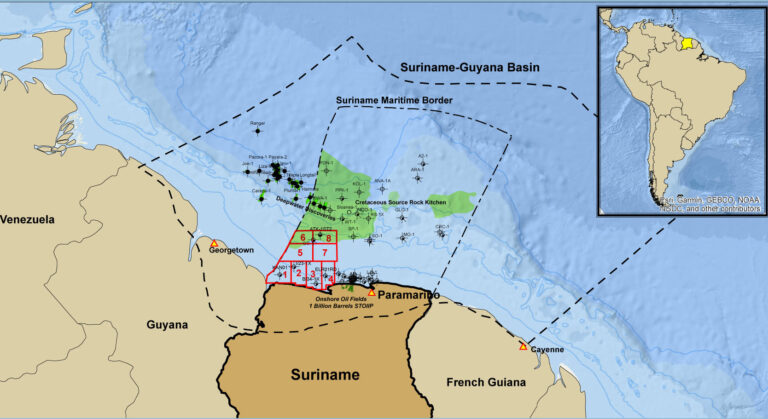 Suriname's national oil company Staatsolie said last Friday that the three oil companies submitted 'most favourable' bids for the relevant blocks offered in the Suriname Shallow Offshore (SHO) Bid Round 2020/​2021 which closed for bidding on 30 April.
The SHO Bid Round was launched on 16 November 2020. Staatsolie stated that it received a total of ten bids for three of the eight blocks which were on offer. The blocks are located in the west of the Shallow Offshore area, south of the recent deepwater discoveries made in Block 58, and northwest of the onshore producing fields.
According to Suriname's national oil firm, Chevron filed the most favourable bid for Block 5 and the TotalEnergies and Qatar Petroleum joint venture gave the best offers for Block 6 and Block 8.
Staatsolie further added that it was in the process of concluding production sharing contracts (PSC) for the relevant blocks with successful bidders and will make further announcements once the PSCs are awarded.
Staatsolie previously said that the obligation for the winning firms would be obliged to carry out new 3D seismic data surveys in the first exploration phase with a drill-or-drop decision before drilling in subsequent phases.
Suriname has proven to be a hotspot for oil firms in recent times. For example, Total and Apache Corporation made a fourth oil and gas discovery at the Keskesi East-1 well in Block 58 off the coast of Suriname in January 2021.
This latest discovery follows previous discoveries at Maka Central, Sapakara West, and Kwaskwasi announced in January, April, and July 2020, respectively.
Total assumed operatorship of Block 58 on 1 January 2021, with a 50 per cent working interest following a deal with Apache made in December 2019.
Also, Malaysian oil and gas company Petronas made its first discovery of hydrocarbon in Suriname with the successful drilling of the Sloanea-1 exploration well located in Block 52 back in December 2020.