Trinity submits development plan for TGAL field offshore Trinidad
Independent E&P company Trinity Exploration & Production has submitted the first phase of its field development plan (FDP) for the TGAL Area, located on the Galeota Block, offshore Trinidad, to the Ministry of Energy and Energy Industries (MEEI).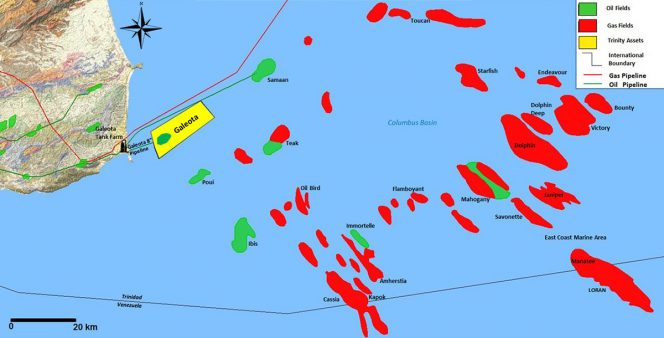 This FDP is the first phase of a potential wider step-out development moving across the Galeota anticline to fully develop the reserves potential from the large volumes of oil in place (circa 700 mmbbls), Trinity said on Monday.
According to the company, the first phase currently contemplates the installation of a low cost 10 well conductor supported platform, the installation of a new generation thermoplastic composite subsea export pipeline, the laying of a subsea power cable to provide offshore power and the drilling of horizontal production wells.
"The development of these assets would underpin our medium-term onshore and offshore production target of over 7,500 bopd," said Trinity.
The TGAL development area is updip and on the same anticline as the producing Trintes field where Trinity holds a 100% working interest.
The Petroleum Company of Trinidad and Tobago Limited (Petrotrin) has a Working Interest of 35% and Trinity, as the operator, has a 65% in the TGAL proposed development.
FID in H1 2020
The Final Investment Decision (FID) is being targeted for H1 2020, at which time the optimal mechanism for financing the development will have been determined and agreed between all stakeholders.
Bruce Dingwall CBE, Executive Chairman of Trinity, commented: "The submission of the first phase FDP is a major milestone on the journey towards first oil from the TGAL area. Against the backdrop of falling black oil production in Trinidad, Trinity believes that this development would be a key enabler with respect to; direct and indirect local employment, to the generation of revenue and in the ultimate aim of maximizing reserves recovery for all stakeholders."
Dingwall added: "Much work still has to be done with the supply chain, Petrotrin, the MEEI and the Ministry of Finance to ensure that this project generates an appropriate rate of return for all stakeholders and to enable this important project to get to FID in the envisaged timeframe. "
He also said: "With increased visibility on the potential to deliver a step-change in offshore production, alongside a return to strong production growth onshore and a portfolio operating break-even of below US$30/bbl, we are excited about the future."