TTT turbines spin back to Strangford Lough flows
Two tidal turbines, equipped with range of sensors, have been redeployed in Northern Ireland for research purposes as part of the third phase of the Tidal Turbine Testing (TTT) project.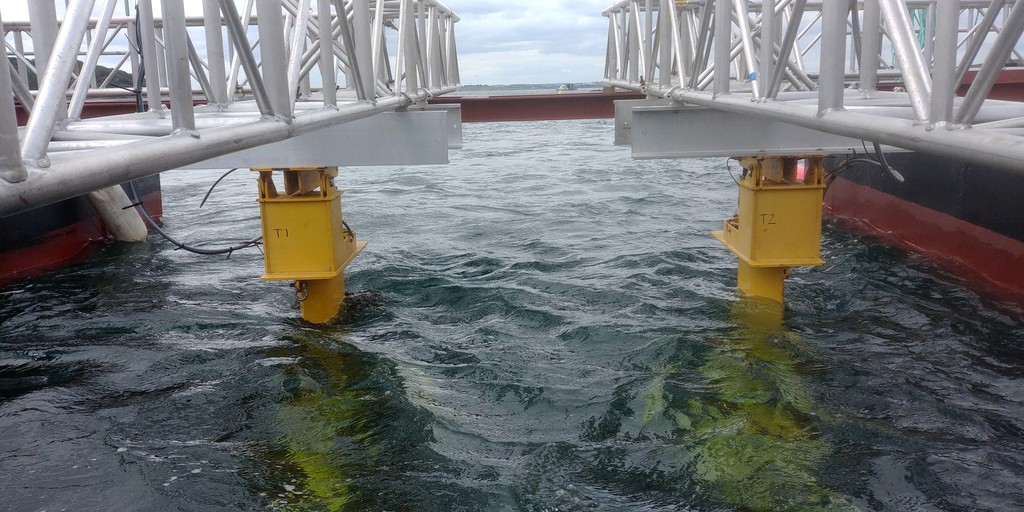 According to the research fellow leading the TTT3 project, Carwyn Frost, the two 1.5m diameter tidal turbines have been installed on the research platform – designed and commissioned by Queen's University Belfast – with the support of Cuan Marine Services (CMS).
A range of acoustic Doppler instruments (ADP and ADVs) have also been deployed on the platform which enables the turbines to be located within a working area enabling up to 2.5D in-plane spacing and 4D in-line spacing.
"To maximize the power density of tidal platforms, the near-filed interaction of devices must be understood. In-line and in-plane interactions, and their significance, will help multi-turbine platform developers optimize their designs," Frost said.
The onset flow, according to Frost, is captured upstream of the platform and for each turbine. This versatile setup is expected to aid the research team in determining the special and temporal relationship between near-proximity turbines in the marine environment.
Looking at the difference between steady state and turbulent flow conditions and turbine interaction with them – the project aims to expand research into the scale effects on tidal turbine performance.
The research is being undertaken by Queen's University Belfast's Marine Energy Research Group with the support of Centre for Advanced Sustainable Energy (CASE), InvestNI and industry partners Applied Renewable Research (ARR), CNR-INSEAN, Oceanflow Energy, Sustainable Marine Energy (SME) and Schottel Hydro.
The work will entails investigating the performance of an industrially relevant turbine in both the real tidal conditions and idealized tow tank experiments.
The outcomes of the TTT3 project will serve as evidence for the influence of rotor design on performance, correction factors for scaling in test tanks, tidal turbulence and wave impact on thrust loading on turbines, according to ORE Catapult.