Tullow approves sale of Equatorial Guinea asset to Panoro
Oil and gas company Tullow Oil has voted on its general meeting to approve the disposal of all issued share capital in its subsidiary Tullow Equatorial Guinea Limited (TEGL) to Panoro Energy.
The share capital in TEGL is held by another Tullow subsidiary – Tullow Overseas Holdings – which will sell the stake to a Panoro subsidiary – Panoro Energy Holding.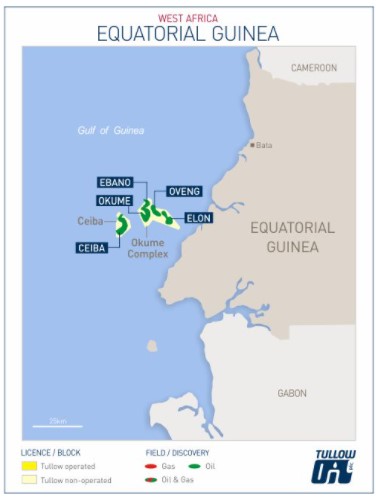 TEGL holds a 14.25 per cent non-operated working interest in Block G which contains the Ceiba and Okume Complex assets offshore Equatorial Guinea. Block G is operated by Trident Energy.
Panoro said on Thursday that the resolution passed as expected and was the final condition for the completion of the agreement with Tullow and Tullow Overseas Holdings to acquire 100 per cent of the shares of TEGL. Panoro and Tullow will now work on the final steps and expect completion in the coming weeks. Following completion, Tullow will no longer hold any assets in Equatorial Guinea.
In parallel, Panoro is continuing to further progress the completion conditions related to its purchase of Tullow's 10 per cent working interest in the Dussafu Marin permit offshore Gabon.
To remind, Tullow Oil signed two separate sale and purchase agreements with Panoro Energy for all its oil-producing assets in Equatorial Guinea and the Dussafu asset in Gabon last month.
The deal was made for an initial aggregate cash consideration of up to $140 million and aggregate contingent consideration of up to $40 million, based on an effective date of 1 July 2020.
The acquisition of the TEGL stake will be done for a cash consideration of $89 million payable at completion. Additional considerations are payable following completion of the transaction or the completion of the Dussafu transaction.
There are also additional contingent consideration payments of up to a maximum of $16 million in aggregate payable over 5 years, triggered by meeting a production threshold and payable in years where that threshold is met and average oil prices greater than $60/bbl.
The Ceiba field was discovered in 1999 and is in 600-800 metres of water depth on the slope of the southern Rio Muni Basin approximately 35 kilometres offshore.
Oil production started in November 2000, with the field being developed in phases with production wells tied back to the Ceiba FPSO through a system of six subsea manifolds and flowlines. The produced liquids are processed on the Ceiba FPSO for export.
The Okume Complex consists of five separate oil fields, Okume, Ebano, Oveng, Akom North, and Elon, that were discovered in 2001-2. All fields are tied back to a central processing facility (CPF) located at one of the Elon platforms. The processed oil from the CPF is transported via a 25 kilometres pipeline to the Ceiba FPSO for export.